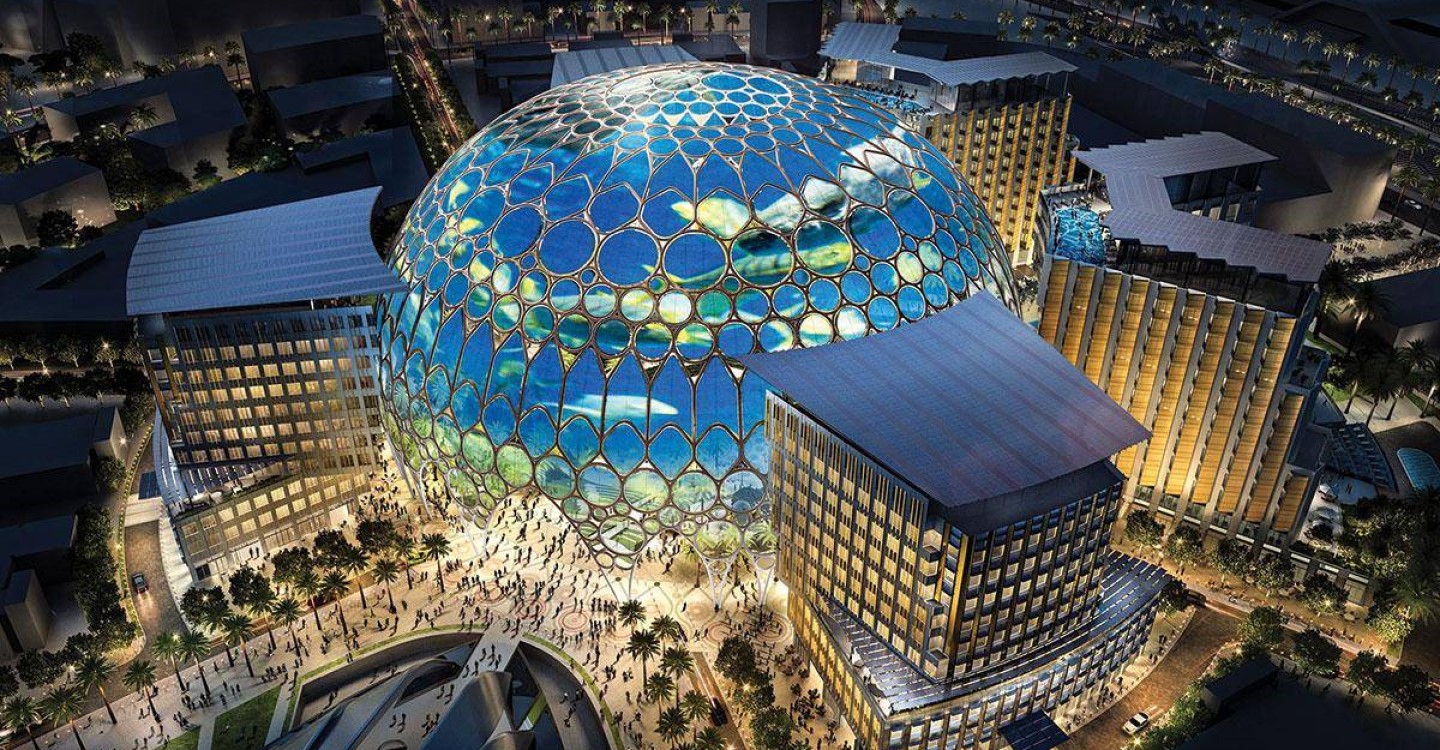 Dubai has come a long way since its humble beginnings as a small trading post on the Arabian Gulf. In just a few decades, the city has been transformed into a thriving metropolis and a global business hub. Thanks to its strategic location, favorable tax regime, and pro-business environment, Dubai has attracted billions of dollars in investment and become one of the world's most premier travel destinations.
Despite the challenges posed by the COVID-19 pandemic, Dubai continues to thrive thanks to its diversified economy and proactive approach to crisis management. The city's resilience is evident in its strong performance in key industries such as tourism, hospitality, retail, manufacturing, and real estate.
Visionary Leadership
Dubai's success story is an inspiring example of what can be achieved through visionary leadership, sound economic planning, and a commitment to excellence.
The Henley & Partners Passport Index (2022) ranks the UAE's passport as the joint 15th-most powerful in the world.
Most of Dubai's transformation progressed under the leadership of Sheikh Rashid bin Saeed Al Maktoum, the former Ruler of Dubai. Through determined vision and leadership, Sheikh Rashid bin Saeed Al Maktoum, who was the Vice President and 2nd Prime Minister of the UAE as well as the Ruler of Dubai, diversified the economy and transformed the city into a commercial hub that is not solely reliant on oil revenue but also on trade, technology, and transportation. In 1960, Sheikh Rashid implemented his master plan by creating the Dubai Creek so that trading ships could sail in, and the construction of Dubai International Airport (DXB Airport) that year along with the World Trade Centre in 1979 allowed for a bustling hub where nearby nations came together for business and commercial trade.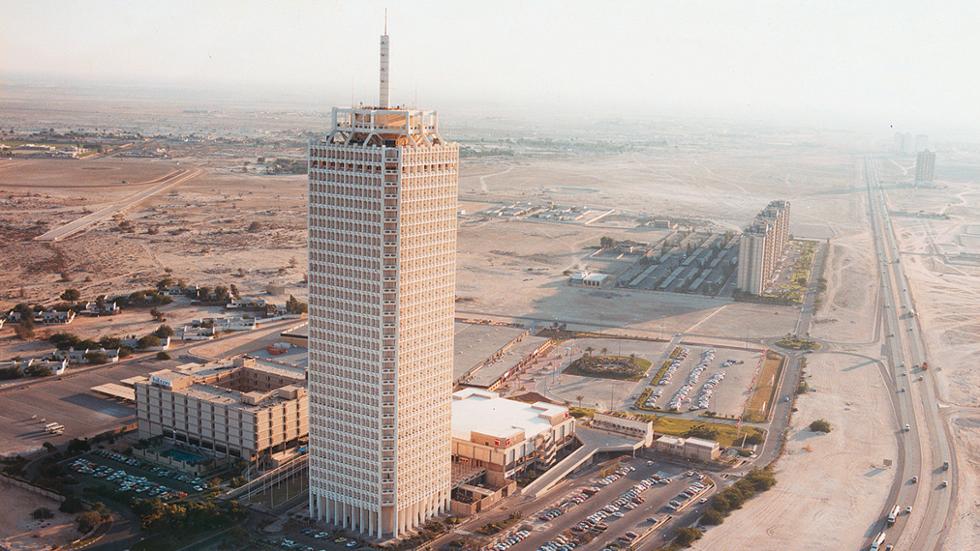 Image: World Trade Centre
The economy of Dubai presented a 6.2% growth in GDP during 2021 and an increase of 5.9% to AED 102 billion during the first quarter of 2022 due to stimulus and strategic initiatives, as reported by Zawya (June 2022). Sheikh Hamdan bin Mohammed bin Rashid Al Maktoum, the Crown Prince of Dubai, asserts that the government's enticing fiscal policies contributed to Dubai's rapid economic expansion and that the post-pandemic tourism boom was mostly fueled by the success of Expo 2020 Dubai, which resulted in record levels of air and sea travel as well as international trade.
There are many reasons why investors should consider Dubai as a prime destination for residence and business. The city offers a stable political environment, world-class infrastructure, and a wide range of investment opportunities. With its strong track record of resilience, Dubai is well-positioned to weather the challenges of the future and continue its journey of progress and prosperity.
The Pandemic's Impact on Dubai
The outbreak of COVID-19 in early 2020 caused a significant slowdown in the global economy, and Dubai was not immune to the impacts of the pandemic. However, the city's proactive approach to crisis management helped mitigate the negative effects of the pandemic, position Dubai for a strong recovery and prove the country to be among the world's most resilient nations.
The UAE was ranked 13th in the Covid-19 Resilience ranking by Bloomberg.
The UAE was ranked 3rd in the Covid-19 Resilience ranking by Bloomberg, which evaluated 53 nations based on 12 factors, including the standard of medical care, viral mortality, and accessibility of travel. The UAE successfully maintained reduced infection rates while continuing to welcome visitors safely into the country, as reported by the UAE Ministry of Economy & Tourism (July 2021).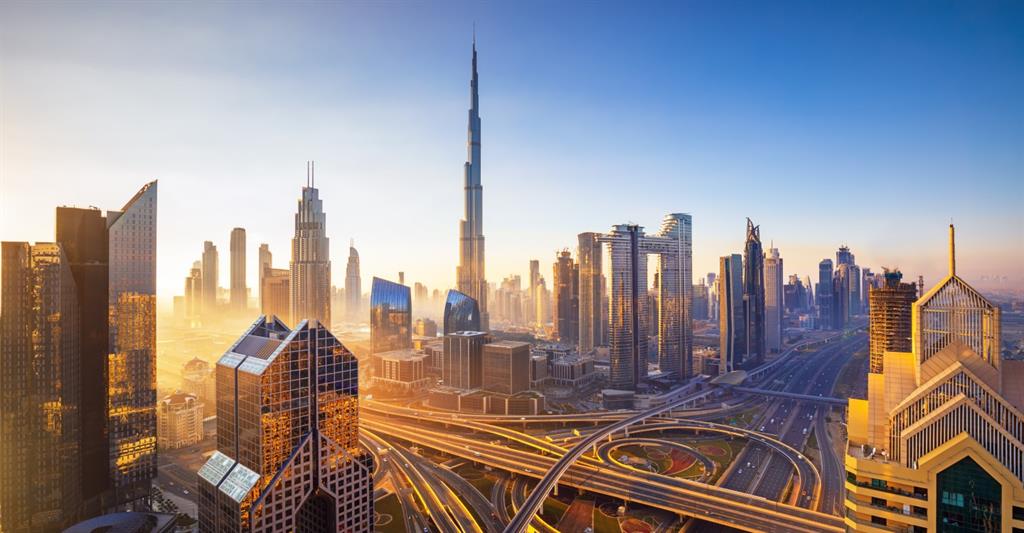 By providing services online, monitoring the population and pandemic closely, and upgrading technology for support services, the UAE economy and daily life was able to run smoothly. According to Dubai Service Continuity & The Covid-19 Pandemic by Dubai Model Centre 2021, the number of government transactions carried out by 27 agencies steadily rose in December 2020 and surpassed 80% of what was happening before the pandemic started.
In response to the pandemic, the government of Dubai introduced a series of stimulus measures totaling AED 50 billion. These measures included a 50% reduction in rents for certain businesses, a three-month grace period for utility bills, and a waiver of fees for business licenses and permits.
The Effect of Expo 2020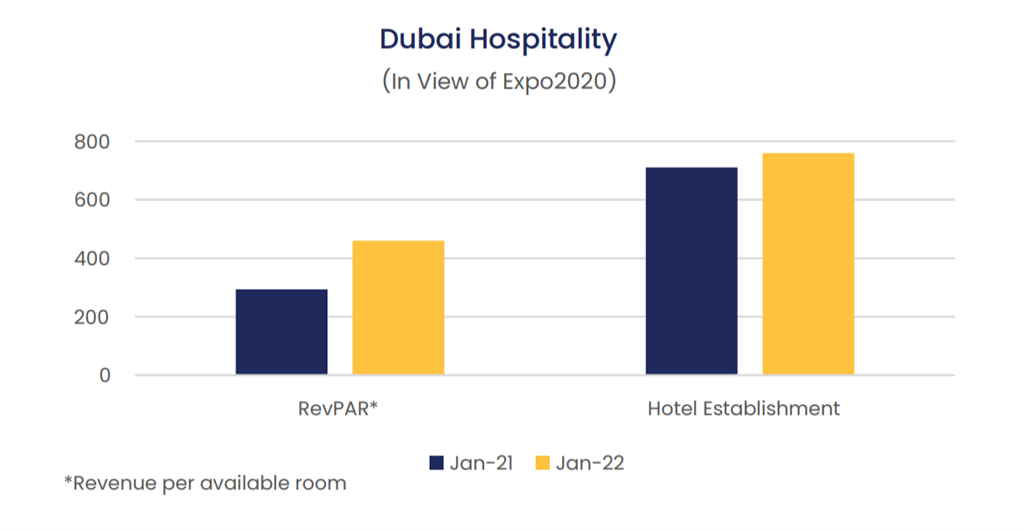 The Expo project in Dubai was confirmed by the Bureau International des Expositions (BIE) because of multiple factors, including the city's political and social climate, as well as government backing. The Expo2020 Dubai website (April 2022) announced the procurement process for the exposition was built on transparency and inclusivity, making it as simple and cost-effective as possible for companies of all sizes to do business with Expo 2020 Dubai.
The graphs represent the growth in the hospitality and tourism sector allied with the Expo2020 event. According to Forbes (May 2012), the Expo 2020 event was to benefit the local economy by AED 122.6 billion ($33.4 billion) and support an equivalent of 49,700 full-time jobs.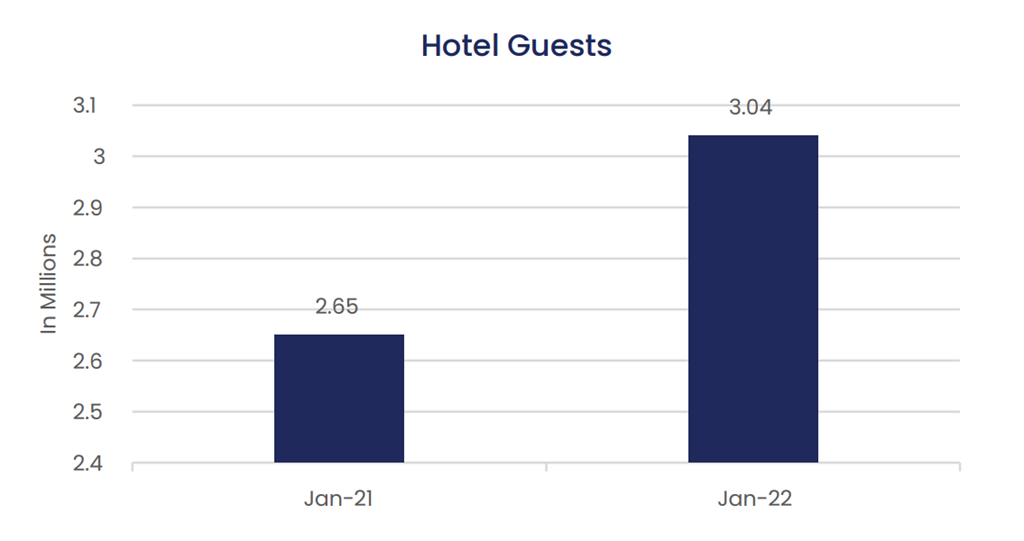 The Influx of High-Net-Worth Individuals
While Dubai has developed and positioned itself as an international business hub with a high-income economy and a reputation for being a safe oasis, the Gallup Law & Order Report 2021 reported, and also ranks 23rd in terms of countries that offer an affordable lifestyle, as published by ECA International's Cost of Living Index (2022).
This has continued to draw wealthy individuals, demonstrating and contributing to the country's reputation and economic strength. According to the Henley Global website, there are presently more than 92,000 HNWIs residents in Dubai, with a new addition of 4,000 HNWIs inflows reported in March 2022.
How the FIFA World Cup in Qatar Will Influence Dubai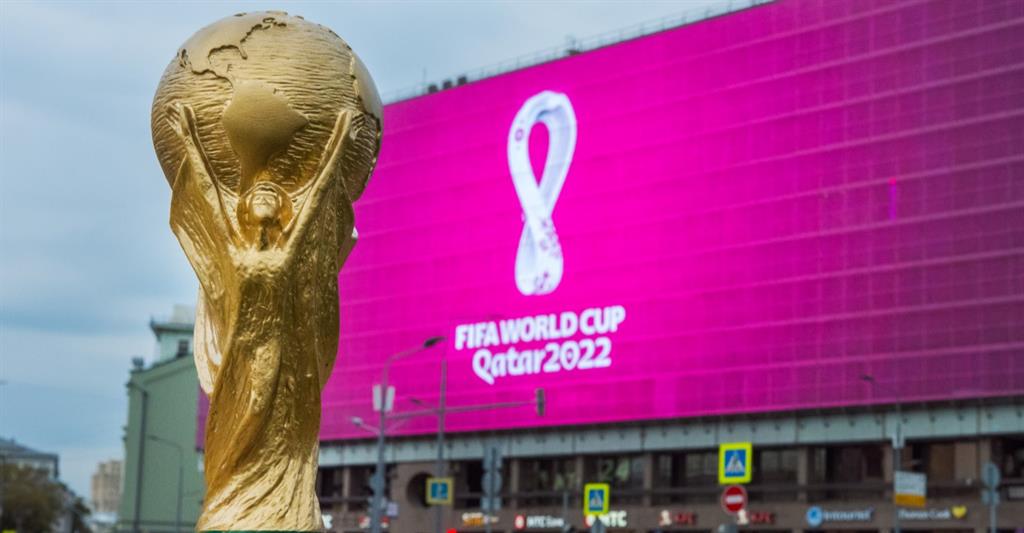 In preparation for the FIFA World Cup being held in Qatar in November and December, the UAE has increased the number of daily flights to Doha, accounting for 40 of the 90 flights that will arrive in the host city every day.
Being only an hour's flight away from Doha to watch the games, visitors are choosing to base themselves in Dubai owing to the shortened immigration processes, myriad of luxury hotels and
short-term stays
available, and various entertainment options. Experts anticipate a minimum of a 20% spike in hotel rates as well as full occupancy during the World Cup period. Similarly, other sectors such as tourism, transportation, and real estate are expected to see a boom in activity during this time.
Innovation, Innovation, Innovation
The city has embraced technology in all aspects of life, from driverless cars to using artificial intelligence in healthcare. In terms of infrastructure, the city has invested heavily in 5G connectivity, with plans to have the infrastructure in place by 2025. This commitment to innovation was also evident during the pandemic, when the city rapidly adopted various technologies to help citizens and businesses cope with the challenges posed by Covid-19. Some of these initiatives included contactless payments, e-commerce platforms for businesses, and online learning platforms for students.
Another example of Dubai's innovative capabilities is the
Mohammed bin Rashid Library
, which is the first-of-its-kind in the Middle East region to employ artificial intelligence (AI) in its operations, including in choosing titles and borrowing and returning books. This means that smart robots will respond to inquiries and deliver selected books to users.
According to Global Media Insight (March 2022), the population rate for 25-54 year old's is the largest in Dubai, which contributes to the city's working capital. The UAE's leaders continue to motivate and emphasize the need for innovation as a necessity for the development of world nations. In 2015, the Government Innovation Expert Diploma was launched to facilitate UAE nationals in adopting innovative methodology in governance.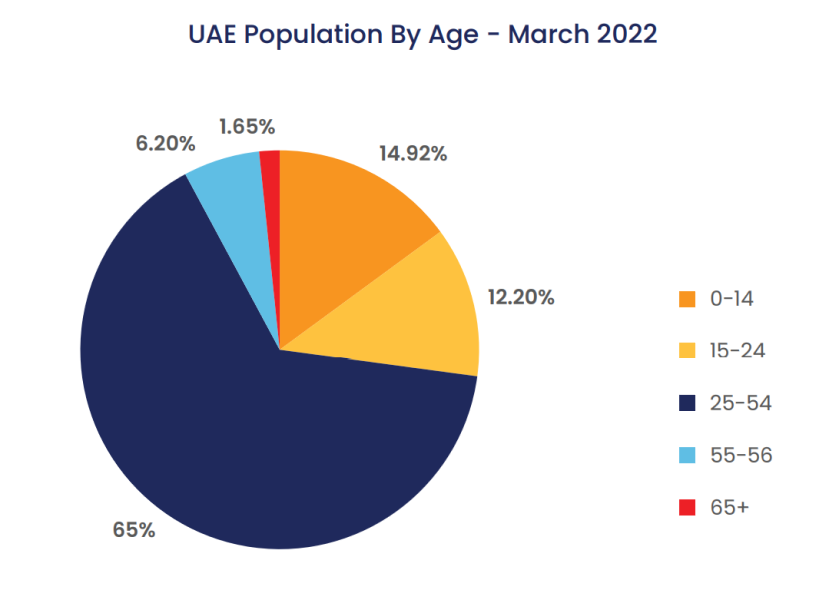 To conclude, Dubai has been able to stand out and thrive as a result of all the historical world affairs that have occurred, making it ideal for organizations around the world to choose it as a venue for international events. Dubai consistently outperforms the majority of the world in measures such as inflows of high net-worth individuals and ranks highly as a safe place for women, among others.
The development of Dubai's economy, its capabilities for trading and investment growth, its excellent reputation throughout the world, as well as other factors, have made this possible. With more and better regulations and adjustments to the city's plan, several industries are expected to flourish.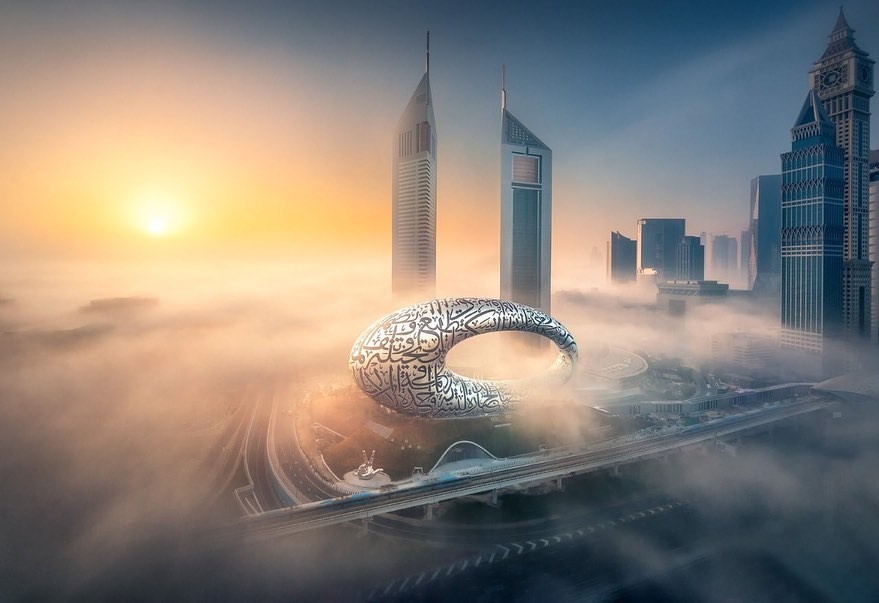 ---
---