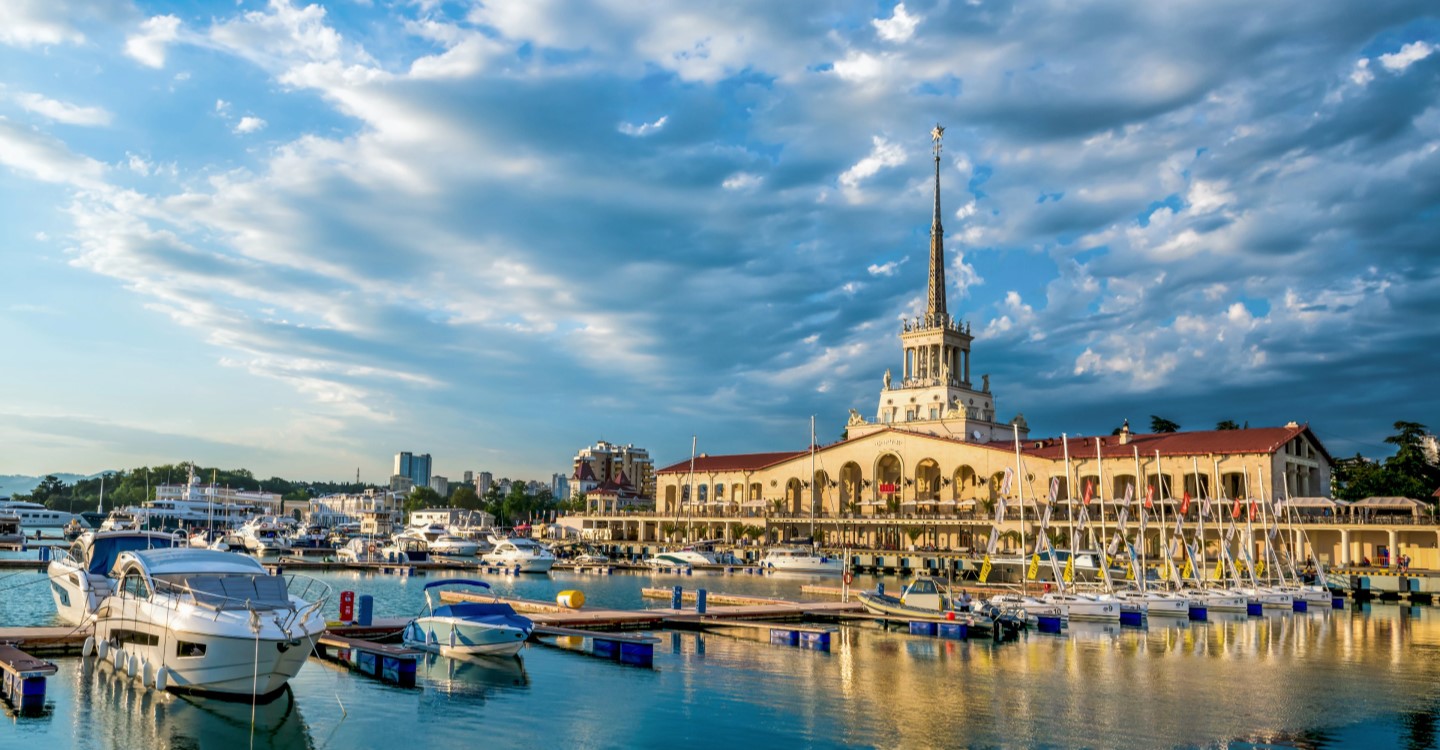 Sochi, Russia's largest resort city, has made a name for itself in the world of luxury housing. According to a recent report by consulting company NF Group, the city is among the top three global cities to have the most expensive luxury housing, beating out New York and London. The report cites the Wealth Report 2023 by consultancy Knight Frank, which annually ranks the world's most expensive cities for luxury property.
This is quite a feat for Sochi, which has experienced a property price boom since receiving billions of dollars in investment prior to the 2014 Winter Olympics. The city's stunning coastline, mild climate, and proximity to the Caucasus Mountains have made it an attractive location for property investment. As a result, the city has seen an influx of luxury developments and high-end real estate.
According to the "million-dollar index" calculated by NF Group, $1 million can buy 29 square meters of prime property in the luxury segment in Sochi. This puts the city in third place after Monaco and Hong Kong, and ahead of other major cities like New York and London. The average price of elite housing in Sochi was AED 114,000 ($31,000) per square meter last year, with prices ranging from AED 66,000 ($18,000) to AED 198,000 ($54,000) per sqm.
NF Group predicts that Sochi will continue to attract the most buyers of luxury housing in Russia this year. This is not surprising given the city's appeal as a resort destination and its booming economy. Sochi has become a hub for business, tourism, and leisure, attracting not only wealthy Russians but also international investors.
The rise of luxury housing in Sochi is part of a larger trend of global property price increases, driven by factors such as low interest rates, increased demand from high-net-worth individuals, and limited supply of prime real estate in desirable locations. The pandemic has also played a role, with more people seeking spacious, high-quality homes in scenic locations away from crowded urban centres.
However, the soaring prices of luxury properties in Sochi and other cities have raised concerns about affordability and inequality. While the wealthy may be able to afford these properties, the average person may struggle to find affordable housing in the same areas.
Nonetheless, Sochi's rise to the top three global cities for luxury housing is a testament to its growing appeal as a premier resort destination. The city has come a long way since hosting the 2014 Winter Olympics, and its continued growth and development bode well for its future as a top player in the global luxury real estate market.
Sochi As a Property Investment Destination
Sochi, Russia is known for its beautiful coastline, mild climate, and stunning mountain landscapes. As a result, it has become a popular destination for both tourism and property investment.
As a travel destination, Sochi has something for everyone. The city has a rich history and culture, with numerous museums, theaters, and art galleries to explore. The beaches are also a major draw, with crystal-clear waters and sandy shores stretching for miles along the Black Sea coast. For adventure seekers, the nearby Caucasus Mountains offer a range of outdoor activities, including skiing, snowboarding, hiking, and mountain biking. The region is also home to numerous national parks and wildlife reserves, making it a great destination for nature lovers.
But Sochi is not just a great travel destination - it is also an attractive location for property investment. The city has seen a surge in real estate development and investment in recent years, with luxury properties and high-end resorts popping up along the coast and in the mountains. Investing in property in Sochi can be a smart move for several reasons. For one, the city's booming economy and growing tourism industry bode well for future property values. Additionally, the city has a relatively low cost of living compared to other popular destinations, making it an affordable option for investors.
Furthermore, the Russian government has implemented a number of measures to attract foreign investment in the real estate sector, including offering tax incentives and simplifying the process for obtaining residency permits. Overall, Sochi offers the best of both worlds - a popular travel destination with plenty to see and do, and a growing real estate market with great investment potential. Whether you are looking for a vacation home, a rental property, or a long-term investment, Sochi is definitely worth considering.
---
---