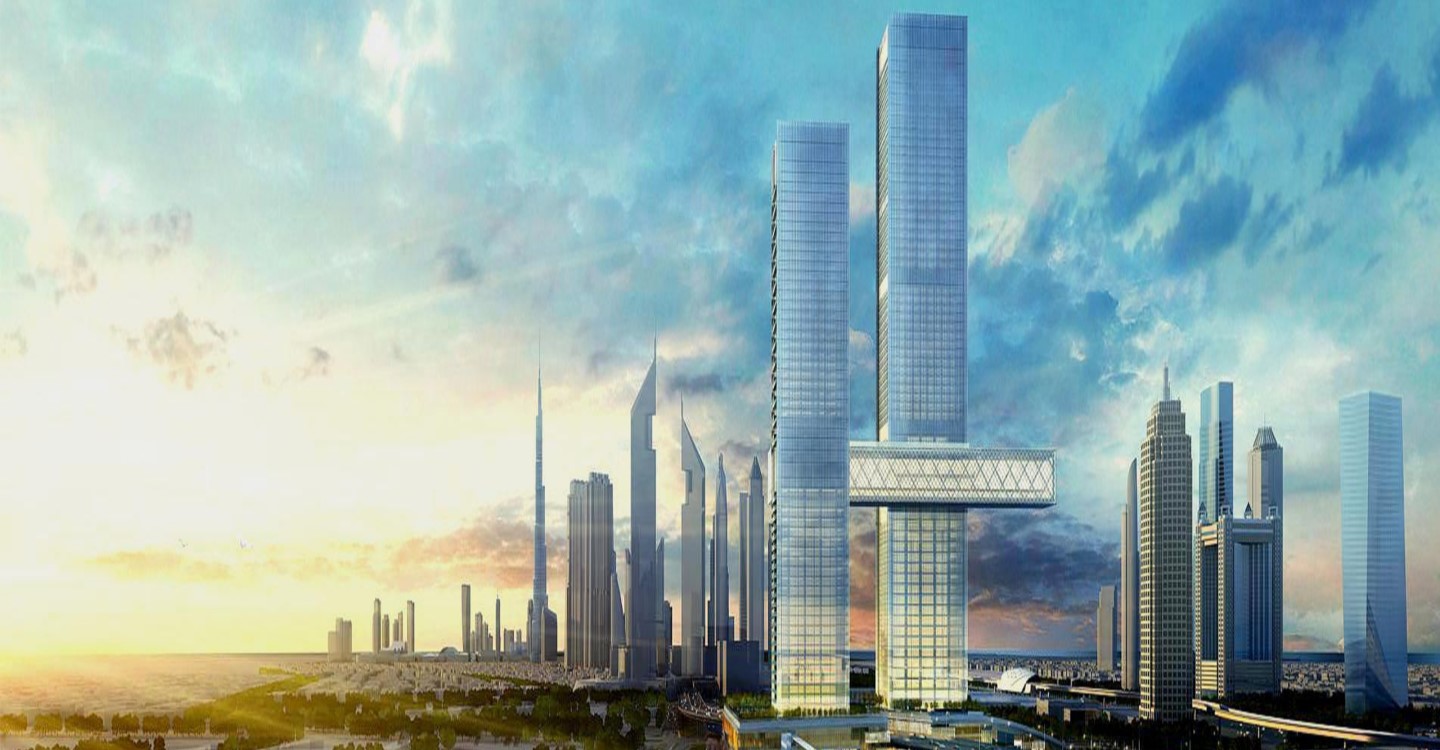 The UAE is a world-renowned real estate market and is considered to be one of the most lucrative and vibrant investment destinations in the world.
In recent years, the country has seen several large-scale infrastructure projects as well as developments in technology, which are driving a new wave of real estate projects. In 2023, UAE will see some of the most exciting real estate projects being launched across the Emirates.
Abu Dhabi
1. Abrahamic Family House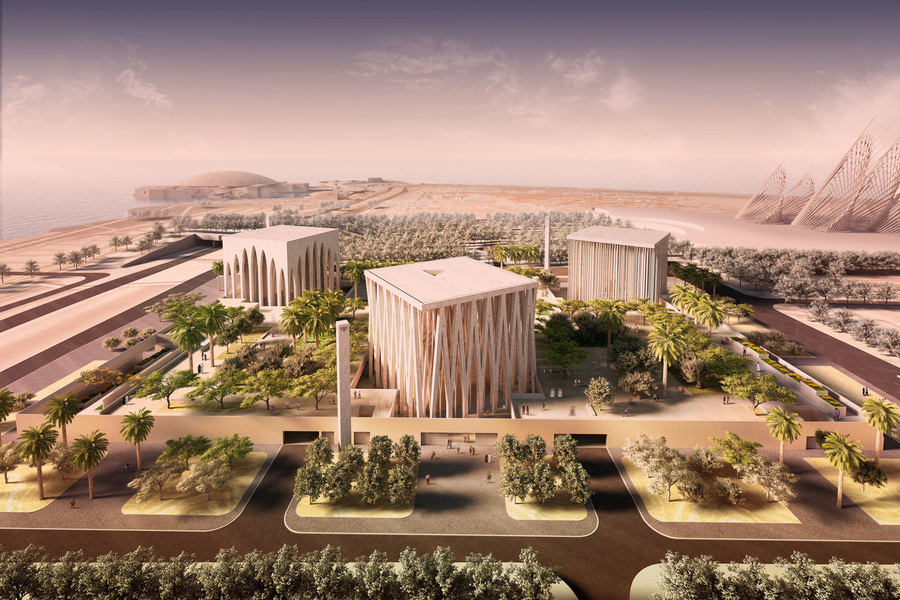 A powerful symbol of interfaith harmony and understanding, the Abrahamic Family House (AFH) is an 82k sqft collection of three religious spaces - a mosque, a synagogue, and a church – sitting upon a secular visitor pavilion. At its heart, the Abrahamic Family House seeks to foster respect through education by hosting interactive displays exploring each faith's history in the region and their shared commonalities.
2. Jubail Island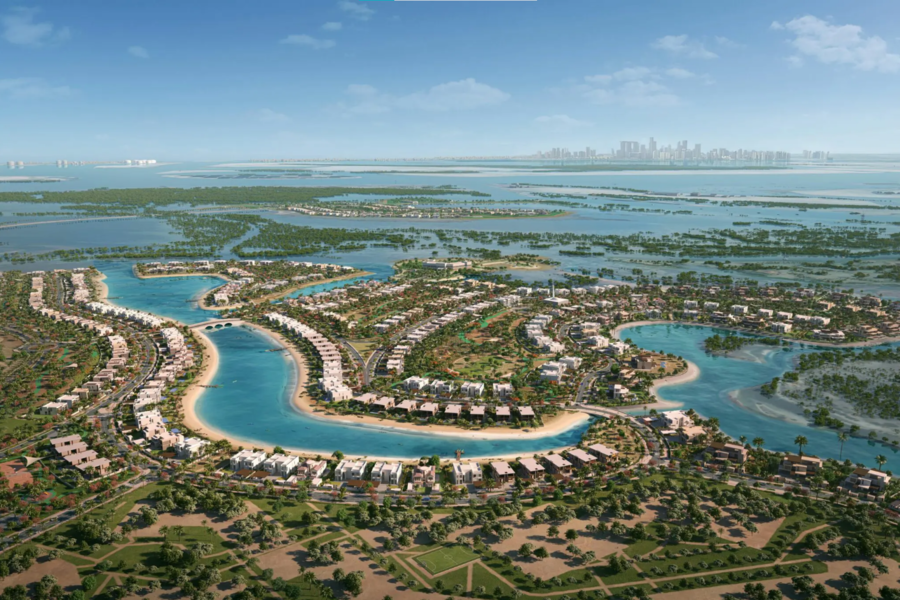 A premium property development set to redefine the skyline of Abu Dhabi, the 5,000-hectare project is located off-shore in Jubail Island's marina, between Yas Island and Saadiyat Island. The neighborhood is a 15-minute drive from Downtown Abu Dhabi and will be home to six distinct village communities sprawled across a protected, mangrove environment supporting a diversity of wildlife and greenery.
3. Reem Island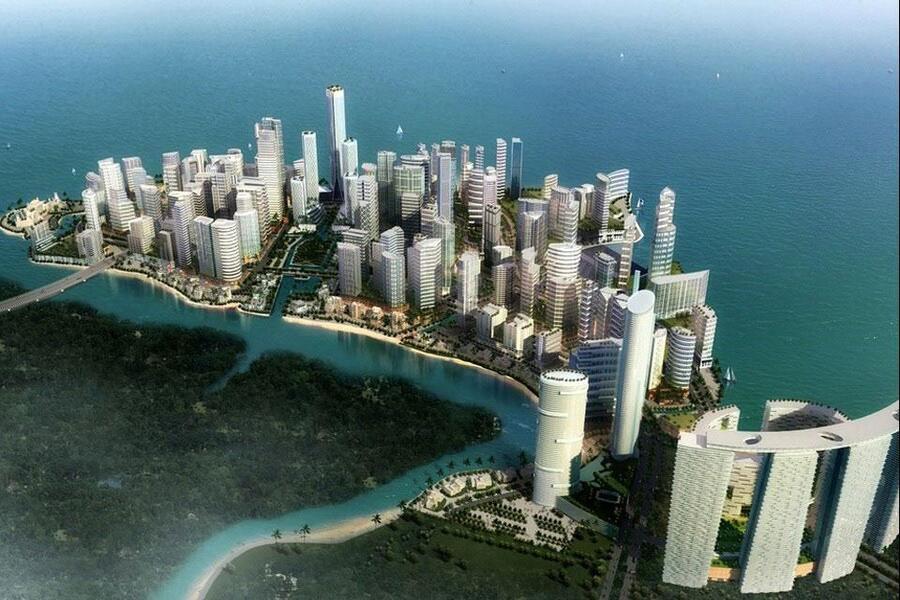 Reem Island is a luxurious residential complex located in Abu Dhabi, consisting of three districts: Hydra Avenue District, Sun and Sky Towers District, and Al Reem Island Gardens District. The residential community offers some of the most lavish residences in the capital and boasts stunning views of downtown Abu Dhabi along with modern amenities that attract families. It is also home to excellent international education institutions like Repton School Abu Dhabi and Paris Sorbonne University.
Dubai
1. Ciel Tower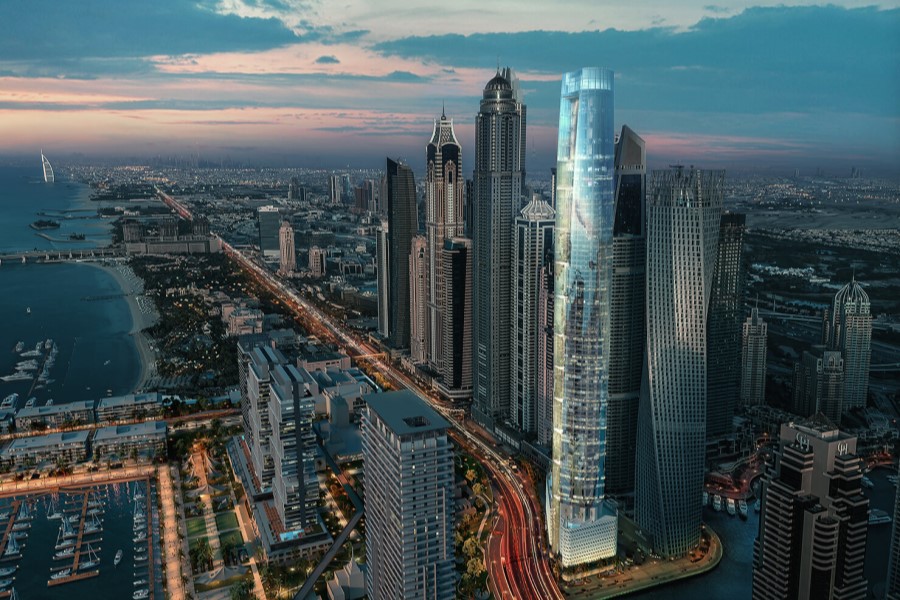 Joining the new real estate projects in Dubai is the upcoming Ciel Tower, which is set to be a one-of-a-kind architectural marvel standing at an impressive height of 365 meters and 52 storeys. Located in the heart of Dubai's central business district, it will become one of the tallest buildings in the world and redefine the city's skyline. With its gleaming glass façade and curved silhouette, it is sure to be an iconic sight for both locals and visitors alike. At the pinnacle of this magnificent structure will be a luxurious sky lobby with panoramic views of the cityscape below. The tower will also house several observation decks on different levels offering spectacular vistas stretching far into the horizon. On select floors there will also be elevated outdoor gardens where people can enjoy some outdoor activities or simply relax while admiring the stunning views.
2. Kempinski Floating Palace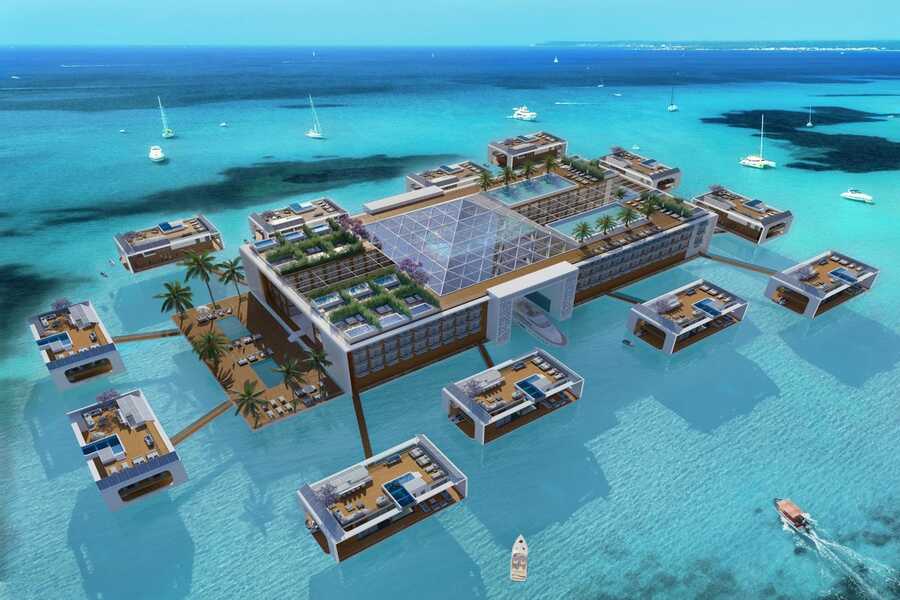 Anchored along Dubai's stunning coastline next to Jumeirah Beach Road is a grand hotel-ship offering a selection of exquisite accommodations unlike anything else available in the city. The luxury hotel will function as a floating structure that is surrounded by 12 additional floating solar-powered luxury villa residences. Guests can expect to be treated to a range of five-star services and amenities, including 10 restaurants featuring international cuisine and a decadent spa with an outdoor pool area. This palatial floating hotel is set to become the largest super yacht ever built and will boast over 156 luxurious rooms with uninterrupted views over Dubai's skyline and the Arabian Gulf.
3. Jumeirah Marsa Al Arab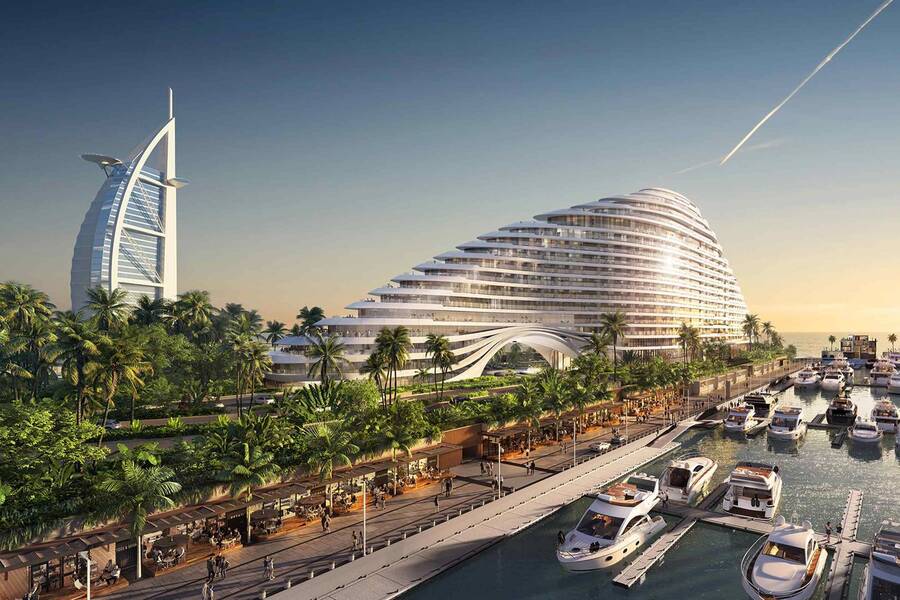 The 2023 opening of Jumeirah Marsa Al Arab will usher in a new era for the Jumeirah Group's portfolio of ultra-luxury properties. This exclusive ultra-luxury resort is set at an idyllic secluded location on Dubai's largest private beach and features 386 rooms with panoramic views of the Arabian Gulf. Experience world class fitness, leisure activities and signature restaurants within this impressive futuristic superyacht inspired destination complete with four penthouses as well as 83 luxury suites surrounded by landscaped gardens. There has never been such grandeur available in one captivating setting - make sure to mark your calendar.
4. One Za'abeel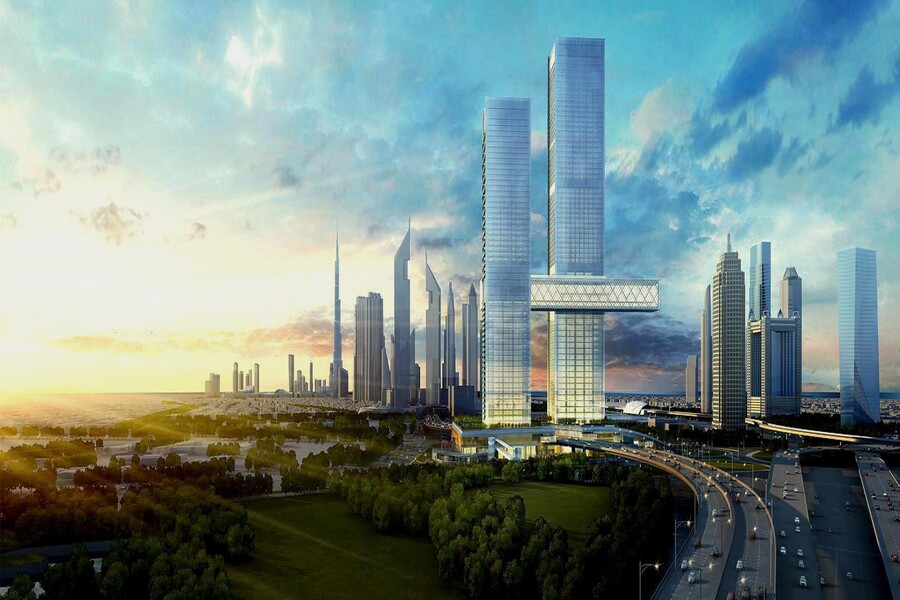 One&Only One Za'abeel is set to make its mark on the city's skyline as one of the many marvelous real estate projects in Dubai 2023 – an architectural masterpiece designed by world-renowned Nikken Sekkei. With 360-degree views of the city and captivating sunsets, this dual tower structure will be a must-see destination for both locals and visitors alike. Notable among the attractions housed in these towers is "The Link", said to be World's Longest Cantilevered Building at over 100 meters above ground! Experience exceptional restaurants from celebrity chefs or take advantage of wellness facilities such as statement swimming pools & retail outlets; there's something here for everyone with no shortage of entertainment options rounding out your visit.
With contemporary comfort crafted with effortless entertaining in mind, One&Only One Za'abeel provides a unique experience - boasting subtle earthy hues and curated artworks complemented by stunning views of the Dubai skyline. Unwind in their ultramodern health and wellness facilities located over 2,500 square metres within the resrot, complete with spa treatments, fitness centre access as well as spectacular infinity pool on its 25th floor perch: The Link.
5. Atlantis The Royal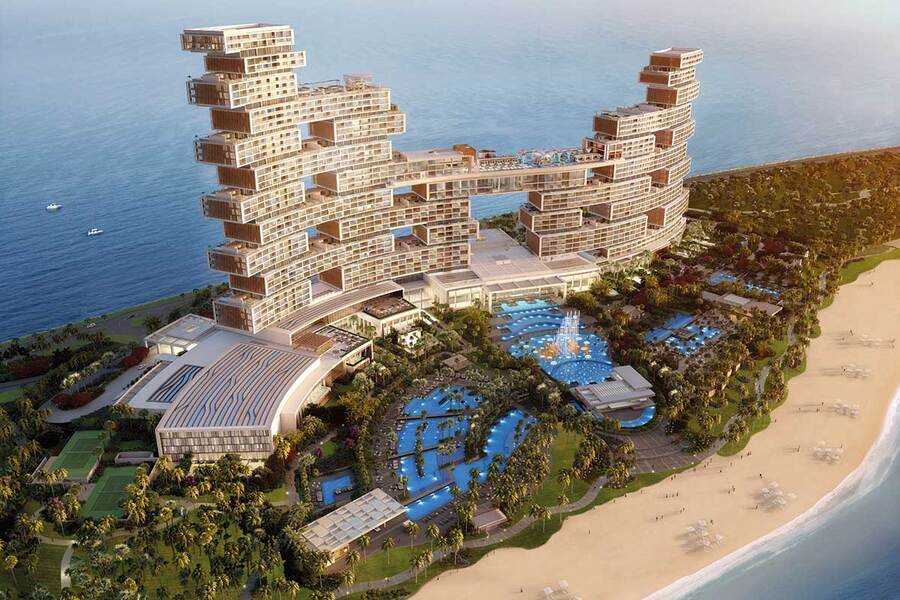 Dubai is set to take luxury hospitality and leisure experiences up a notch with the upcoming Royal Atlantis Resort & Residences. Located on Palm Jumeirah Island, this development will offer an exquisite atmosphere for visitors through two grand towers connected by landscaped gardens filled with villas, restaurants, spas and retail outlets surrounded by lush green spaces and tranquil water features. With its exclusive opulence combined with brilliant views of Dubai's skyline, it promises to become one of the city's premier landmarks providing guests unforgettable escapes in 2023.
Sharjah
1. Forest District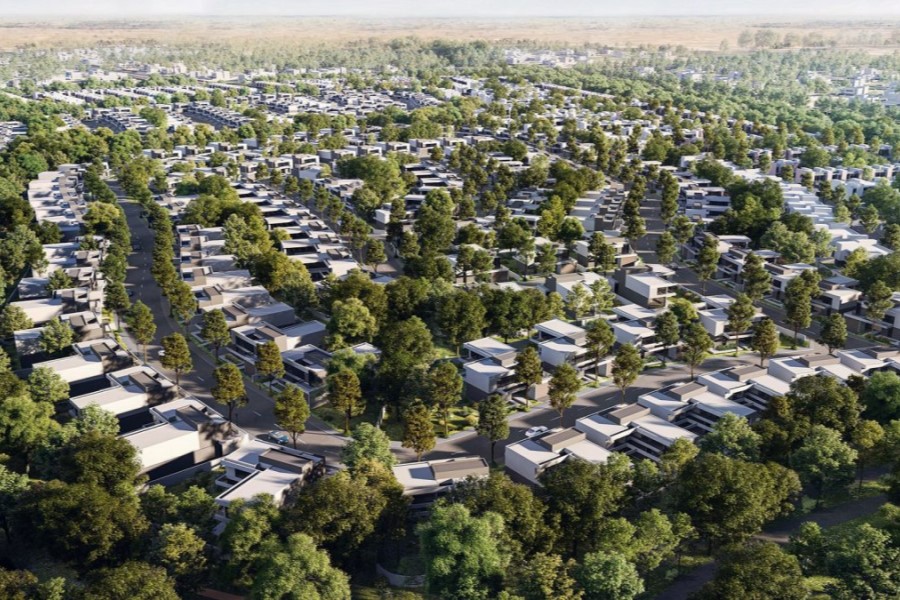 The Forest District in Sharjah is set to be the first of its kind in the region as a beautiful green oasis amidst the hustle and bustle of city life, creating a lush environment for residents and visitors alike. The AED 8 billion Sharjah megaproject will encompass over 19 million sqft green space harboring about 50,000 trees. The green community will feature 4,000 villas and townhouses split into eight gate districts, boasting a plethora of amenities that include a children's adventure playground, a skate park, an outdoor amphithretre and Zad, the popular food district already present in Arada's sister community Aljada. With the first home due to be handed over in Q1 2023, this community is a sure catch among investors.
Ras Al Khaimah
1. Falcon Island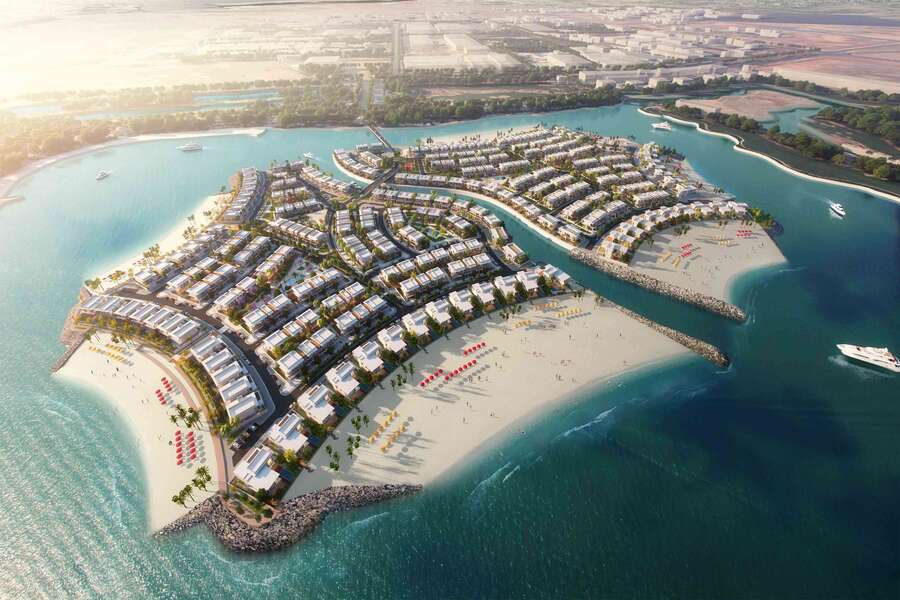 Falcon Island is a stunning residential oasis located in the heart of Al Hamra Village in Ras Al Khaimah, featuring a total of 500 luxury townhouses and villas meandering through two twin islands. Falcon Island is the perfect destination for an unforgettable Gulf experience. Berthing both wet and dry, it's home to a lush 18-hole championship golf course that plays host to prestigious European Tour tournaments. With stunning views of the Arabian Gulf, plus its 1.5km beachfront stretch and close proximity to upscale hotels & resorts as well as local eateries specializing in diverse cuisines - you're sure to find something new around every corner. Shopping aficionados will also delight at being just steps away from high end brands located within walking distance at Falcon Mall; while parents can rest easy knowing their children are only minutes' drive away from international schooling options available on site too.
These are just some of the many exciting real estate projects set to launch across UAE in 2023 – each offering unique experiences as well as excellent investment opportunities whether you're looking to purchase residential properties or invest in commercial ventures such as office buildings or hotels. With new infrastructure developments underway all over the region such as Abu Dhabi Airport Expansion Project making travel even more convenient; now could be an ideal time to consider investing your money into UAE's real estate market.
---
---