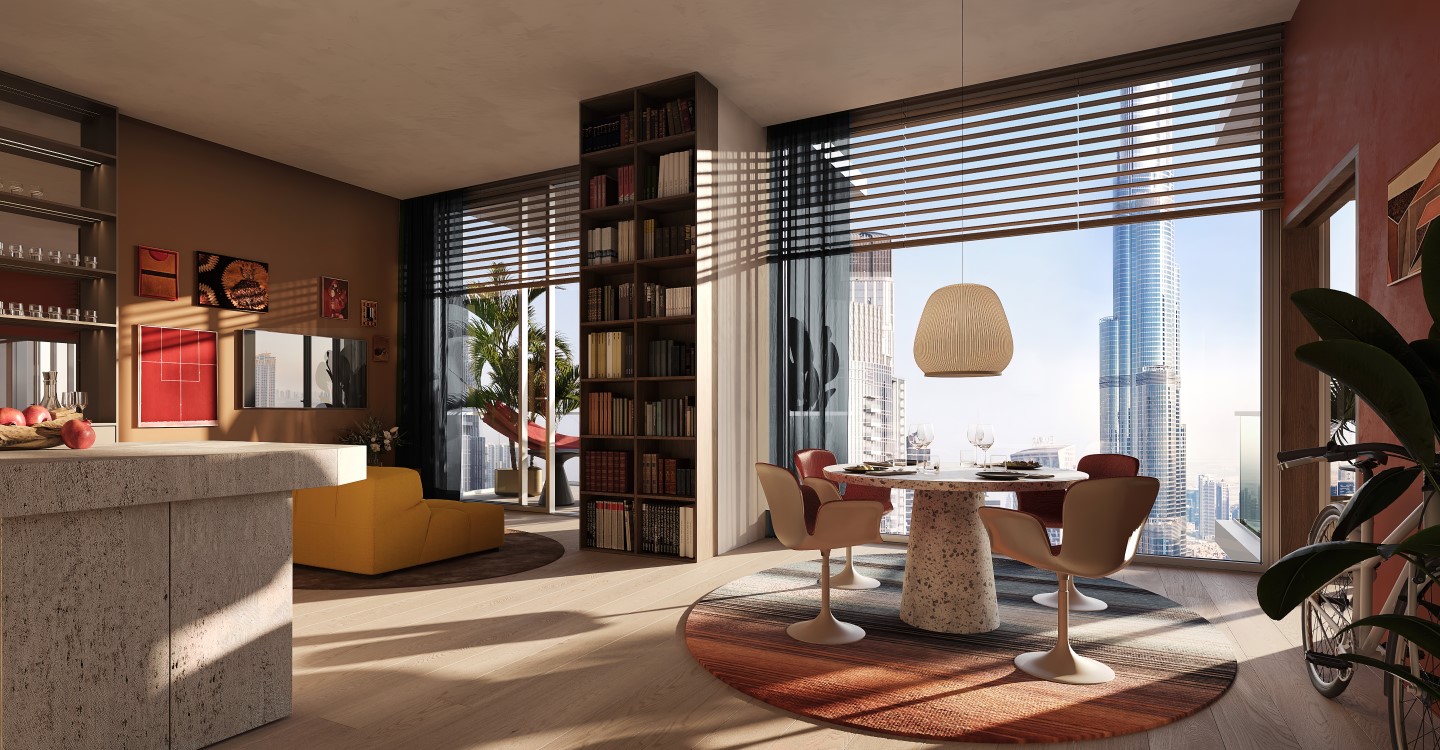 In the heart of Downtown Dubai, a groundbreaking project is set to redefine urban living. 25hours Heimat Dubai, the first standalone branded residence by 25hours Hotels, promises to revolutionize the concept of downtown living with its innovative design, distinctive amenities, and commitment to delivering a unique residential experience.
This project marks a significant step in Ennismore's strategic focus on branded residences, expanding its global portfolio to include 20 properties across various brands.
Living Options:
Apartments: Studio, 1, 2, and 3-bedroom
Penthouses: Duplex layout
Developed by East & West Properties and presented by
D&B Properties
, 25hours Heimat Dubai is a collaboration of visionary minds, bringing together the expertise, creativity, and commitment of the renowned 25hours Hotels team. This residential masterpiece spans 73 floors and offers a range of living options, including studio, 1, 2, and 3-bedroom apartments, as well as duplex penthouses.
Beyond the conventional,
25hours Heimat Dubai
introduces a host of distinctive amenities that redefine the way residents experience daily life. The iconic and spacious hotel lobby doubles as a working space, with additional features such as a screening room, podcast studio, and state-of-the-art launderette. The podium level hosts a family pool, a music room, a padel court, mini golf, indoor and outdoor fitness facilities, communal BBQ areas, and outdoor kitchens. For adults seeking an exclusive retreat, the 63rd floor offers a sky lounge with unobstructed views of the Burj Khalifa, complemented by a pool on the other side with breathtaking views extending to the Burj Al Arab. The rooftop is dedicated to wellness, featuring a sauna, Onsen, cold plunge, relaxation deck, and a mini observatory.
With 15 operational hotels in Germany, Dubai, Italy, France, Switzerland, Austria, and Denmark, and nine more in the pipeline, including locations in Indonesia, Australia, Portugal, and Saudi Arabia, 25hours Hotels continues to make its mark on the global hospitality landscape. The expansion into the branded residences sector aligns seamlessly with the brand's commitment to offering diverse and exceptional experiences.
Supported by Accor One Living, an industry-first mixed-use platform, 25hours Heimat Dubai provides residents with access to Accor's extensive ecosystem of brands, expertise, and solutions. This connectivity fosters a continuous flow of new opportunities for residents, guests, and partners to live, work, and play within a dynamic and integrated community.
Contact Us & Get the Floor Plans Today
For those aspiring to experience retro luxury,
25hours Heimat
is a compelling choice.
Contact us today
to explore floor plans and embark on a journey towards a lifestyle that harmonizes luxury, convenience, and modernity.
---
---
Related Property Insights