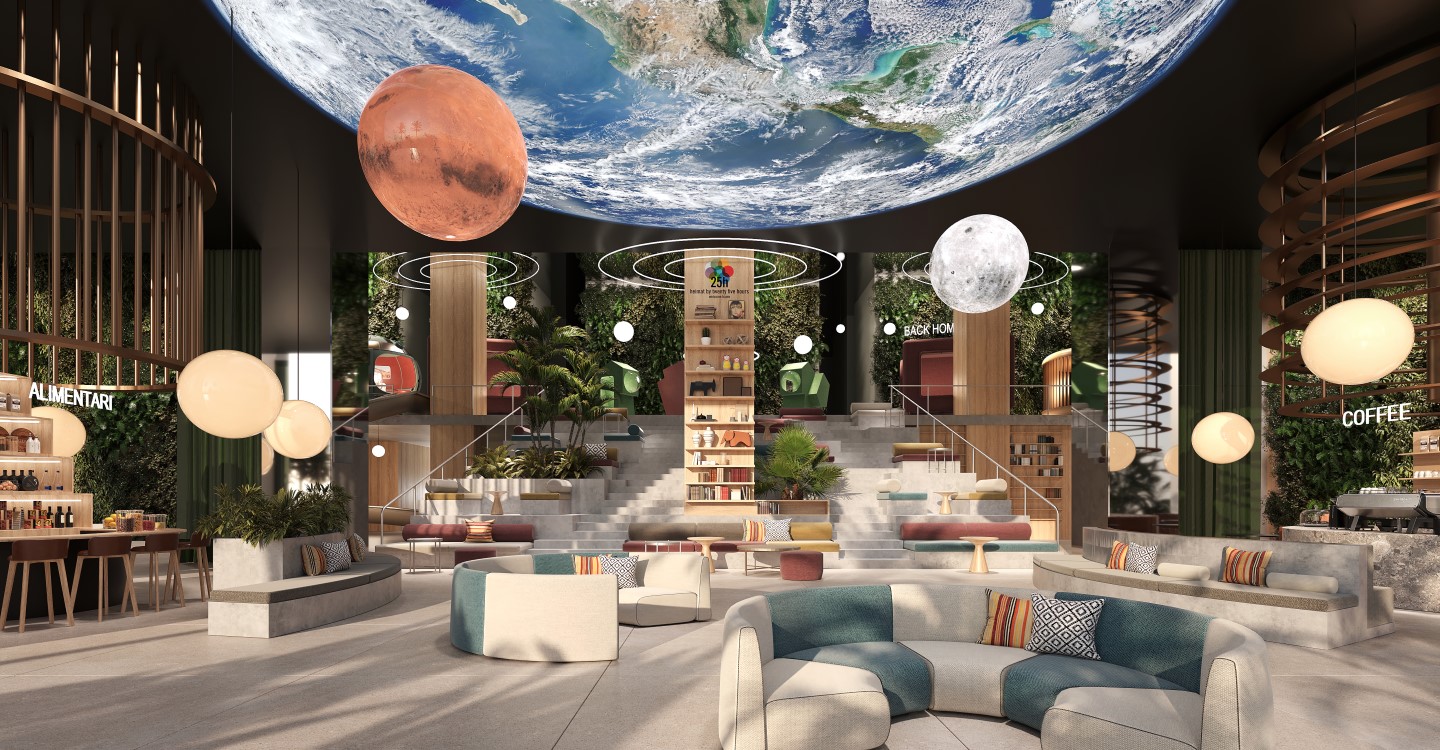 25hours Heimat is the new residential brand extension of the beloved 25hours Hotels.
Ennismore, the fastest-growing lifestyle and leisure hospitality company, along with East & West Properties and
D&B Properties
, are delighted to announce the first standalone branded residence by 25hours Hotels.
25hours Heimat Dubai
will be in the heart of Downtown Dubai, promising a revolutionary approach to
downtown
living. 25hours Heimat is part of Ennismore's strategic focus on branded residences, growing its global pipeline across brands to 20 properties.
Developed by East & West Properties, presented by D&B Properties, and imagined and branded by the team behind the reputable 25hours Hotels, this new project will bring together the expertise, creativity, and commitment to delivering a different kind of living, a true residential masterpiece. 25hours Heimat Dubai will offer branded residences across 73 floors, comprising studio, 1, 2 and 3-bedroom apartments and duplex penthouses.
Read more about the brand here
Beyond the conventional residential offerings, 25hours Heimat Dubai will boast a range of distinctive amenities, including an iconic and spacious hotel lobby with a working space, screening room, podcast studio, and state-of-the-art launderette. The podium will have a destination family pool, a music room, a padel court, mini golf, indoor and outdoor fitness facilities, communal BBQ areas, and outdoor kitchens. The 63rd floor will be an adult-only space with a sky lounge with unobstructed views of Burj Khalifa and a pool on the other side with stunning views all the way to Burj Al Arab. The rooftop will boast a unique wellness offering, including a sauna, Onsen, cold plunge, relaxation deck, and mini observatory.
25h Heimat Dubai
is designed by Studio Aisslinger in collaboration with the 25hours core team around its founder, Christoph Hoffmann. The Berlin-based designers have created three iconic 25hours Hotels in Berlin, Zurich and Cologne.
"Heimat" is an untranslatable German word describing places and feelings alike. Heimat is where one feels at home and secure, where the food, the music, the aromas and the company are just right. 25hours Heimat is the new eclectic home for cosmopolitans with a sweet spot for nostalgia.
25hours Hotels has 15 hotels in operation across Germany, Dubai, Italy, France, Switzerland, Austria, and Denmark, with a further nine hotels in the pipeline, taking the brand to Indonesia, Australia, Portugal and Saudi Arabia for the first time.
East & West Properties, the developer behind 25hours Heimat Dubai, takes pride in crafting a residential masterpiece where elegance meets functionality. From the thoughtfully designed studios to the expansive duplex penthouses, each living space within this visionary haven reflects East & West Properties' unwavering commitment to excellence. In collaboration with D&B Properties, East & West Properties' shared vision for premium real estate ensures a seamless development process. More than just residences, 25hours Heimat Dubai is an embodiment of our philosophy—a celebration of refined living and a testament to the transformative power of thoughtful design.
Louis Abboud, Chief Development Officer and Deputy Head of Middle East, Africa, and Turkey, at Ennismore, said, "We're incredibly excited to announce 25hours Heimat as a new residential brand extension of the much-loved 25hours. We know that 25hours Heimat Dubai will shake the residential market, much like 25hours Hotel Dubai took the hotel market by storm back in 2021. In East & West Properties, we have found a partner who has entrusted us with embarking on this ambitious and exciting project together and changing the residential market. We have no doubt our strategic partner for the project, D&B Properties, who has been instrumental in its development to date, will help us bring 25hours Heimat Dubai to market in a new and innovative way."
Husni Al Bayari, Chairman & Founder of D&B Properties, expressed his enthusiasm, stating,
"Our stronghold ongoing collaboration with East & West Properties, Accor Group, and Ennismore is a cumulation of creative alliance to continue reinventing the global real estate landscape. A true game-changer in the world of branded residences, 25hours Heimat Dubai seamlessly integrates the DNA of 25hours' acclaimed hospitality into the fabric of everyday life, promising a home and a lifestyle crafted around individuality and innovation. Situated in the heart of Downtown Dubai, residents will be treated to unobstructed views of the iconic Burj Khalifa and the vibrant Downtown Boulevard. Just five minutes away from the renowned Dubai Mall, 25hours Heimat Dubai serves as your personal gateway to culture, shopping, and limitless entertainment. We are confident that
25hours Heimat Dubai
will redefine the notion of urban living, setting a new standard for branded residences in the region."
Ennismore's branded residential properties, including 25hours Heimat Dubai, are supported by Accor One Living, the company's industry-first, mixed-use platform focused on supporting the development and operation of branded residential communities. Through Accor One Living, homeowners, guests, and partners are connected to Accor's diverse ecosystem of brands, expertise, and solutions - creating a constant flow of new opportunities to live, work, and play.
The branded residential space is one of the fastest-growing sectors in real estate. At the same time, lifestyle is the fastest-growing category in hospitality – appealing to a new generation of homeowners who appreciate a modern and casual sense of luxury. Ennismore has 28 branded residences open and under development, including Mondrian Burleigh Heads in Gold Coast, Australia, and Maison Delano Seoul. Dubai is one of the strongest markets for Ennismore's branded residence, and
D&B Properties
has been critical to the group's residential growth in the city, supporting various strategic deals.
Flagship Ennismore residential properties in Dubai include SLS Residences The Palm Dubai, the first standalone residence outside of the Americas, set to open in 2026; Mama Shelter Residences, Dubai, the first Mama Shelter residence in the world will add trendsetting energy to the Business Bay area when it opens in 2024, and opening later this year, SO/Uptown Dubai Residences, a 227-residence property bringing style to a fashion-forward generation of homeowners.
---
---