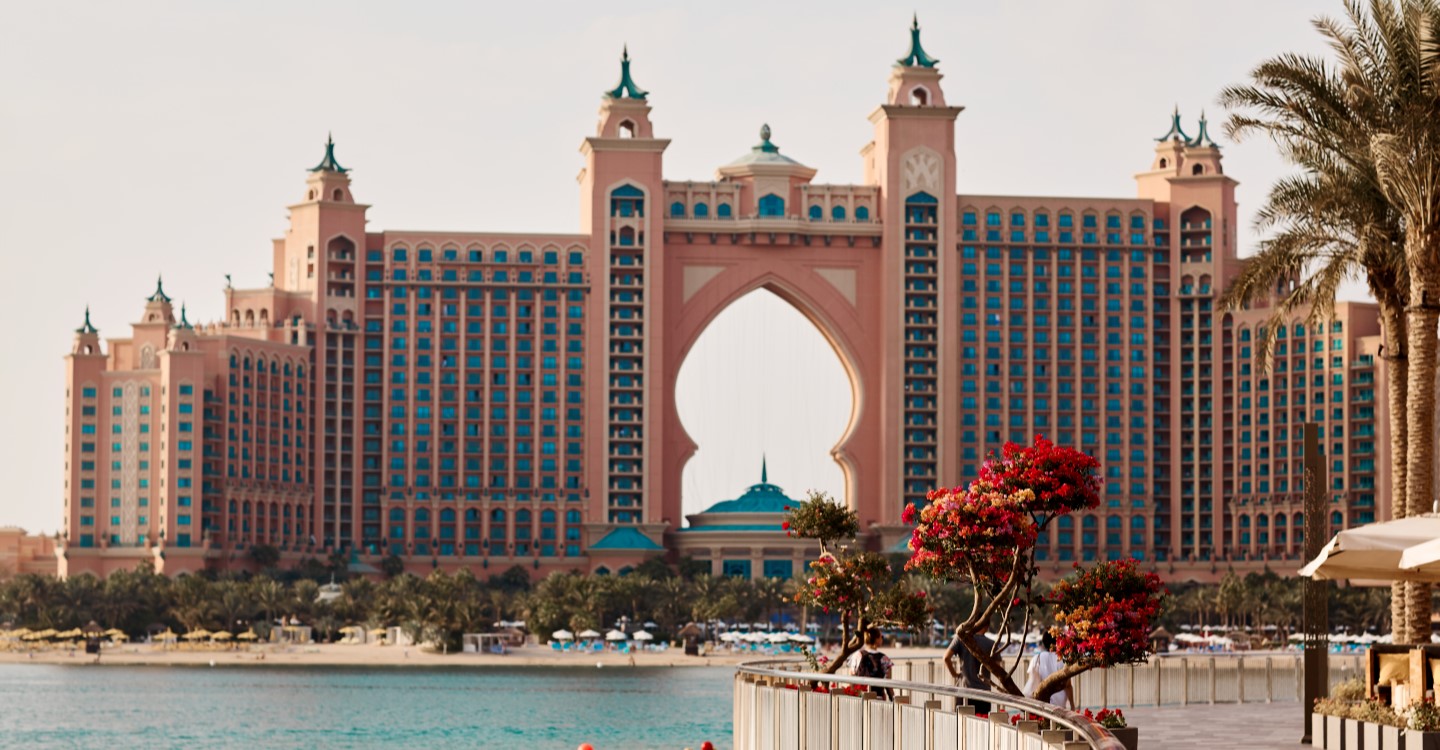 Nestled on the iconic Palm Jumeirah in Dubai, Atlantis, The Palm is a world-renowned luxury resort that captivates visitors with its opulence, grandeur, and an array of extraordinary experiences. As a leading real estate agency in Dubai, D&B Properties understands the allure of this enchanting destination and recognizes the value of offering potential homeowners a comprehensive guide to the best activities to enjoy at Atlantis.
Whether you are a resident of Dubai or a visitor exploring the city's finest attractions, Atlantis offers a plethora of unforgettable adventures to indulge in. From splashing in the thrilling waterpark to dining at award-winning restaurants and encountering marine wonders, let's dive into the five most captivating things to do at Atlantis, Dubai.
1. Aquaventure Waterpark: A Thrilling Water Wonderland
No visit to Atlantis would be complete without experiencing the exhilarating Aquaventure Waterpark. This aquatic paradise caters to all ages, featuring an array of heart-pounding water slides, wave pools, and a tranquil lazy river. Brave the thrilling Leap of Faith slide, where you plummet through a shark-filled lagoon, or take on the Tower of Neptune, offering a mesmerizing ride through a transparent tunnel surrounded by an aquarium teeming with marine life.
For families with little ones, the Splashers Children's Play Area promises hours of fun with water jets, climbing frames, and mini slides. The Aquaventure Waterpark at Atlantis guarantees an adrenaline-pumping day filled with laughter, excitement, and cherished memories.
2. The Lost Chambers Aquarium: A Submerged Journey
Venture into the mesmerizing underwater world at The Lost Chambers Aquarium, an immersive marine habitat where you can encounter over 65,000 marine creatures. Inspired by the lost city of Atlantis, this awe-inspiring aquarium presents a captivating mix of enigmatic ruins and exotic sea life. Embark on a mesmerizing journey through mazes of underwater tunnels, where you'll come face-to-face with majestic rays, mesmerizing sharks, and a vibrant array of tropical fish.
Visitors can also participate in interactive touch tank experiences and informative guided tours led by marine experts. Whether you're a marine enthusiast or simply seeking an educational adventure, The Lost Chambers Aquarium promises an unforgettable encounter with the wonders of the ocean.
3. Dolphin Bay: An Enchanting Encounter
At Atlantis' Dolphin Bay, you have the rare opportunity to interact with some of the ocean's most charismatic creatures - dolphins. Immerse yourself in a once-in-a-lifetime experience as you wade into the crystal-clear waters to meet these intelligent and gentle mammals.
Swim and play alongside dolphins, guided by expert trainers who share their knowledge of these incredible creatures and the conservation efforts in place to protect them. Dolphin Bay offers various packages, ranging from shallow-water interactions to deep-water swims, making it suitable for all ages and comfort levels.
4. Indulge in Culinary Excellence: A Gastronomic Journey
Atlantis Dubai boasts a plethora of award-winning restaurants, catering to every palate and culinary craving. From celebrity-chef restaurants to casual eateries, the resort offers a gastronomic journey like no other. Tantalize your taste buds with Nobu's innovative Japanese-Peruvian fusion dishes, savor the vibrant flavors of Saffron's international buffet, or enjoy a sumptuous seafood feast at Ossiano, where you can dine amidst a mesmerizing underwater aquarium. The options are endless, ensuring that every dining experience at Atlantis is a true delight for the senses.
5. Relaxation and Serenity at ShuiQi Spa
Escape to a realm of relaxation and rejuvenation at ShuiQi Spa, a sanctuary that offers an array of indulgent treatments and therapeutic rituals. Pamper yourself with a blissful massage, unwind in the steam rooms and saunas, or take a dip in the opulent Royal Pool. ShuiQi Spa provides a tranquil oasis, where skilled therapists use luxurious products to revitalize your body and soul.
Whether you're splashing in the Aquaventure Waterpark, encountering marine wonders at The Lost Chambers Aquarium, bonding with dolphins at Dolphin Bay, indulging in culinary delights, or unwinding at ShuiQi Spa, Atlantis ensures an unforgettable journey filled with treasured moments. As you embark on this unforgettable experience, consider the allure of calling Dubai your permanent home. With our unparalleled selection of
luxury properties
,
D&B Properties
is your trusted partner in finding the perfect residence amidst the splendor of Dubai's cosmopolitan landscape. Embrace the spirit of Atlantis and the allure of Dubai's luxury real estate market as you begin your journey towards an extraordinary life in the heart of this dazzling metropolis.
6. Atlantis Beach: Sun, Sand, and Serenity
Atlantis, The Palm is not just a destination of thrills; it also boasts a pristine private beach where visitors can bask in the sun and relish the glistening waters of the Arabian Gulf. The beach provides a tranquil escape from the bustling city, offering the perfect setting for relaxation and rejuvenation.
Whether you prefer soaking up the sun on a comfortable lounger or indulging in beachside activities like beach volleyball or paddleboarding, Atlantis Beach caters to all preferences. Moreover, guests can enjoy the attentive service of beach attendants who ensure a seamless and comfortable beach experience.
7. The Avenues: A Shopper's Paradise
Beyond its stunning attractions, Atlantis, Dubai also caters to those who crave a dose of retail therapy. The Avenues, a vibrant shopping destination within the resort, offers a treasure trove of luxury boutiques and designer stores.
Stroll through a collection of high-end fashion, jewelry, and accessory brands, satisfying your shopping desires amidst an atmosphere of elegance and opulence. Whether you're looking for a unique souvenir or seeking to indulge in the latest fashion trends, The Avenues at Atlantis will undoubtedly impress even the most discerning shoppers.
8. Underwater Yoga: A Serene Experience
For wellness enthusiasts seeking an extraordinary experience, Atlantis, The Palm presents a unique and serene activity – underwater yoga. Set amidst the mesmerizing Ambassador Lagoon, this invigorating session combines the tranquility of yoga with the awe-inspiring views of marine life swimming gracefully by.
Imagine practicing your sun salutations as colorful fish glide past, offering a truly unforgettable yoga experience that harmonizes mind, body, and spirit. Underwater yoga classes are available for all levels of yogis, led by experienced instructors who ensure a safe and rewarding session.
9. Atlantis Kids Club: Endless Fun for Little Explorers
Families visiting Atlantis, Dubai can rest assured that their little ones will be entertained and delighted at the Atlantis Kids Club. This dedicated space is designed to spark the imaginations of children with a wide range of supervised activities and games.
From arts and crafts to fun educational sessions, the Kids Club offers a safe and engaging environment for children to socialize and make new friends from around the world. Parents can enjoy their own adventures, knowing that their children are well taken care of and having a blast at the Atlantis Kids Club.
10. Aquatrek: Walk Underwater with Marine Life
For an extraordinary aquatic adventure, consider the Aquatrek experience at Atlantis. Aquatrek allows visitors to walk underwater while wearing a specially designed helmet, offering a unique opportunity to interact with marine life up close.
Aquatrek guides you on an enchanting journey through the Ambassador Lagoon, where you'll encounter a stunning array of marine creatures, including graceful rays and majestic sharks. Without the need for any diving experience, this immersive encounter provides a memorable opportunity to appreciate the beauty of the ocean and its inhabitants.
Conclusion
Atlantis The Palm is a veritable wonderland of opulence, adventure, and relaxation, where visitors of all ages can create cherished memories that will last a lifetime. From the heart-pounding excitement of the Aquaventure Waterpark to the serene underwater yoga sessions, every experience at Atlantis promises to be nothing short of unforgettable. As you immerse yourself in the captivating world of Atlantis, consider the allure of owning a piece of this luxurious paradise as your permanent residence. With D&B Properties, your trusted
real estate agency in Dubai
, finding your dream home amidst the splendor of this cosmopolitan landscape is a seamless and rewarding experience.
Embrace the spirit of Atlantis and the allure of Dubai's luxury real estate market as you embark on a journey towards an extraordinary life in the heart of this dazzling metropolis. Let Atlantis be more than a vacation destination; let it become the place you call home, where every day is filled with excitement, relaxation, and the splendor of Dubai's iconic skyline.
---
---