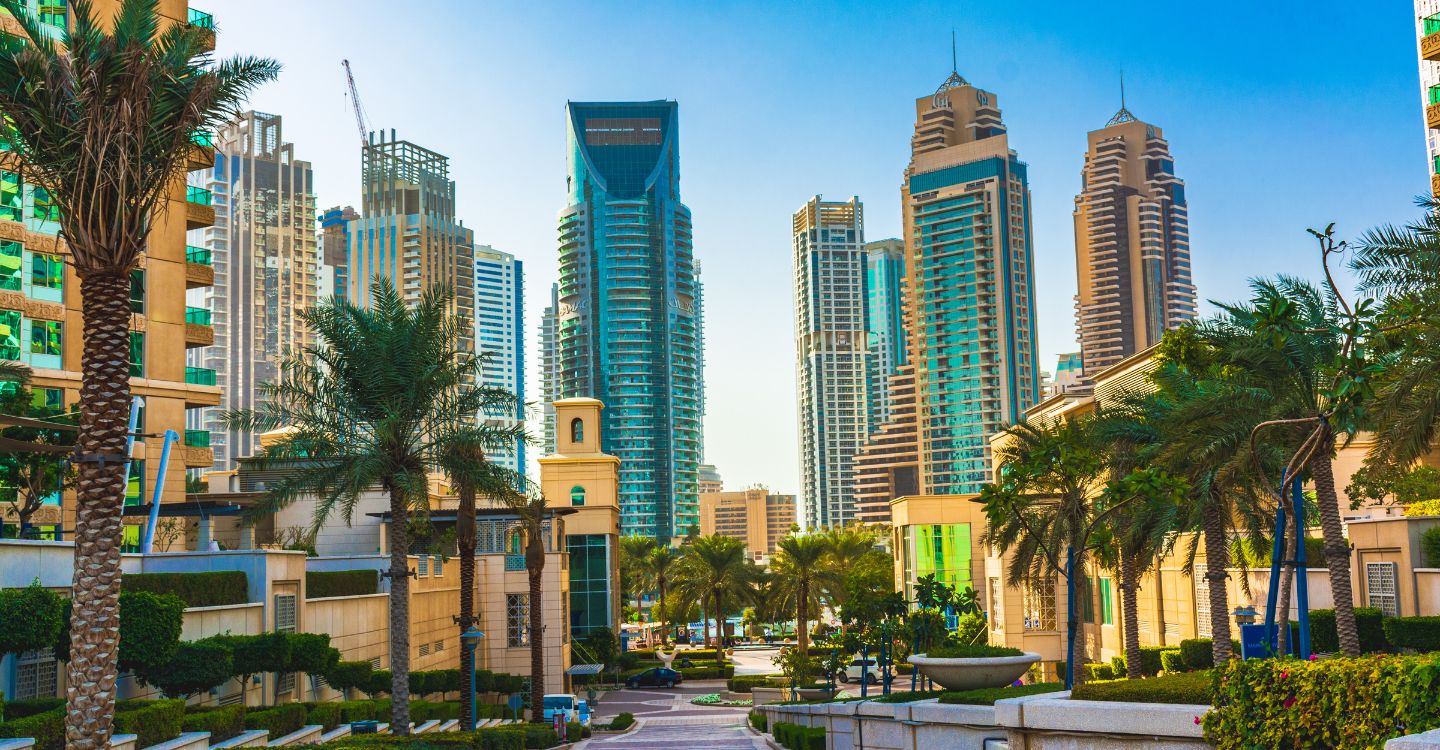 Dubai Marina, often referred to as the 'Venice of the Middle East,' stands as a testament to Dubai's ceaseless ambition and innovation. This magnificent man-made canal city has become a symbol of luxury living, offering an unmatched lifestyle and breathtaking views of the Arabian Gulf.
In this comprehensive guide, we'll delve deep into the heart of Dubai Marina, exploring its history, attractions, lifestyle, real estate opportunities, and the practical aspects of living in this vibrant community.
Join us on a journey through one of Dubai's premier waterfront communities.
A Glimpse into Dubai Marina's History
Dubai Marina's development began in the early 2000s when Emaar Properties, one of Dubai's leading developers, envisioned a thriving waterfront community. The ambitious project aimed to transform a stretch of barren desert into a bustling urban paradise. Construction officially commenced in 2003, and in just a few years, the skyline started to change.
The
Dubai Marina
project involved excavating the earth and filling it with seawater from the Arabian Gulf, creating an impressive 3-kilometer-long artificial canal. Along this picturesque waterway emerged a collection of high-rise residential and commercial towers that would soon redefine
luxury living in Dubai
.
Dubai Marina: An Architectural Marvel
Dubai Marina's skyline is nothing short of awe-inspiring. It's a stunning testament to human engineering and architectural creativity. The Marina is home to some of Dubai's most iconic skyscrapers, including the Princess Tower, the Cayan Tower, and the iconic twisting Infinity Tower. These architectural wonders have not only reshaped the city's skyline but have also set world records for their unique designs and heights.
These towering landmarks are more than just buildings; they are marvels of design and engineering. The Cayan Tower, for instance, boasts a twisting design that allows each floor to rotate independently, providing residents with ever-changing views of the city and the sea. Infinity Tower, on the other hand, is known for its dramatic helical shape, a stunning example of architectural innovation.
Lifestyle and Amenities
Living in Dubai Marina is synonymous with a lifestyle that is nothing short of extraordinary. This meticulously planned community is a testament to the pursuit of convenience and luxury, redefining the way people experience urban living in Dubai. Here are some of the key lifestyle highlights that make Dubai Marina an unparalleled residential choice:
1. Dining and Entertainment: Dubai Marina boasts a plethora of dining options, from fine dining restaurants to trendy cafes, serving a diverse range of cuisines. The Marina Walk, a waterfront promenade, is a popular spot for residents and visitors alike, offering a variety of dining and entertainment options.

2. Recreation: Dubai Marina's commitment to promoting an active way of life is evident in its meticulous urban planning and well-thought-out infrastructure. This dedication allows residents to embrace a lifestyle that is not only health-conscious but also invigorating and fulfilling.
3. Shopping: The Marina area isn't just a paradise for those seeking an active lifestyle; it's also a shopper's haven. Within Dubai Marina's vibrant landscape, you'll discover an array of shopping destinations, with the crown jewel being the illustrious Dubai Marina Mall. This shopping haven is not merely a retail hub; it's a captivating fusion of high-end fashion, gourmet dining, and entertainment, all housed under one roof.
4. Beach Access:
The famous
Jumeirah Beach Residence (JBR)
public beach is just a short walk away from Dubai Marina, allowing residents to enjoy the sun, sea, and sand at their leisure.
5. Boating and Yachting: The Marina's tranquil waters are perfect for boating and yachting enthusiasts. Many residents own private boats or yachts, and the Marina features numerous berths for mooring.
Real Estate in Dubai Marina
Dubai Marina offers a diverse range of real estate options, from luxurious apartments with stunning waterfront views to upscale penthouses and spacious villas. The community caters to various budgets, making it accessible to both expatriates and locals.
The Marina is divided into several sub-communities, each offering its unique charm and characteristics. Some popular ones include:
1. Marina Promenade: Known for its stunning views and proximity to the Marina Walk, Marina Promenade offers a wide range of apartments with a contemporary design.
2. Jumeirah Beach Residence (JBR): This beachfront community within Dubai Marina is famous for its luxurious apartments and access to the beach. It's a popular choice among expatriates and tourists.
3. Dubai Marina Mall Area: This sub-community is situated around the Dubai Marina Mall and features a mix of residential and commercial properties, making it convenient for shopping and entertainment.
4. Emaar Six Towers: Emaar's Six Towers is a prestigious development within Dubai Marina, known for its upscale apartments and world-class amenities.
Investing in Dubai Marina
Dubai Marina is not just an attractive place to live; it also stands as a highly compelling investment opportunity. The continuous development and remarkable growth of this vibrant waterfront community have catapulted it into the spotlight as a sought-after destination for property investors worldwide.
Here are some reasons why investing in Dubai Marina makes sense:
1. Strong Rental Demand:
Dubai Marina attracts a diverse group of residents, including expatriates and tourists. This diversity ensures a consistent demand for
rental properties
.
2. Capital Appreciation: Over the years, Dubai Marina has witnessed steady capital appreciation, making it an attractive option for long-term investors.
3. Tourism Hub:
The Marina's proximity to popular tourist destinations, including JBR and the beach, ensures a high occupancy rate for
short-term rentals
.
4. Stable Economy: Dubai's stable economy and business-friendly environment provide confidence to investors.
5. Quality of Life: The luxurious lifestyle and amenities offered in Dubai Marina make it a prime choice for individuals and families seeking a high quality of life.
Practical Aspects of Living in Dubai Marina
Now that we've explored the glamorous side of Dubai Marina, it's essential to consider the practical aspects of living in this vibrant community.
Education: Indeed, Dubai Marina stands as an excellent choice for families with children due to its accessibility to a diverse range of educational institutions. The community's commitment to providing quality education ensures that families can easily find suitable options for their children's educational needs.
Transportation: The Dubai Metro and the Tram conveniently serve Dubai Marina, making it easy to navigate the city. Additionally, the Marina's strategic location provides quick access to major road networks.
Healthcare: Residents have access to world-class healthcare facilities, including clinics and hospitals, ensuring their well-being is well taken care of.
Community Events: Dubai Marina frequently hosts an exciting array of community events that go beyond merely providing residents with opportunities to socialize and engage in various activities. These events serve as a vibrant tapestry of experiences that foster a sense of belonging and unity among the diverse community that calls Dubai Marina home.
Conclusion
Dubai Marina, with its breathtaking skyline, luxurious lifestyle, and unmatched real estate opportunities, is undoubtedly one of Dubai's premier waterfront communities. Whether you're looking to live in this vibrant urban paradise or invest in its promising real estate market, Dubai Marina offers a world of possibilities. As this dynamic community continues to evolve and grow, it will remain a shining jewel in Dubai's crown for years to come.
Dubai Marina is not just a destination; it's a lifestyle that embraces the future while honoring the traditions of the past. So, whether you're a resident, an investor, or a visitor, Dubai Marina welcomes you to experience the best that Dubai has to offer.
---
---