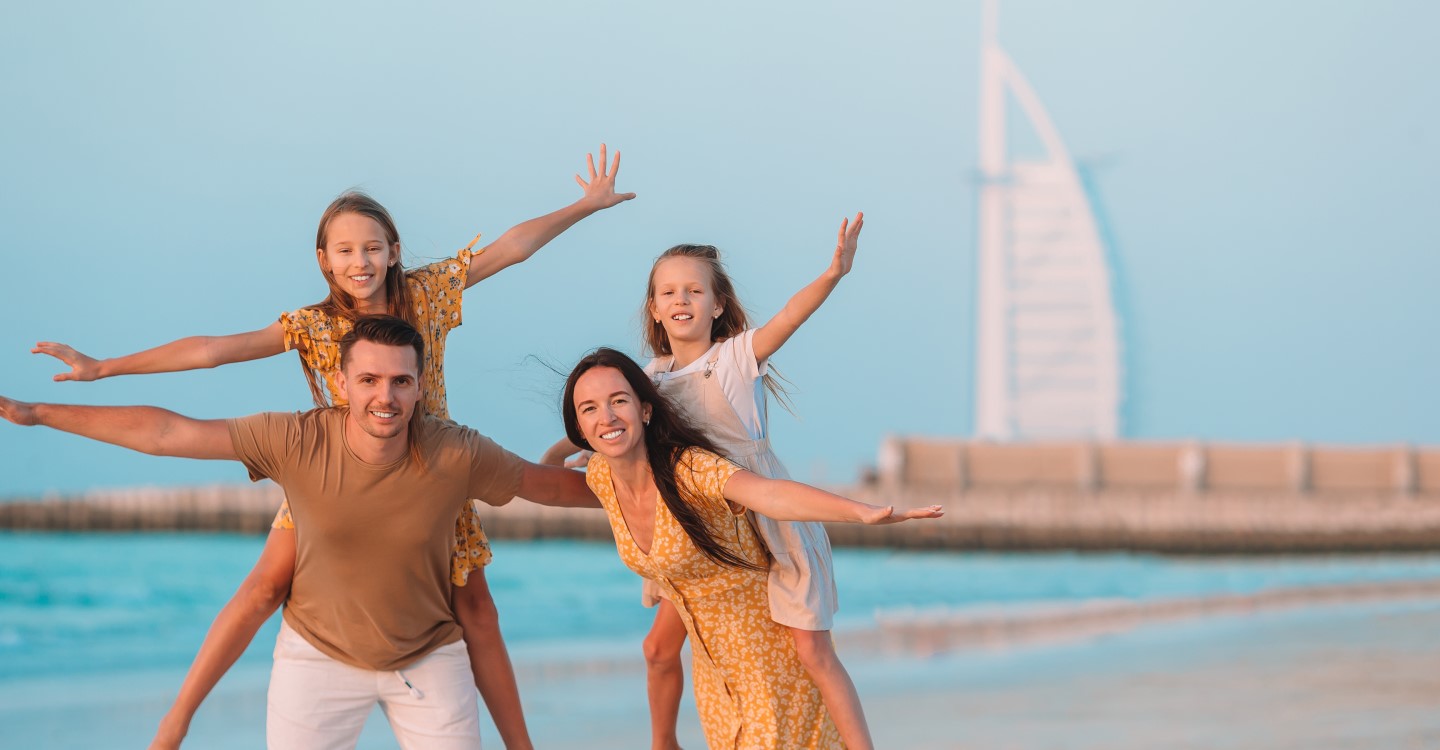 When the winter months roll around in Dubai, there's no better way to enjoy yourself than by planning for the weekend to some of the most exciting and memorable places in the city. From shopping malls and gardens to museums and theme parks, there is something to do for everyone during winter in Dubai 2022.
Whether you are looking for an adrenaline rush or a relaxing weekend activity, here are 7 must-visit places during the winter season.
1. Miracle Garden
Entrance Fee: AED 75 per person
This beautiful garden is a unique destination that has truly captured the hearts of tourists and locals alike. Located in Dubailand, it is one of the world's most impressive outdoor attractions, and an absolute must-see for anyone visiting the city. Spanning over 72,000 square meters, this stunning paradise is filled with remarkable landscaped gardens, lush foliage, and more than 45 million vibrant blooms in an array of colors and shapes. Miracle Garden is practically a floral wonderland with its stunning displays of mesmerizing topiary structures, winding pathways lined with trees and bright flower beds, interactive sculptures made from colorful blooms, themed zones featuring birdhouses and animal-shaped shrubs, and even 'Dubai Miracle Garden' written out in letters made from flowers!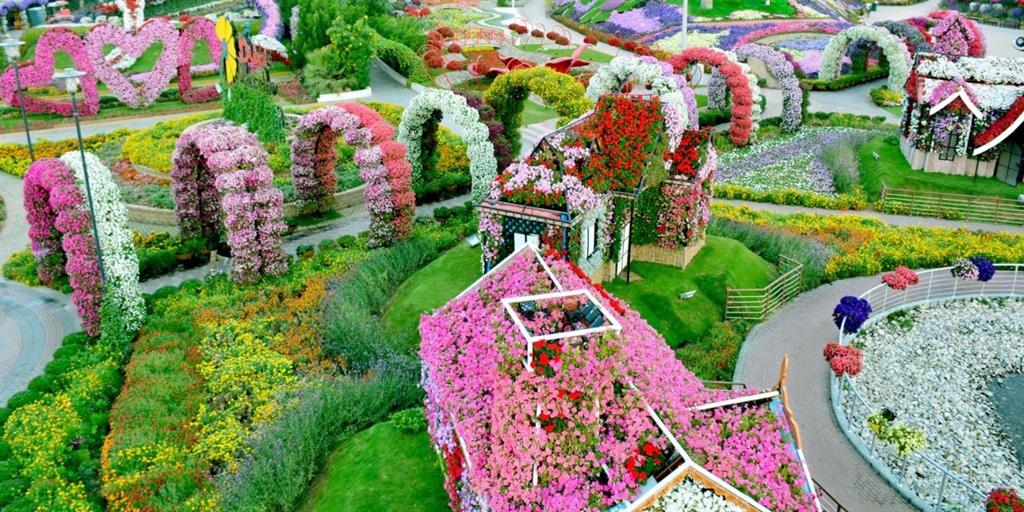 The garden also features an outdoor amphitheater which hosts live entertainment shows during peak months. In addition to its beauty, Miracle Garden carries special significance because it introduced the concept of flower tourism to the Middle East region. Aside from all the breathtaking sights that await visitors here, they can also explore several dining options like cafes offering delicious international cuisine as well as authentic Emirati dishes or simply relax in one of their many seating areas amidst nature.
2. Global Village
Entrance Fee: AED 25 per person
For those looking for a more cultural experience during their stay in Dubai, Global Village is an outdoor entertainment venue offering activities like shopping (over 75 countries represented), carnival rides, live performances by local music artists, international cuisine stalls – plus much more! Located in the ex-suburb of Dubailand, Global Village is the largest seasonal cultural extravaganza in the region. It's definitely worth checking out if you want something different from the usual tourist spots around town. Guests can stroll through a truly fun and vibrant atmosphere with live performances, street shows, open-air entertainment activities such as rides, music festivals and much more. The entire park is designed to represent its name—a global village atmosphere reflecting different cultures from around the globe!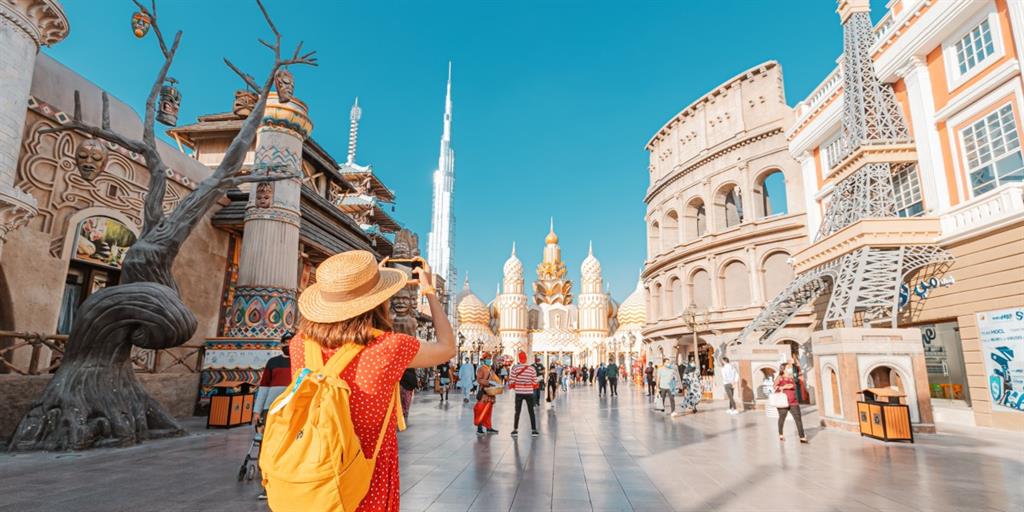 At Global Village you can find numerous cafes and restaurants offering international cuisines including Chinese, Indian, Mexican and more. It also features a large central lake with boat rides for visitors who want to take in scenic views of this unique place. Shopping at Global Village is an absolute delight with colorful bazaars offering souvenirs from across different nations - from jewelry to fragrances; spices to clothing; carpets to hookahs; handicrafts to antiques –you'll find it all here.
Apart from stalls selling food items, there are also multiple kiosks that offer fun activities like camel rides for children or traditional henna application for adults (henna tattoos). Visitors will also be delighted by concerts featuring musical acts from around the world performing popular songs alongside traditional dance performances that include belly dancing and Latin-style zumba classes.
3. IMG Worlds of Adventure
Entrance Fee: AED 345 per person
IMG Worlds of Adventure is an indoor theme park featuring rides based on popular Nickelodeon cartoons as well as Marvel superheroes like Spider-Man and Iron Man. There are plenty of attractions suitable for both children and adults alike – making it perfect for family outings! Plus with tons of food options available inside too, you won't have to worry about having anything else planned out after your visit here either!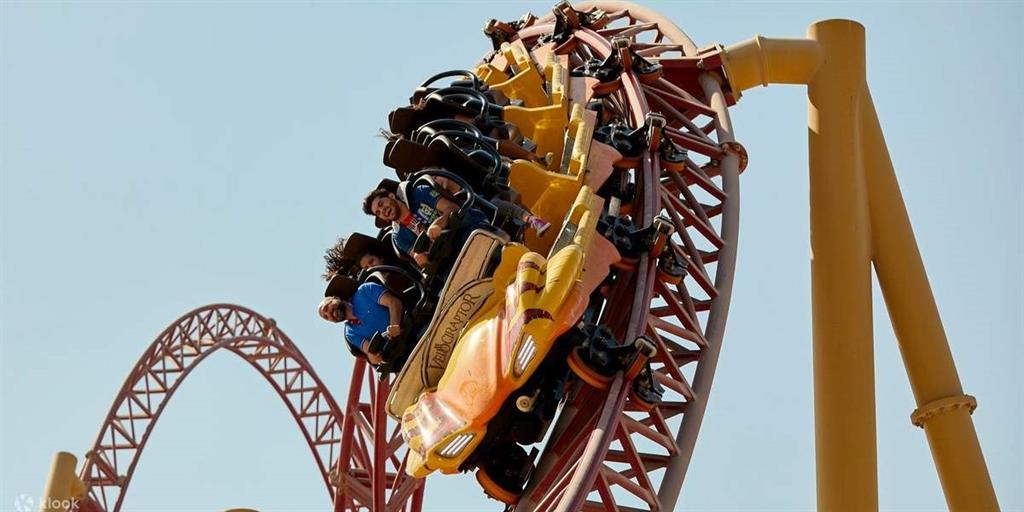 At IMG Worlds, visitors can explore the Lost Valley: Dinosaur Adventure, a mysterious land filled with life-sized animatronic dinosaurs; Marvel Universe, a superhero-themed universe taking guests on an interactive mission to save the world from destruction; Cartoon Network World, a land full of colorful characters and rides featuring beloved cartoon classics; and lastly IMG Boulevard, which offers shops and restaurants for guests to enjoy.
Lost Valley provides plenty of opportunities for adventure seekers. You can take part in thrilling jeep rides with cinematic effects or explore the Valley's creepy river rapids. There are also several attractions like the Velociraptor Chase Coaster and Vast Insect Center where you can learn about dinosaur species. Kids will love getting up close and personal with their favorite dinosaurs at the Fossil Dig Sand Pit area.

4. Ski Dubai
Entrance Fee: AED 130 per person
Skiing in the desert may sound impossible – but not when it comes to Ski Dubai! This indoor wonderland is home to five ski slopes with varying levels of difficulty, so even beginners can enjoy themselves without fear of falling flat on their faces (or worse!). Ski Dubai is the first indoor ski resort in the Middle East located in Mall of the Emirates, and it is the largest indoor snow park in the world. You can rent skis or snowboards along with helmets and snow suits if needed. There's even a chairlift that takes visitors up to different parts of the slope, so you never have to walk too far between runs.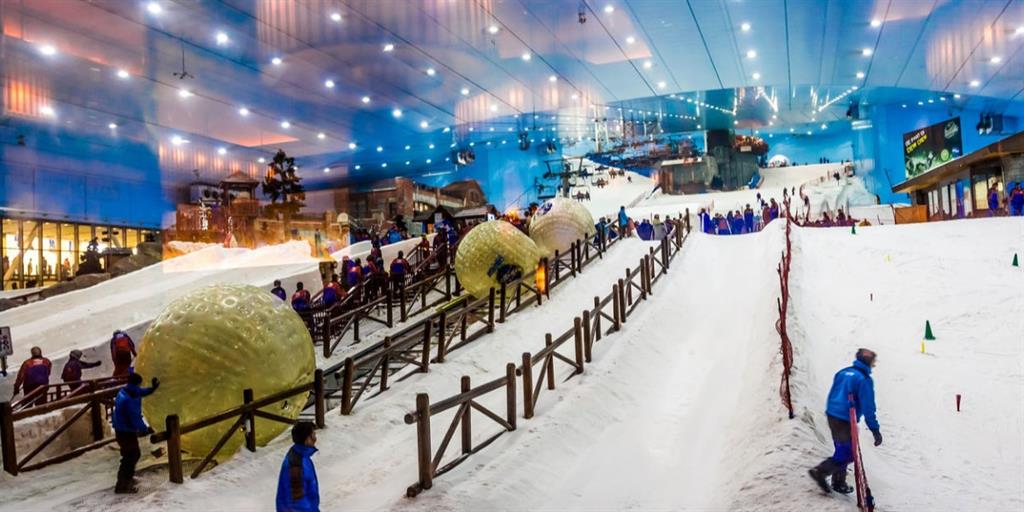 Ski Dubai offers a variety of snow-related activities including skiing, tubing, tobogganing and snowboarding. The snow dome has over 22,500 square meters of enclosed ski area and is bordered by a 5-story high mountain wherein visitors can find 5 slopes of different difficulty levels ranging from beginner to advanced. The longest slope measures 400 meters and is filled with real snow all year round. Aside from skiing activities, Ski Dubai also features a 3,000 square meter Snow Park which includes a dedicated area for younger children. This area features family rafting rides that are suitable for both adults and kids as well as an icy body slide for those who want more adrenaline-pumping fun. The Snow Park also includes a climbing tower, an ice cave with interactive games for children and plenty of sledging terrain for every age group to explore.
Ski Dubai also boasts a range of additional attractions such as King Penguin, Petting Zoo and Mini Penguins which mingle among guests at certain times throughout the day. For visitors who just want to chill out after their ski session or take part in recreational activities such as watching movies or playing video games, Ski Dubai's luxurious Alpine Lounge provides the perfect spot while they sip on hot beverages or refuel with some snacks at any one of its four food outlets located within the resort.
5. Wild Wadi Waterpark
Entrance Fee: AED 299 per person
Looking forward to getting your adrenaline pumping? Head over to Wild Wadi Waterpark located on the famous Jumeirah beach strip. This park has all sorts of thrilling rides such as Master Blaster, Tantrum Alley and Riptide Flow Rider which are bound to give you an unforgettable experience with friends or family members! As if that wasn't enough; it also has a giant wave pool for those who want a more relaxed day out. The waterpark boasts over 30 exciting rides and attractions including waterslides, wave pools, water rapids, and artificial surfing machines. The family-friendly atmosphere of Wild Wadi makes it an ideal spot to spend quality time with your loved ones.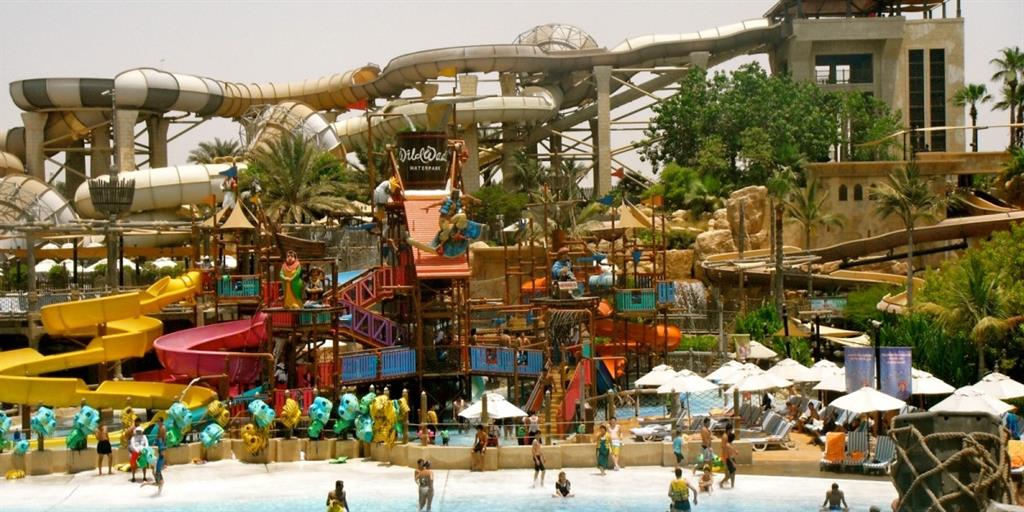 One of the most popular attractions at Wild Wadi is the Master Blaster, which is a roller coaster ride on an uphill water flume. Riders experience g-force as they twist through loops and sharp turns while being propelled forward by powerful jets of water reaching speeds of up to 80 kilometers per hour! Additionally, there are several thrilling high-speed slides such as Tantrum Alley and Jebel Drop. For those who prefer more relaxed activities, Wild Wadi also features two large wave pools where visitors can enjoy simulated waves of up to 2 meters high.
6. Kite Beach
Entrance Fee: Free
Located by the Arabian Sea, Kite Beach stretches along a large shoreline of white sand beaches, lined with towering palm trees and lush vegetation. The beach provides plenty of opportunities for fun in the sun; from traditional beach activities like swimming and sunbathing to more extreme sports such as kitesurfing, wakeboarding, and stand-up paddle boarding. Apart from its stunning beauty, Kite Beach also offers an array of activities and attractions.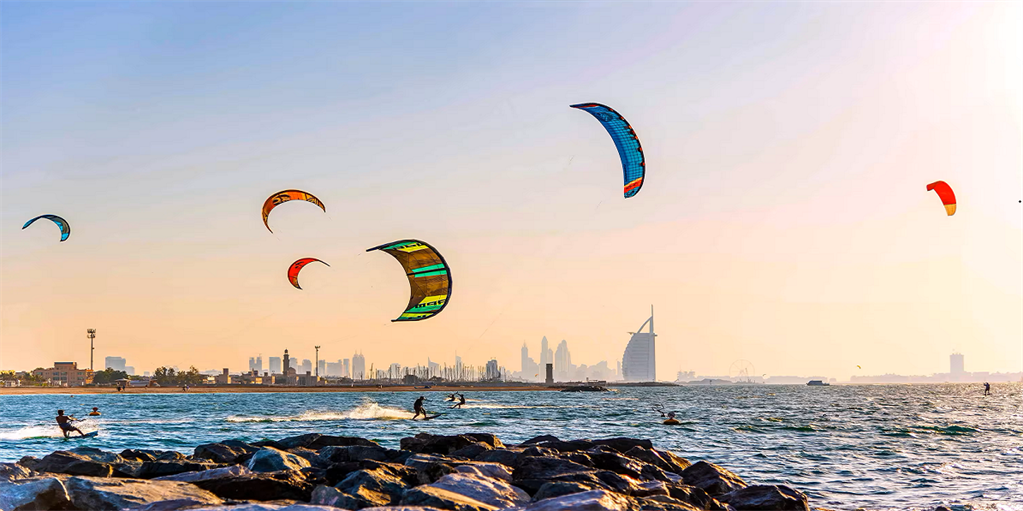 For a cultural experience, visitors can take part in camel rides or explore nearby historical sites like the Al Fahidi Fort. Families can enjoy exciting water parks or take part in beach volleyball tournaments while foodies can sample local delicacies at the many delicious restaurants.
Kite Beach is home to one of the world's biggest kitesurfing schools which allows people to learn the sport safely and quickly with instructors who have decades of experience under their belt. Every year, hundreds of people flock to Kite Beach for international kitesurfing competitions like the DIMC Kite Masters Grand Slam which features some of the best riders from around the world.
7. Atlantis Aquaventure Waterpark
Entrance Fee: AED 299 per person
Located at The Palm Jumeirah, it's a waterpark unlike any other, offering an array of attractions for thrill-seekers of all ages to enjoy. Spread over 42 acres, it features 17 fun-filled rides including family-friendly rapids, spiraling slides, interactive splash areas and extreme waterslides for the ultimate adrenaline rush. It also offers an amazing marine experience with lagoons, seven animal habitats and over 65,000 marine animals including sharks and rays which can be observed from many of the rides and attractions.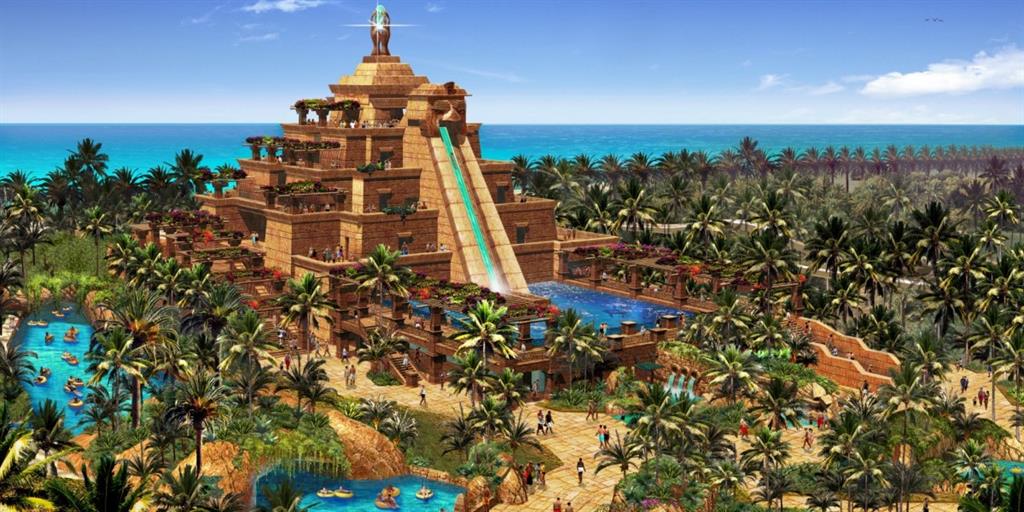 Aside from its incredible rides and attractions, Aquaventure Waterpark is also home to an array of amenities such as private cabanas that can accommodate up to 8 people with comfortable cushioned seating, shady umbrellas, and personal attendants. There are also lockers available onsite so visitors can store their belongings securely while they explore the park. For those looking for a bit more pampering there are massage services available that offer a range of packages tailored to individual needs. Food is another highlight at Aquaventure Waterpark with plenty of options for light meals or snacks such as salads, sandwiches and smoothies throughout the day.
---
---