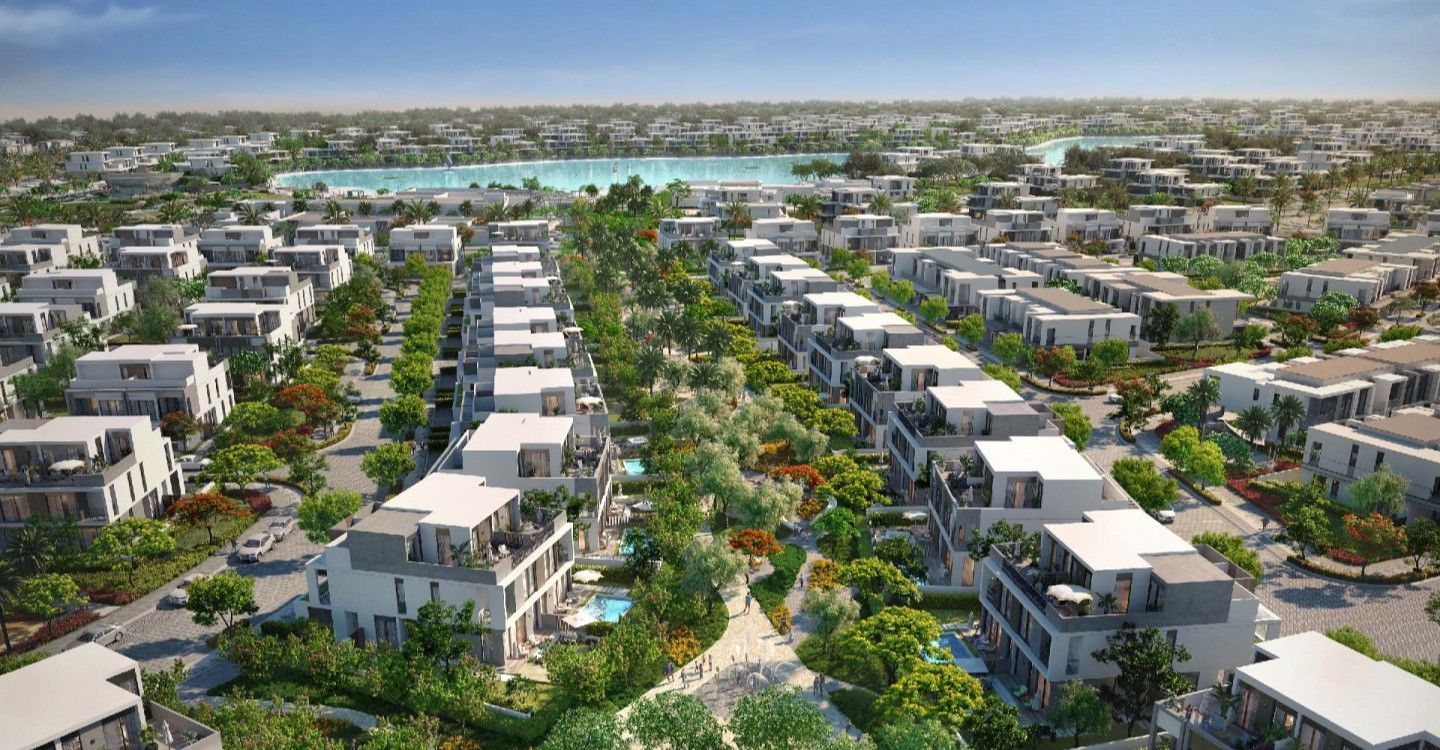 Dubai, the gleaming gem of the Arabian Desert, is known for its luxurious lifestyle, state-of-the-art infrastructure, and an ever-expanding skyline adorned with stunning skyscrapers.
1. Arabella Townhouses in Mudon
Residents are enticed to explore the picturesque walkways meandering through the tranquil waterscapes, ultimately leading to the expansive Mudon Central Park. This all-encompassing park brims with leisure and sporting options for all ages, including a cycling track, jogging path, sports courts, exercise stations, delightful children's play areas, and lush open spaces perfect for picnics or social gatherings.
Maple At Dubai Hills Estate 3 is an exquisite residential development from Emaar Properties, composed of modern 3-to-5-bedroom villas and townhouses with impressive finishing. These homes offer ample natural lighting through their floor-to-ceiling windows along with spacious bedrooms complete with en suite bathrooms as well as a maid's room/bathroom combination. The units also feature luxuries such as built in wardrobes, closed style kitchens allotting space for dining areas and laundry rooms - all crafted to make living seamless inside the community's gated subdivisions of Maple 1, 2 & 3 that are conveniently located close to the master development center at Dubai Hill Estates.
3. Ibiza Townhouses in DAMAC Lagoons
Experience the ultimate fusion of Balearic vibes and coastal party energy at Ibiza Townhouses in DAMAC Lagoons, Dubai's highly anticipated water-inspired community. Immerse yourself in a world of luxury with 4 and 5 bedroom townhouses complete with manicured lawns, Boho courtyard, tapas lounge, and sunset beach. Beyond these breathtaking amenities, discover a host of world-class venues that host global music events. Let natural light flood your home and create a Mediterranean-themed atmosphere in every room. Relish in secluded self-indulgence with bright and warm living rooms, creative escapes, intimate bedrooms, and extravagant kitchens. At Ibiza Townhouses, luxury living meets laid-back party vibes, creating a truly unrivaled experience.
4. Westar Azure Townhouses in JVC
Boasting top-of-the-line appliances and tasteful touches of opulence throughout, these residences are the epitome of sophistication and ease. Ranging from 3,128 sqft, each unit oozes elegance and practicality, with only the most premium finishings at every turn. Come June 2023, you can indulge in unparalleled luxury living by obtaining one of these sublime townhouses. With a payment plan of 25/75, seize your spot in Westar Azure's prestigious community today, with prices commencing from AED 2 million.
5. Aura Gardens in Tilal Al Ghaf
Indulge in exclusive resort-style facilities, invigorating experiences, and premier retail offerings all at your doorstep. With the picturesque Lagoon Al Ghaf and its sandy beaches just a walk away, Aura Gardens effortlessly elevates the concept of contemporary living. Dive into the heart of opulence and forge a truly captivating story of your own.
6. NARA Townhouses at The Valley
Venture into The Valley community - an idyllic new town cultivated amidst a fusion of resplendent sands and flourishing greenery, designed to propel your dreams and aspirations to greater heights. Elevate your lifestyle with NARA's exclusive access to The Valley's premier indoor and outdoor retail, delightful local farmers' market, and an array of sumptuous gourmet dining establishments.
7. Amaranta Villanova at Dubai Land
Welcome to Amaranta Villanova - an idyllic, family-friendly sanctuary nestled within Dubailand. Here, you'll find a charming collection of 2-, 3-, and 4-bedroom townhouses and villas, exquisitely designed in a Mediterranean style. Situated between Emirates Road and Academic City Road, this gated community is a proud development of Dubai Properties.
Step into the elegant spaces within Amaranta that showcase the fine haciendas of modern Spanish architecture. With Villanova paving the way for a remarkable lifestyle, each unit offers generously sized bedrooms, a maid's room, laundry, storage room, and car garage. The intelligently designed floor plans ensure ample breathing space, allowing you to truly unwind and savour every moment in your stylish oasis.
8. Gardenia Townhomes II in Wasl Gate
Introducing the exquisite Gardenia Townhomes II, a newly unveiled phase presenting a range of spacious 3 and 4-bedroom townhomes, seamlessly blending opulence with cosy living, tucked away in a verdant, inviting neighborhood. Discover the modern architectural design and superior amenities, elevating your lifestyle within the serene confines of this gated community. Envision your dream home with ample living spaces, roomy bedrooms, and private gardens, that cater to all your needs. Delight in exclusive access to a pristine community swimming pool, clubhouse offering a fully equipped gym, and a dedicated children's play area.
In celebration of its pet-loving residents, Gardenia Townhomes II is proud to be a pet-friendly enclave, complete with an adjoining pet park. Enhance your leisurely living experience with the convenience of the nearby Festival Plaza mall, home to popular retail giants such as IKEA and ACE. Don't miss the chance to be a part of this charming, captivating community.
In conclusion, Dubai's captivating townhouse landscape caters to the discerning tastes of both investors and residents alike. The alluring communities mentioned brim with distinctive designs and world-class amenities, promising an unparalleled living experience. As you embark on your quest for the perfect townhouse, weigh the location, community offerings, and your financial plan to uncover the ideal haven that truly resonates with your desires.
---
---