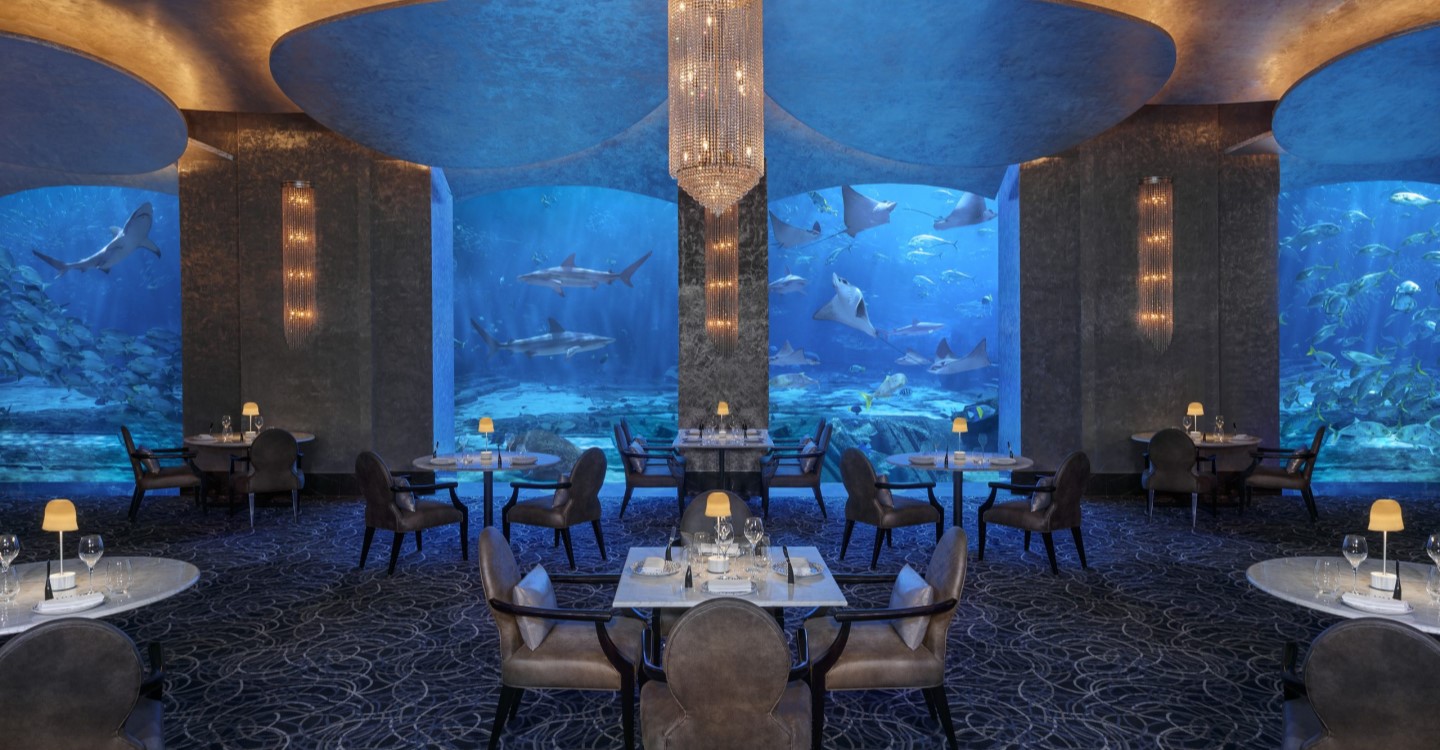 Palm Jumeirah, an iconic man-made island off the coast of Dubai, has redefined luxury living and hospitality in the UAE. This extraordinary palm-shaped island offers not only luxurious residences and world-class resorts but also an impressive array of dining experiences that cater to diverse palates.
In this comprehensive guide, we will take you on a culinary journey through the best restaurants on
Palm Jumeirah

,
offering a delightful mix of flavors, ambiance, and breathtaking views.
1. Nobu Dubai
For an exquisite blend of Japanese and Peruvian cuisine, Nobu Dubai stands unrivaled on Palm Jumeirah. Helmed by the renowned chef Nobu Matsuhisa, this upscale dining establishment delights guests with its signature dishes like Black Cod Miso and Yellowtail Jalapeno. The chic and contemporary setting, complemented by awe-inspiring views of the Dubai skyline and Arabian Gulf, ensures a dining experience that is nothing short of exceptional.
Nobu Dubai's popularity lies in its innovative fusion of flavors, expertly crafted by the chef's masterful culinary techniques.
The restaurant's sushi bar showcases an array of fresh, handcrafted sushi and sashimi creations, each bite a celebration of culinary artistry. With its elegant private dining spaces and an extensive selection of premium beverages, Nobu Dubai offers an unforgettable gastronomic experience that captivates both locals and international visitors alike.
2. 101 Dining Lounge and Bar
Perched at the tip of Palm Jumeirah, 101 Dining Lounge and Bar offers an idyllic setting to savor Mediterranean cuisine while basking in the tranquil ambiance of the sea. This sophisticated beachfront restaurant boasts a seafood-centric menu, featuring the freshest catches and flavors inspired by the Mediterranean region. Whether it's a leisurely lunch or a romantic dinner, 101 Dining Lounge and Bar promises a memorable experience that captures the essence of Palm Jumeirah's coastal allure.
The restaurant's nautical-themed decor and open-air terrace create a relaxed and inviting atmosphere, perfect for enjoying sunset views over the azure waters. The menu showcases a variety of seafood delicacies, from succulent lobster to perfectly grilled fish, expertly prepared by the restaurant's team of skilled chefs. The wine list, carefully curated to complement the flavors of the sea, adds a touch of sophistication to the overall dining experience.
3. Bread Street Kitchen & Bar
Celebrity chef Gordon Ramsay's culinary prowess takes center stage at Bread Street Kitchen & Bar, located within the luxurious Atlantis, The Palm resort. This modern British eatery showcases classic dishes with a contemporary twist, showcasing the best of British cuisine. Guests can indulge in flavorful delights like Beef Wellington and Sticky Toffee Pudding, all while relishing views of the resort's stunning water features.
Bread Street Kitchen & Bar exudes an inviting and lively ambiance, featuring an open kitchen that allows diners to witness the culinary magic in action. The restaurant's menu emphasizes fresh, seasonal ingredients, ensuring each dish is a delightful celebration of British comfort food with a gourmet touch. Complemented by a wide selection of craft cocktails and fine wines, the restaurant offers a delightful culinary adventure amidst the opulence of Atlantis, The Palm.
4. Seafire Steakhouse & Bar
For carnivores seeking the finest steaks on Palm Jumeirah, Seafire Steakhouse & Bar is an absolute must-visit. As Atlantis, The Palm's award-winning steakhouse, Seafire promises a culinary journey of premium cuts, including Wagyu beef and dry-aged steaks, cooked to perfection. With its elegant decor and warm ambiance, this restaurant is an ideal choice for meat aficionados seeking a delectable feast.
Seafire Steakhouse & Bar boasts a menu that pays homage to the art of grilling, showcasing a selection of handpicked cuts from around the world. The restaurant's master butchers age the beef on-site, ensuring unparalleled tenderness and flavor. Diners can savor their favorite cuts, paired with an array of delectable sauces and sides, all while enjoying views of the majestic aquarium filled with exotic marine life.
5. Ossiano
Ossiano is a dining haven for seafood enthusiasts, located within Atlantis, The Palm. This underwater restaurant provides a surreal dining experience, as diners enjoy their meals surrounded by a mesmerizing aquarium, inhabited by a diverse array of marine life. The Michelin-starred chef Gregoire Berger curates an exquisite menu, featuring dishes like Sea Urchin Risotto and Saffron-infused Lobster. Ossiano undoubtedly ranks as one of Dubai's most unique and unforgettable dining experiences.
The restaurant's ethereal ambiance, with its floor-to-ceiling glass panels showcasing the vibrant marine ecosystem, transports diners to an otherworldly setting. Ossiano's seafood-focused menu is a testament to Chef Gregoire's culinary finesse, with each dish artfully plated and infused with innovative flavors. Guests can indulge in a range of seafood delicacies, from the finest caviar to succulent lobster, all while being immersed in the awe-inspiring underwater environment.
6. RUYA Dubai
Embark on a culinary journey to Turkey at RUYA Dubai, where Turkish flavors and traditions are artfully blended with contemporary touches. This elegant restaurant offers a sophisticated ambiance, perfectly complementing the vibrant and rich flavors of Turkish cuisine. From succulent kebabs to mouthwatering mezze platters, RUYA takes guests on a captivating gastronomic adventure through the heart of Anatolia.
The restaurant's stylish interiors, adorned with Turkish-inspired elements and modern design, create an inviting space for diners to revel in the warmth of Turkish hospitality. RUYA's menu boasts an enticing array of dishes, highlighting the diverse culinary heritage of Turkey. From traditional favorites like Adana Kebab to modern interpretations like Avocado Hummus, each dish is a delightful amalgamation of flavors that transport diners to the bustling streets of Istanbul.
7. Social by Heinz Beck
Social by Heinz Beck, located within the luxurious Waldorf Astoria Dubai Palm Jumeirah, is a culinary masterpiece curated by the renowned three-Michelin-starred chef Heinz Beck. Diners can savor innovative Mediterranean dishes that elevate flavors to new heights. Each dish is a work of art, presenting a delightful fusion of taste, texture, and presentation. With its elegant and contemporary setting, Social offers an exceptional fine-dining experience, complemented by panoramic views of the Palm Jumeirah beach.
The restaurant's philosophy revolves around the concept of "social" dining, encouraging guests to share and savor a selection of dishes designed to stimulate the senses. Chef Heinz Beck's culinary creations showcase a harmonious blend of traditional and modern techniques, resulting in dishes that are as visually stunning as they are flavorful. Social by Heinz Beck is a haven for gastronomy enthusiasts, offering an unforgettable dining experience that transcends the boundaries of conventional Mediterranean cuisine.
8. White Beach
For a fusion of beach club vibes and exceptional cuisine, White Beach at Atlantis, The Palm, is the perfect choice. Set against the backdrop of the shimmering Arabian Gulf, White Beach serves up a delectable Mediterranean-inspired menu with an emphasis on fresh seafood and grilled delicacies. After a sumptuous meal, guests can relax on the pristine beach or unwind by the pool, immersing themselves in the ultimate beachside retreat.
In conclusion, the best restaurants in
Palm Jumeirah
are a gastronomic wonderland that combines the finest cuisines with unparalleled views, creating an experience that transcends the boundaries of ordinary dining. Each restaurant exudes its own unique charm, captivating visitors with exceptional culinary artistry and ambiance. Whether you are a seafood enthusiast, a meat lover, or someone seeking an unforgettable culinary adventure, Palm Jumeirah's dining scene offers a symphony of flavors that will leave you craving for more. So, embark on this extraordinary gastronomic journey, and indulge in the culinary delights that this palm-shaped paradise has to offer.
---
---