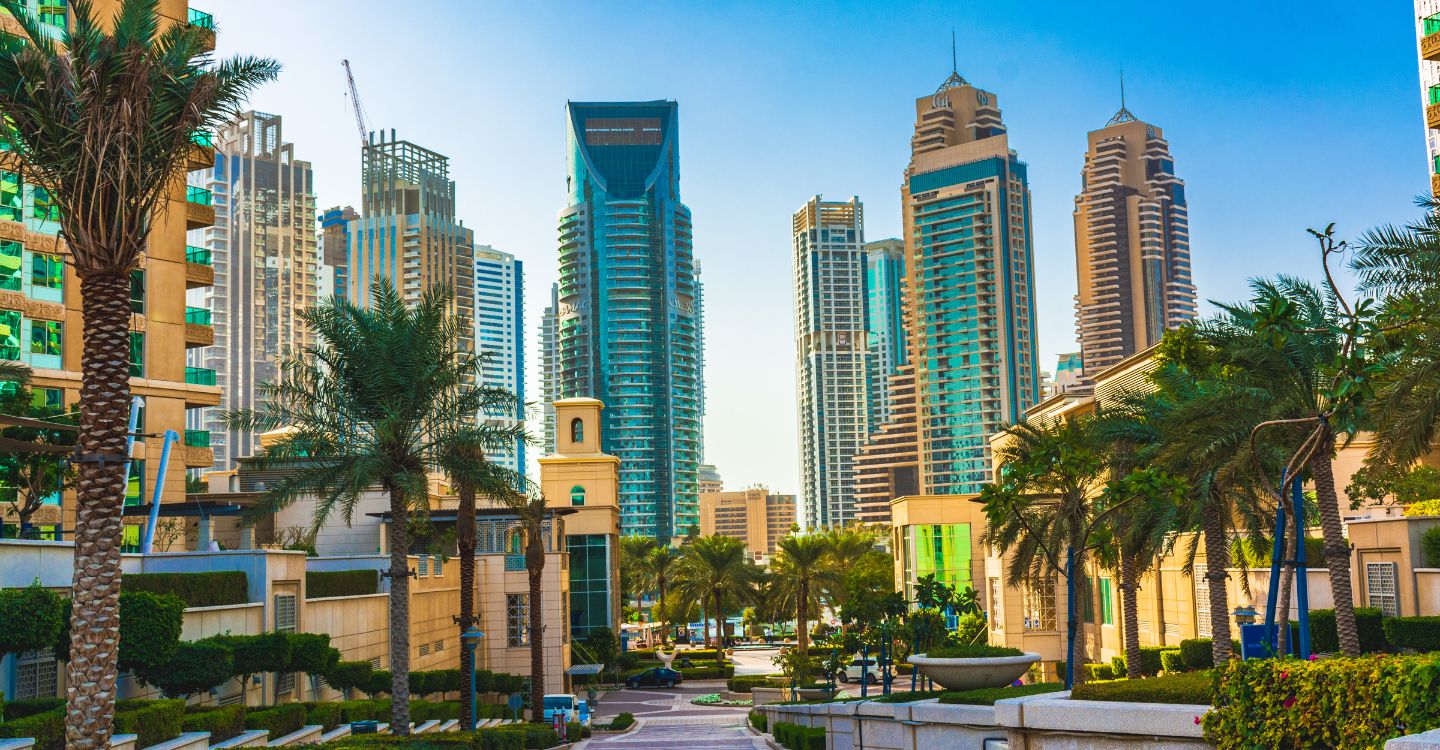 Dubai is one of the most sought-after tourist destinations in the world, and it's no surprise that many people are choosing to make it their home. With its luxurious buildings and awe-inspiring architecture, plus the world-class amenities and facilities available, there are plenty of reasons why more and more families have sought to invest into the best residential communities in Dubai.
1. Jumeirah Lakes Towers (JLT)
JLT is one of Dubai's most popular residential communities, offering residents plenty of attractive amenities from shopping malls and restaurants to parks, playgrounds, schools, and medical centres. JLT's waterfront lifestyle allows residents to enjoy stunning views of Dubai Marina or The Palm Jumeirah from their apartments. Additionally, residents seeking a more energetic lifestyle can enjoy a range of sports activities such as golf, tennis, cricket, basketball, badminton, and football. There are also several leisure facilities including a swimming pool complex with wave machine and sauna facilities.
In addition to this urban living experience, the vibrant JLT community also features several residential towers equipped with luxury amenities such as pools, steam rooms and Jacuzzis. With its proximity to major business hubs like Media City and Internet City, and excellent transportation links including two metro lines connecting to other parts of Dubai, JLT is a great choice for those looking for an urban lifestyle in 2023.
2. Dubai Marina
Dubai Marina is set to be the ideal spot for anyone looking for world-class amenities and facilities. Located in one of the most vibrant cities in the world, this dynamic urban community offers a stunning waterfront with glistening views, unbeatable access to culture and entertainment venues, plus substantial recreational and leisure activities.
As a resident of Dubai Marina, you get to enjoy some truly unique benefits. The community boasts an impressive array of boutiques, restaurants, cafes, and bars that allow visitors to enjoy delightful culinary experiences. Meanwhile, art lovers can take delight in its numerous galleries and museums showcasing works from around the world. Furthermore, it's home to numerous cultural events and festivals throughout the year that keeps its residents entertained all year-round.
What sets
Dubai Marina
apart is its unbeatable access to water sports activities. From sailing and kayaking to windsurfing and wakeboarding, residents can indulge in thrilling water sports activities. This makes it an ideal spot for those seeking outdoor adventures with family or friends.
3. Downtown Dubai
If you're looking for something more upmarket than Downtown Dubai might be just what you need. Residents can take advantage of high-end shopping and dining experiences with luxurious retail outlets such as the Dubai Mall and Souk Al Bahar. The district is also home to iconic landmarks such as the Burj Khalifa, Dubai Fountain, and the Dubai Opera House. There is plenty to explore in one of the world's most modern cities.
Apart from shopping and sightseeing, there are plenty of recreational activities available for residents. Facilities such as tennis courts, fitness centres, swimming pools, spas, sports fields, parks, playgrounds, and gardens are all part of what
Downtown Dubai
has to offer. In addition to this there will be a variety of cultural events held throughout the year including live music performances, exhibitions, film screenings and more. The district also offers plenty for business travellers with its vibrant business district boasting some of the city's best corporate offices. There are numerous co-working spaces where entrepreneurs can collaborate on projects or start their own businesses plus many different types of meeting spaces for conferences or client meetings.
Home to world-renowned Emirates Towers complex surrounded by lush gardens overlooking Burj Khalifa park - Downtown offers some truly spectacular views from its residences no matter where you are in the community. As far as local amenities go residents can expect upscale restaurants like Pier 7 Marina Cafe & Lounge or Zuma - along with high-end fashion boutiques like Gucci or Armani Exchange located within walking distance from every residence allowing them easy access without having to venture too far away from home….and if they do need a break there are plenty of spas nearby which offer guests complete relaxation experiences right on their doorstep.
4. Arabian Ranches
The upmarket neighbourhood of Arabian Ranches should also not be overlooked when considering potential places to stay in 2023 due its unique desert landscape setting which exudes tranquillity giving off a peaceful atmosphere that many seek out when buying property here; plus, the fact that it has been designed with families in mind featuring numerous children's play areas throughout makes it even more appealing. The community also features multiple golf courses for fitness enthusiasts who'd like work on their handicap or practice new skills on weekends; not forgetting that Dubai Polo & Equestrian Club provides visitors with horseback riding lessons - ideal should anyone want to take up this sport or simply just enjoy some fresh air outdoors.
Residents also have access to retail outlets such as supermarkets, boutiques, pharmacy stores and more. Additionally, the area will be home to a vibrant social scene with restaurants, cafés, community centre, and beauty salons for visitors to indulge in. Other recreational facilities include pet parks, jogging tracks, playgrounds, and soccer fields.
5. Emirates Hills
Emirates Hills is one of the most premier communities for those seeking a luxury lifestyle in Dubai. From its state-of-the-art facilities and amenities to its prestigious location, Emirates Hills offers something for everyone. The community itself is set within a lush landscape with manicured gardens, walking paths and tranquil lakes, making it a perfect place to relax and unwind.
The amenities of Emirates Hills are second to none. Residents can take advantage of luxury services such as 24-hour concierge, private pool access, spa services, and housekeeping. They also have access to a private gym with all the latest fitness equipment, as well as restaurants and cafes offering gourmet cuisine from around the world. In terms of security, residents can rest easy knowing that their home is monitored by a state-of-the-art surveillance system 24/7. Additionally,
Emirates Hills
employs full time security personnel who are always on duty to ensure everyone's safety and well-being.
Residents of this exclusive community also benefit from proximity to some of Dubai's
best shopping malls
and attractions like the Dubai Mall and Burj Khalifa.
Overall, when assessing which communities offer the best amenities & facilities come 2023, we can see that many leading neighbourhoods offer something special & unique whether they be urban hubs like Jumeirah Lakes Towers or family friendly complexes like
Arabian Ranches
– each area has something unique & attractive which give them appeal over competitors. In conclusion, Dubai is a paradise for those who want to live in a community with top-notch amenities.
The various neighbourhoods throughout the city offer plenty of options to choose from, whether you're looking for luxurious residences with luxurious amenities or something more affordable. From prestigious gated communities to vibrant beachfront developments, there's something for everyone in this global city of dreams. Whether you're looking for entertainment options, outdoor activities, transportation convenience, or educational opportunities - you can find it all here in Dubai. With its world-class infrastructure and facilities, Dubai is the perfect destination for modern living.
---
---