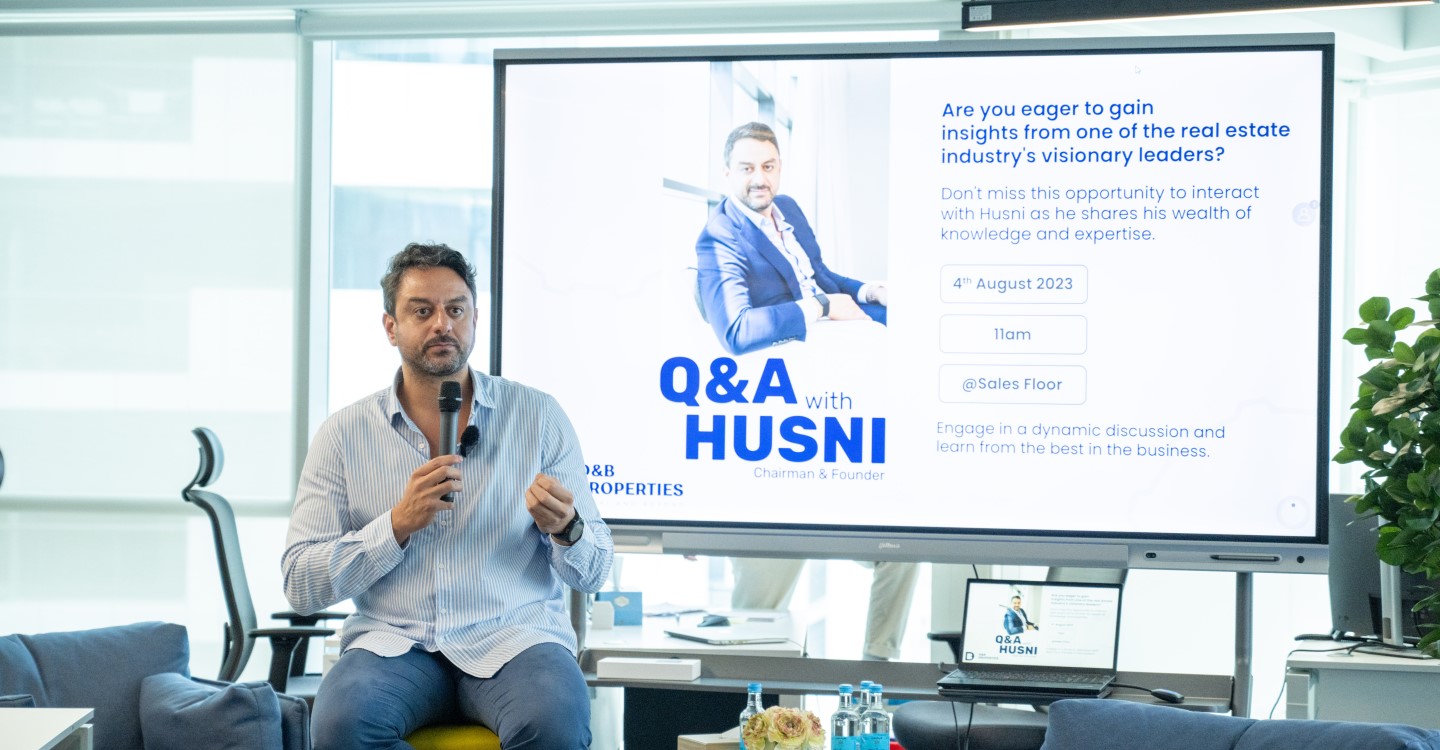 In the heart of a bustling metropolis, a unique gathering recently took place. Sales agents from various corners of real estate at D&B Properties have met for an enlightening and engaging Q&A session with none other than the esteemed Husni Al Bayari, the Chairman and Founder of D&B Properties.
With inquisitive minds and a thirst for knowledge,
sales agents
probed into the realms of property trends, market dynamics, client relationships, and innovative strategies.
Here are some of the questions from our dynamic session.
1. What are the top three qualities every salesperson should possess?
Establish a well-rounded routine that allocates time for personal well-being, family engagement, and continuous self-improvement and learning.
As a real estate agent, avoiding financial stress is key. It can impact your work and communication. Remember to save and maintain financial stability as you earn.
Constant Knowledge in Real Estate
We are located in Dubai, a city known for its global export of innovative ideas, so utilise this advantageous position to continuously develop a thorough grasp of the real estate industry and constantly learn more.
2. As an individual who's started from scratch, what has been most helpful in building your professional real estate network?
In the early stages of my career, I carefully strived to deliver my utmost during every client interaction, with the hope that my efforts would be recognised and valued. Notably, during my initial events, I did not employ the use of a Customer Relationship Management (CRM) system. Allow me to highlight the significance of incorporating technology, particularly CRM, to amplify your network expansion. Visualise CRM as your farming field, where consistent interaction with clients acts as seeds sown; over time, these interactions yield a rewarding harvest for your professional growth.
3. What was the exciting deal you have successfully closed that stands out as particularly memorable or impressive?
It was in 2017, when the real estate market was at its lowest. I sold two plots in
Downtown
, and after six months of convincing, the client finally booked them. I thought about doing something a little bit extra for this deal since the he has placed his trust in me. I booked a private prestigious helicopter, and I picked up the client along with his friends and started flying over many areas of Dubai. While we were on top of his booked plots, other plots located next to his caught his attention. He asked if they are available and insisted I check for him on the spot with the owner.
A deal of AED 60 million ended up a AED 250 million deal just because I went the extra mile.
4. In your opinion, what is a reasonable limit between the going extra mile for a client and taking on extra responsibilities that will cost you your time?
It's essential to begin by discerning the client's immediate purchasing intent versus a more exploratory approach for future investment within the real estate market. Subsequently, maintaining a high level of transparency and candor when communicating project intricacies becomes paramount, aligning with the bedrock of professionalism.
Through steadfast adherence to these professional tenets, you can cultivate and uphold a distinguished image as a reliable and esteemed real estate agent. This distinction further underscores your commitment to ethical conduct and client-centric service, positioning you as an industry leader.
5. What is a valuable advice for a sales agent on effectively selling a plot of land?
Selling land effectively involves essential tactics that can greatly influence your success:
Being well-informed and experienced in land sales is crucial. Your knowledge will guide you through the process.
Understand the expenses for building on the land. This means knowing the costs of materials, labor, and potential surprises during construction.
Figure out how many buildings can fit well on the land. This depends on the size, shape, and local rules.
Strategic GFA Positioning
Profoundly appreciating the strategic positioning of the Gross Floor Area (GFA) within the plot is indispensable. This entails a meticulous analysis of how the space can be optimally allocated to various structures to ensure a harmonious and efficient layout.
By using these strategies, you can confidently guide potential buyers, show your expertise, and increase your success in the competitive world of off-plan sales.
---
---