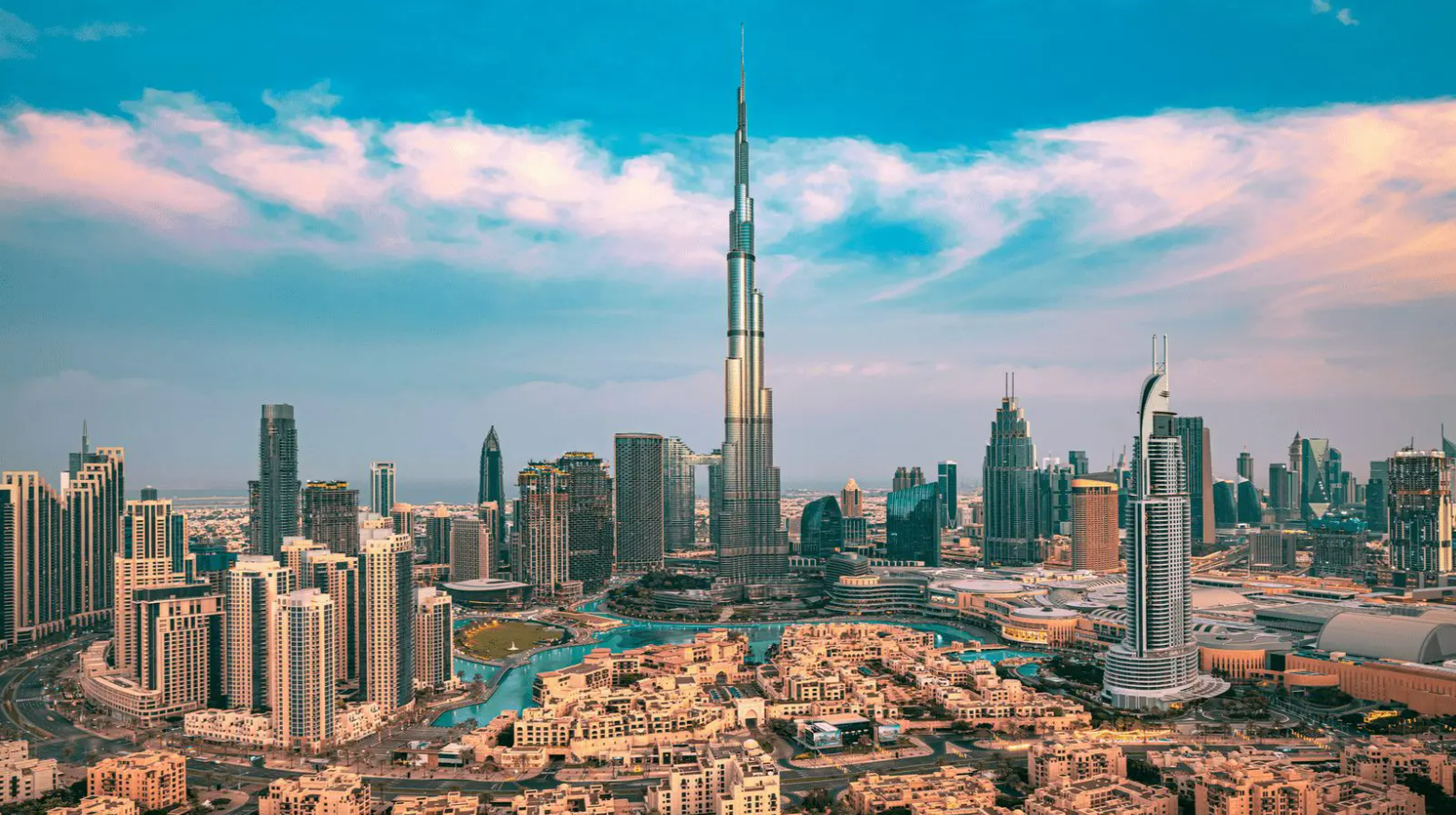 Downtown Dubai is an iconic and vibrant urban community developed by Emaar Properties in the United Arab Emirates and one of the most striking modern skylines in the world.
Downtown Dubai
is home to some of the most luxurious and innovative architecture, as well as some of the world's tallest skyscrapers like Burj Khalifa, which stands 828 meters high. This bustling area is a shopper's paradise that features a variety of retail spots for all budgets, from upscale brands to local gems. It also offers a diverse selection of eateries from international restaurants to traditional cafes. Art aficionados will be enthralled by the area's numerous galleries, while nightlife fanatics can find plenty of bars, clubs, and lounges to explore.
The glittering centerpiece of Downtown Dubai is The Dubai Mall – one of the world's largest shopping malls with over 1,000 stores offering everything from designer labels to exciting entertainment options such as amusement rides and ice-skating rinks. Also found in this vibrant hub are several luxury hotels including the Address Downtown hotel with its breathtaking views and superb amenities; boutique hotels like Manzil Downtown; and business hotels such as Marriott Executive Apartments. An array of attractions are available, such as Souk Al Bahar where shoppers can browse for souvenirs; fountains that offer spectacular evening shows; The Dubai Fountain Boardwalk for strolls along picturesque grounds; Burj Park with its lush landscapes; and a contemporary art museum displaying works from renowned artists around the globe. With its shops, eateries, activities, sights, and accommodations all in close proximity – it's no wonder that Downtown Dubai has become one of UAE's premier locations for both locals and tourists alike!
Downtown Dubai is a bustling residential hub for luxury and upscale living. Located at the epicenter of Dubai, this grandiose district offers spectacular views of the city skyline, the iconic Burj Khalifa, the world's tallest building and the majestic Dubai Fountain. Properties in Downtown Dubai are some of the most sought after in the entire region and come with a variety of options to choose from. The neighborhood features high-rise buildings that offer luxurious and spacious apartments with state-of-the-art amenities, such as fully equipped kitchens, balconies with stunning views, private terraces and pools. There are also several luxury hotels situated here which boast lavish penthouses, complete with rooftop pools and private gardens.
For those looking for something more economical yet still within a prime location, there are plenty of studio or one-bedroom apartments available in Downtown Dubai. These properties come equipped with modern amenities including air conditioning, Wi-Fi internet access and flat screen TVs.
If you're interested in investing in real estate in Downtown Dubai, there are plenty of commercial properties available too. From chic office buildings to sleek retail spaces to luxurious serviced apartments - this area offers plenty of options for any business venture.
Downtown Dubai truly is an idyllic place to live or invest, where you can experience all the glamour and glitz that this amazing city has to offer!
Property prices in Downtown Dubai vary greatly depending on the type of property and the area within Downtown itself. Studio apartments can range from AED 650,000 to over AED 1,400,000. One-bedroom apartments usually start from around AED 830,000 up to AED 4.5 million for larger luxury units with multiple balconies and terraces. Two-bedroom apartments are available for upwards of AED 2 million and three-bedroom apartments start at AED 4 million and can reach a price tag of as high as AED 12 million for some of the most luxurious penthouses in Downtown Dubai.
The average ROI you can expect for a Downtown property is from 5-8%. Typically studios and 1-bedroom apartments generate higher rental yields than larger properties. One of the main factors contributing to this strong ROI is that Downtown Dubai is located at the heart of a vibrant urban hub: The city center. The population here continues to grow rapidly due to large investments from both local and foreign investors. This consistent influx of capital has driven up prices for all types of real estate investments; hence, increasing return on investment for those who invest in them.
Entertainment in Downtown District
Downtown Dubai is an amazing destination for entertainment, dining, and shopping. It's home to some of the city's most iconic landmarks and attractions, from the world's tallest building, the Burj Khalifa, to its largest shopping mall, The Dubai Mall. It also has a variety of other entertainment and leisure experiences including a vibrant nightlife scene.
The Dubai Mall is one of Downtown Dubai's premier attractions. This luxurious shopping haven covers over 12 million square feet and features over 1200 stores, as well as countless restaurants, cafes, and bars to choose from. With high-end designer stores such as Gucci, Cartier, and Louis Vuitton alongside more affordable options such as Zara and H&M, there's something for everyone at The Dubai Mall. It also boasts a large selection of cinemas where you can catch the latest movie releases or even watch a live show in stunning 3D or 4DX. For those looking for an adrenaline rush, you'll find an impressive indoor theme park with roller coasters and virtual reality rides that will keep you entertained for hours!
Dining in Downtown Dubai is an experience like no other. From high-end Michelin-starred restaurants to casual street food stalls there are endless culinary delights to explore around here.
Proximity & Connectivity to Other Areas
Located at the junction of Sheikh Zayed Road and Al Khail Road, it offers easy access to several other areas of interest. Palm Jumeirah is just minutes away by car or taxi, offering top-notch beaches, luxury hotels, and fine dining options. Driving along Sheikh Zayed Road also provides easy access to Dubai Marina, where visitors can enjoy stunning views and explore a variety of entertainment venues such as restaurants, bars, and cafes. Additionally, there are plenty of shopping malls in proximity to Downtown Dubai; the world-famous Mall of the Emirates is within quick reach for those wanting to indulge in some retail therapy.
The area surrounding Downtown Dubai has grown significantly over the last two decades to include a number of modern developments such as Dubai International Financial Centre (DIFC) – a dynamic financial hub – and Business Bay – an upscale business center. Not only does this provide great convenience for commuters but also gives them a range of options when it comes to leisure activities and cultural attractions in nearby places like Old Town or La Mer beachfront promenade.
Takeaways
In conclusion, Downtown Dubai is an amazing and vibrant community that offers a wide variety of experiences to its residents and visitors alike.
The area is a true testament to the vibrancy and innovation of the city, offering visitors a unique blend of attractions and experiences. Visitors can explore some of the world's most impressive architecture, modern retail outlets, and luxury hotels.
It is truly one of the most iconic places in the world when it comes to architecture and style. The Burj Khalifa stands proudly over the area as its centerpiece and symbol of modernity while the Dubai Mall offers a wide variety of shopping experiences. There are plenty of restaurants to choose from, including some of the finest eateries in town. People can also enjoy various activities such as ice skating, cinemas, and parks. Whether you're looking for a luxurious lifestyle or simply a great place to have fun, Downtown Dubai has it all. From its futuristic skyline to its many attractions and activities, this area offers something for everyone and is a fantastic choice for buyers and investors alike.
---
---