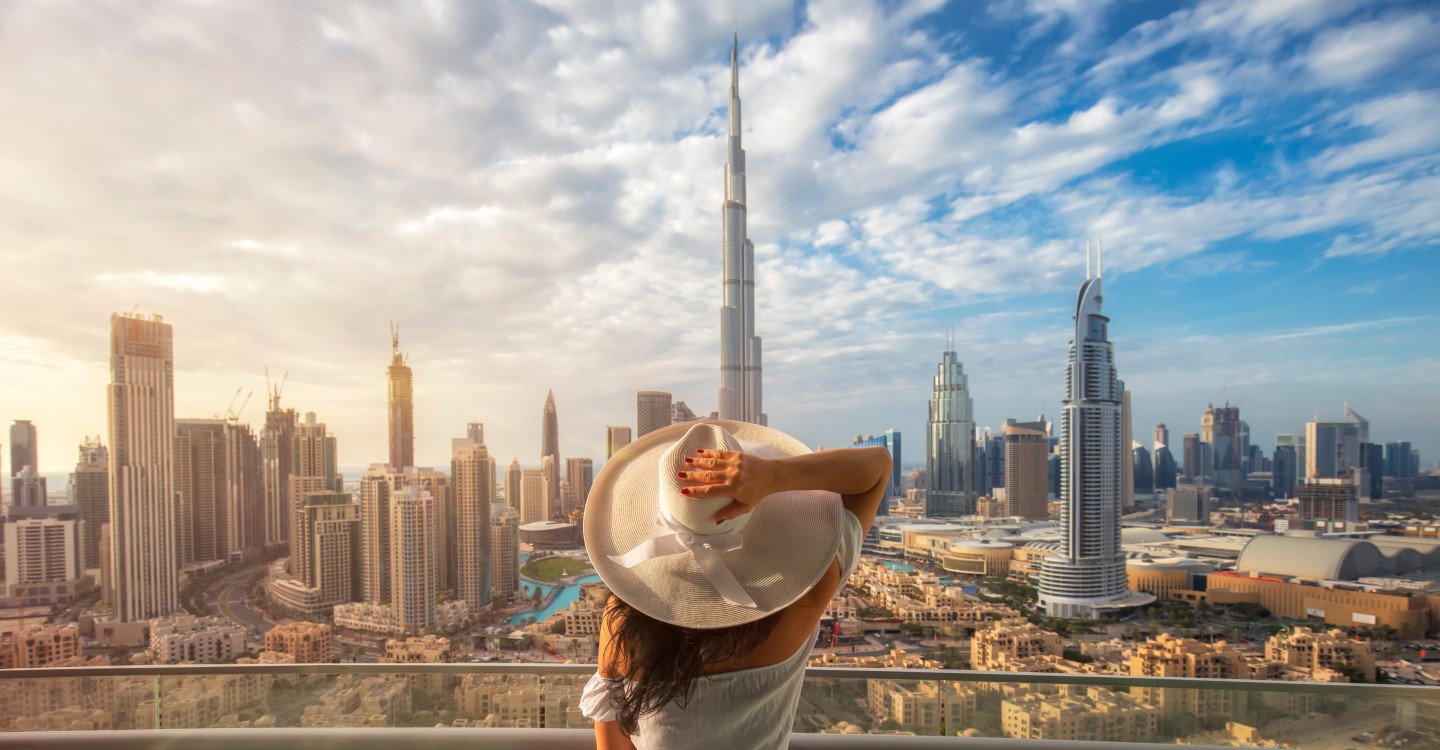 Dubai is one of the most dynamic cities on the planet, and its transformation in recent decades into a world-leading business hub and residence has been nothing short of remarkable. As the twice winner of the world's 'Most Popular Destinations' in 2022 and 2023, the city has become an attractive destination for entrepreneurs and investors seeking to capitalize on its diverse economy, developed infrastructure and ideal geographical location.
With a strategic presence at the crossroads between Europe, Africa, Asia, and the Middle East, Dubai has attracted highly skilled professionals and enterprises from all over the world to take advantage of its unique blend of opportunity and culture.
The city is also a highly attractive place to live, with a high quality of life, excellent healthcare and education systems, and a thriving cultural scene. The city's modern and luxurious lifestyle attracts expatriates from around the world who come to work and live in the city. The cosmopolitan city is home to some of the world's tallest skyscrapers, including Burj al Khalifa which stands at 830 meters high. It also boasts some of the best shopping centers in the region such as Dubai Mall which features more than 1200 retail stores. For those looking to invest in and relocate to the city, there are various residency opportunities, the most popular of which is the 5- and 10-Year Golden Residency Visa.
Step 1: Understand the Benefits of the Golden Visa
The Golden Visa is a long-term residency visa which enables foreign talents to live and work or study in the UAE while enjoying exclusive benefits through
real estate investment
. Visa holders are also granted automatic renewals if the same conditions are met upon the visa expiry date. The benefits of the Golden Visa include:
A long term, renewable residence visa, valid for 5 to 10 years.
Self-sponsorship, so there's no need for an employment sponsor.
The ability to stay outside the UAE for more than the usual restriction of six months, in order to keep your residence visa valid.
Sponsorship of your family members, including spouse and children, regardless of their ages.
Sponsorship of an unlimited number of domestic helpers.
The ability for family members to stay in the UAE until the end of their permit duration if the primary holder of the Golden visa passes away.
Step 2: Check Your Eligibility Requirements as an Investor
According to the official Dubai Government website, Golden
Visa Investors
fall under three categories: (a) Investment Fund (Commercial Investor); (b) Investment Fund (Deposit), and (c) Real Estate Investment.
(a) Investment Fund (Commercial Investor)
If an investor in an investment fund meets certain requirements, they can receive a Golden Visa for 10 years without needing a sponsor. These requirements or terms include:
Submitting a letter from an accredited investment fund in the UAE confirming a deposit of at least AED 2 million or submitting a valid commercial or industrial license along with the investor's Memorandum of Association, provided that the investor's capital is at least AED 2 million.
Submitting a letter from the Federal Tax Authority stating that their company pays at least AED 250,000 annually to the government.
Only commercial or industrial licenses are accepted, and if the license is issued from a free zone or special development zone, a "To Whom It May Concern Certificate" from the relevant free zone authorities is required.
The Cabinet Resolution states that the investor's spouse and unmarried children can also receive a Golden Visa for 10 years.
(b) Public Investment Fund (Deposit)
An executive director or advisor appointed by an investor in public investments may be granted a Golden Visa for a period of (10) years without a sponsor and for one person only.
The eligibility will depend upon the submission of a letter from the Investor in public investments stating that the executive director or the advisor has been appointed for a period of (10) years.
Acquiring the prestigious Golden Visa for a 5-year tenure, with the possibility of renewal under similar terms and sans sponsorship, can be achieved by meeting one of the following prerequisites:
Presenting an official letter from Dubai's Real Estate Registration Department, confirming the proprietorship of one or multiple properties valued at a minimum of AED two million, and ensuring the absence of any outstanding loans on the said properties.
Real estate investments exceeding the AED two million benchmark may be financed via loans, as long as the requisite minimum value remains unencumbered.
Step 3: Prepare the Right Documentation for Investor Golden Visa & Submit
Candidates can submit their documents through the official Dubai Government portal at
www.gdrfad.gov.ae
or visit the Dubai Land Department website at
www.dubailand.gov.ae
upon preparing the appropriate documentation according to each category of investors.
(a) Investment Fund (Commercial Investor)
Company's financial report for the previous year (made by the company's financial auditor).
Company's trade license and photocopy of the list of partners' names.
Copy of the sponsored residency.
Company's bank statement (last 3 months).
Company's (VAT Return) for the previous year.
(b) Public Investment Fund (Deposit)
A letter from the bank in Arabic form showcasing a "fix deposit". The note must be mentioned in the letter (the fix deposit will not be broken for the next two years, OR in case the fix deposit was broken for any reason, the General Directorate of Residency and Foreigners Affairs - Dubai must be notified).
Copy of the sponsored passport.
(c) Real Estate Investor
Copy of the title deed certificate.
Original Emirates ID (if any).
Copy of latest visa in the UAE (if any).
Who Else Can Apply for the Golden Visa?
To be eligible for this visa program, foreign investors have to meet certain criteria related to age, nationality, or financial standing. The people who are eligible include:
Entrepreneurs with exemplary achievements can secure a coveted Golden Visa in the UAE. To be eligible, one must either own or partner in a flourishing UAE-registered start-up with annual revenues surpassing AED 1,000,000, obtain clearance from the Ministry of Economy or relevant local authorities before executing a start-up concept, or have successfully established and subsequently sold a business venture for a minimum of AED 7 million.
Exceptional talents: If you're an inventor, innovator, or have any other exceptional talents in a vital field such as culture, art, sports, or digital technology, you can obtain a Golden visa, regardless of your educational qualification, employment status, monthly salary, or professional level. The visa requires a recommendation or approval from a federal or local government entity.
Scientists and professionals with a PhD or Master's degree from one of the top global universities in the field of engineering, technology, life sciences, or natural science discipline, as well as substantial research achievements, are eligible. Candidates must be designated as first or second level occupational within the Ministry of Human Resources and Emiratization classification, possess a Bachelor's degree or its equivalent, and command a monthly remuneration of AED 30,000 or above.
Outstanding students and graduates: If you're a high-performing student in a UAE secondary school, an outstanding graduate from a UAE university or from one of the top 100 universities in the world, you could be eligible to the Golden visa subject to your academic performance and year of graduation taken into account.
Humanitarian pioneers: Do you know someone who's a humanitarian pioneer? Eligible groups include distinguished members of international and regional organizations, outstanding members of associations of public benefit, recipients of recognition awards in humanitarian fields, and distinguished volunteers and sponsors of humanitarian efforts.
Frontline heroes: Frontline workers with extraordinary efforts in crises, such as the COVID-19 pandemic may be eligible for a Golden visa.
In conclusion, getting a Golden Visa through
property investment in Dubai
requires proper due diligence, following up on all procedures outlined by relevant authorities, plus hiring professional services & agents when making purchasing decisions so as not safeguard investments made. Proactive steps taken here can prove highly beneficial when looking at long term returns on investing money into
real estate projects within UAE
.
---
---