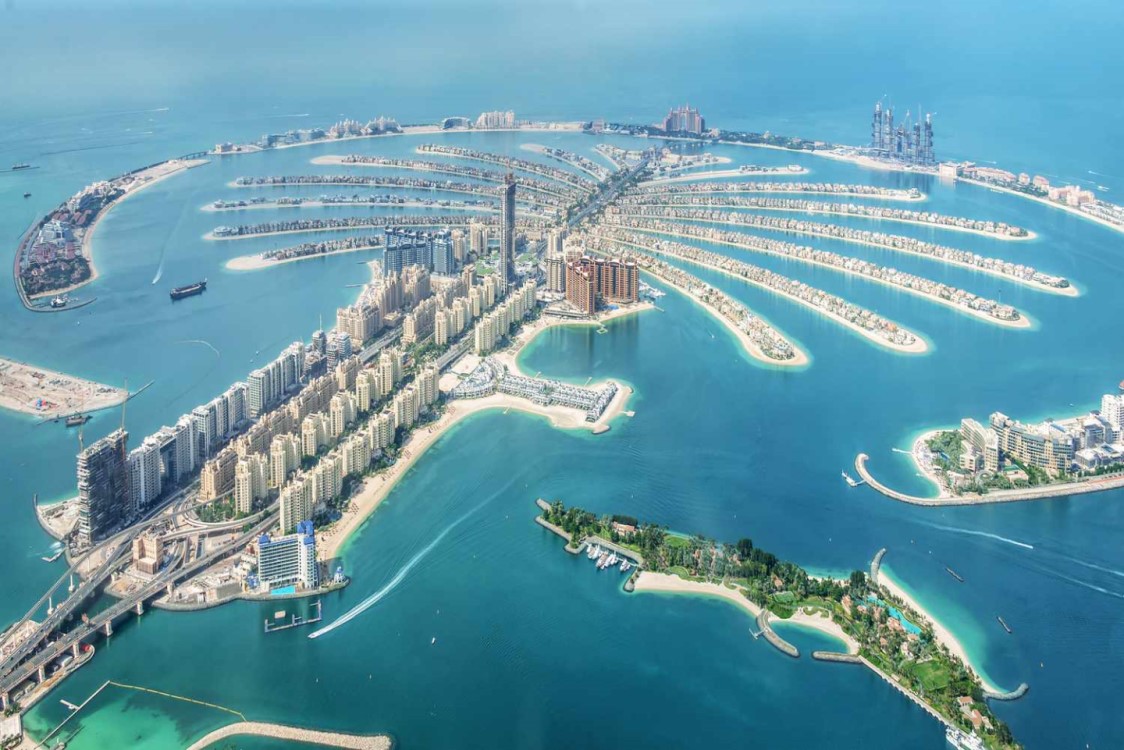 Dubai, often referred to as the "City of Dreams," has carved a place for itself on the world stage as a gleaming gem in the heart of the United Arab Emirates. Its name is synonymous with audacity, innovation, and an unwavering commitment to pushing the boundaries of what's possible. Dubai's skyline, adorned with towering architectural marvels that seem to touch the heavens, tells the story of a city that dares to dream bigger and bolder than anywhere else on the planet. Among the myriad of awe-inspiring achievements that have sprung from Dubai's fertile imagination, Palm Jumeirah stands tall as an epitome of human ingenuity and ambition.
Palm Jumeirah, an audacious man-made island, is a prime example of Dubai's unyielding pursuit of excellence. Its remarkable design, resembling a majestic palm tree with a central trunk and fronds that stretch gracefully into the azure waters of the Arabian Gulf, is a testament to human creativity and engineering prowess. This palm-shaped masterpiece has not only redefined Dubai's coastline but has also become an enduring symbol of the city's boundless vision and unparalleled prosperity.
The Birth of Palm Jumeirah
Palm Jumeirah is not just an island; it's a feat of engineering and imagination that has captured the world's attention. Conceived by Sheikh Mohammed bin Rashid Al Maktoum, the ruler of Dubai, Palm Jumeirah was envisioned as a stunning addition to the city's coastline. Its construction began in 2001 and was completed in 2006, and it involved the use of millions of cubic meters of sand and stones. The result is an island that stretches 5 kilometers into the Persian Gulf, adding 78 kilometers of pristine beachfront to Dubai's coastline.
An Island of Luxury
Palm Jumeirah, often described as the epitome of luxury and extravagance, is a haven for those who seek the finest in life. It's not just an island; it's a world unto itself, where every corner oozes opulence. Let's delve further into the iconic landmarks that make Palm Jumeirah the quintessential destination for luxury enthusiasts:
1. Atlantis, The Palm
2. The Palm Tower
Rising 240 meters above the island, The Palm Tower is a stunning architectural masterpiece. It houses a luxurious St. Regis hotel, serviced apartments, and a rooftop viewing deck that offers panoramic views of Dubai's skyline. It's a testament to the island's commitment to luxury and extravagance.
3. Jumeirah Zabeel Saray
4. One Palm
One Palm is an exclusive residential building that offers unparalleled luxury living. Its stunning design, spacious apartments, and private beach access make it one of the most sought-after addresses on Palm Jumeirah. Residents can indulge in a lifestyle of extravagance with breathtaking sea views.
5. Nakheel Mall
A Hub for Waterfront Living
Palm Jumeirah isn't just a tourist destination; it's a vibrant community where people live, work, and play. The island offers a variety of residential options, from luxurious apartments to beachfront villas. Here's a glimpse of the residential lifestyle on Palm Jumeirah:
1. Beachfront Living
2. Exclusive Gated Communities
Palm Jumeirah is divided into several exclusive gated communities, each with its own unique charm. Whether you prefer the privacy of a villa on the fronds or the convenience of an apartment in the trunk, there's a community that suits your lifestyle.
3. Spectacular Views
Every property on Palm Jumeirah offers spectacular views, whether it's the tranquil waters of the Gulf, the glittering Dubai skyline, or the iconic Atlantis resort. The island's strategic layout ensures that residents enjoy breathtaking vistas from their homes.
4. Amenities and Facilities
Living on Palm Jumeirah means access to a host of world-class amenities and facilities. Residents can enjoy private beach clubs, fitness centers, restaurants, and shopping centers, all within the island's confines. It's a self-contained community that caters to every need.
Tourist Attractions
Palm Jumeirah isn't just for residents; it's a major tourist attraction that draws visitors from around the world. Here are some of the must-visit attractions on the island:
1. Aquaventure Waterpark
Tucked away within the magnificent Atlantis, The Palm, Aquaventure Waterpark stands as a beacon of excitement and aquatic thrills. It is, without a doubt, one of the world's premier waterparks, drawing visitors from across the globe to its thrilling attractions, immersive experiences, and the promise of unforgettable memories. Whether you're a family seeking a day of fun in the sun or an adventure seeker in pursuit of heart-pounding excitement, Aquaventure Waterpark delivers an unparalleled aquatic adventure.
2. The Lost Chambers Aquarium
Located within Atlantis, The Palm, The Lost Chambers Aquarium allows visitors to explore the ruins of the lost city of Atlantis. It's a captivating journey through underwater tunnels filled with marine life, making it a unique and educational experience.
3. The Pointe
A Sustainable Future
Palm Jumeirah is not just a symbol of luxury; it's also a testament to sustainability. The island's developer, Nakheel, has implemented several eco-friendly initiatives to minimize its environmental footprint. These include the use of energy-efficient technologies, sustainable landscaping, and a commitment to recycling and waste reduction.
Conclusion: A Paradise on Earth
In conclusion, Palm Jumeirah is more than just an island; it's an ever-glittering gem that shines as a testament to Dubai's vision, ambition, and creativity. Whether you're savoring the pinnacle of waterfront living as a resident or embarking on a journey of discovery as a tourist, the island offers an experience that is etched in memory and cherished forever.
It's a paradise on earth that continues to evolve, enchanting the world with its splendor and rewriting the rulebook for luxury and coastal living. Palm Jumeirah is not just a place; it's a lifestyle, a dream, and a symbol of Dubai's enduring quest for excellence.
---
---