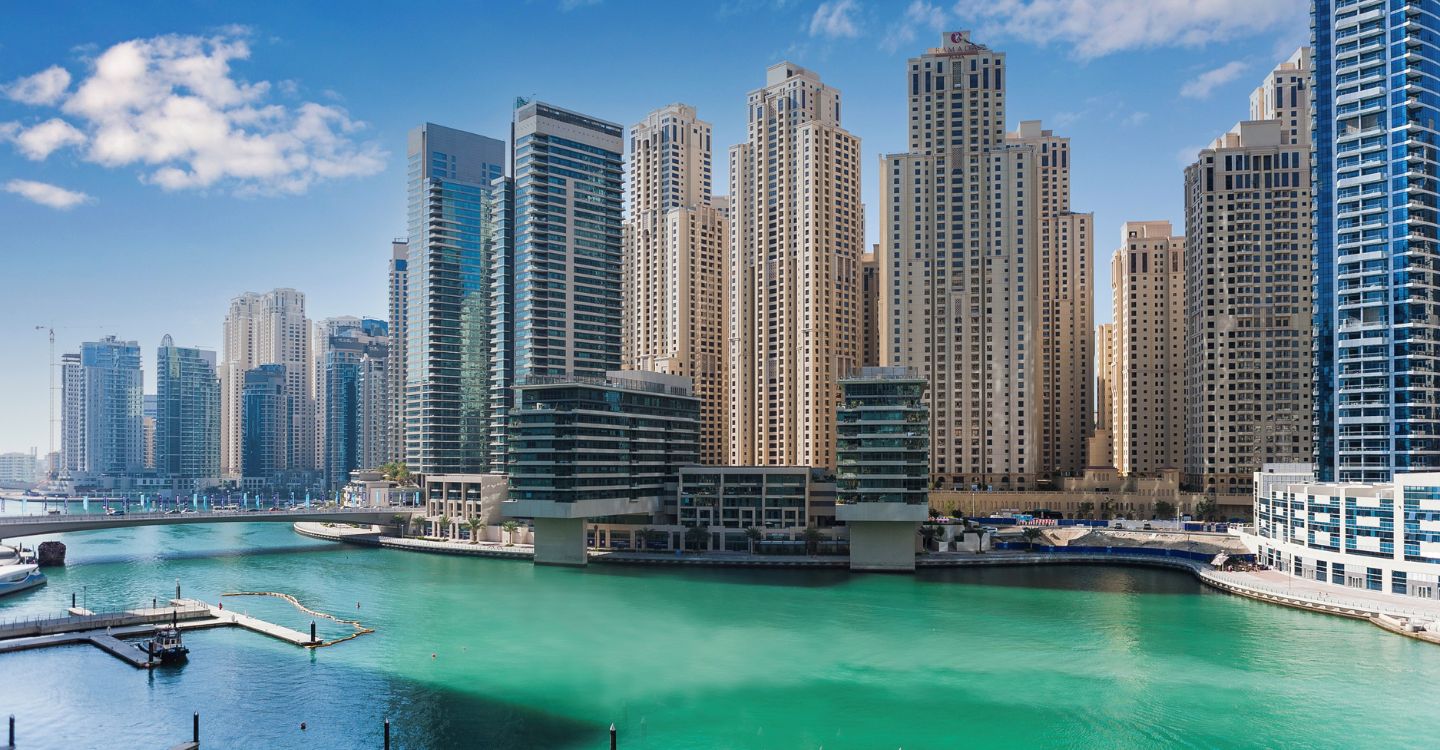 Dubai Marina is located in the coastal area of Dubai. It is a bustling and vibrant man-made development with a range of luxury waterfront properties, glimmering high rises and an exclusive marina that make it one of the most prestigious areas to live in Dubai.
It is an idyllic location for people looking for respite from the hustle and bustle of the city, as well as those who want to experience the best of modern amenities. Originally planned in 2003, Dubai Marina has become one of the most sought-after residential and tourism centers in the region due to its luxurious lifestyle offerings and world-class infrastructure. It covers an 8 km long stretch along Al Sufouh Road, making it one of the largest man-made waterfront developments in the world.
The development has many apartments, villas and penthouses overlooking a stunning marina, which can be accessed through two main entrances - Jumeirah Beach Residence (JBR) gate on Al Sufouh Road and Dubai Marina Mall gate on Sheikh Zayed Road. There are also several commercial centers within Dubai Marina, including The Walk at JBR, providing shops with international brands, as well as numerous dining outlets offering delicious international cuisine.
For recreation purposes, visitors can enjoy sports activities such as beach volleyball or go for a pleasant stroll along The Beach at JBR or Kite Beach, where there are plenty of recreational facilities for all ages available year-round. Other popular activities include cycling along dedicated pathways throughout Dubai Marina or sailing on boats docked by the canal side; there's even a jet ski rental station near Kite Beach.
The marina also offers many outdoor activities such as jet skiing, kayaking and paddle boarding — perfect for anyone looking to enjoy some water sport fun! There is also a large selection of restaurants specializing in local favourites, seafood dishes alongside Mediterranean delicacies such as pizza, pasta and paninis.
Dubai Marina is home to some of the world's finest hotels—ranging from four-star accommodation up to seven-star hotels like The Palm Tower Resort & Spa located at East Crescent Drive—offering guests splendid views over Dubai Marina yachts moored below. Additionally, entertainment options abound here with bars such as 360° Bar at The Address Hotel near JBR offering panoramic views over Dubai skyline while you sip your favourite beverage! The much sought after destination offers everything from luxury villas surrounded by lush gardens to five-star hotel suites with all imaginable amenities conveniently located nearby such as shopping malls like The Walk at Jumeirah beach Residence.
So, what are the perks and biggest advantages of living in Dubai Marina?
Living in Dubai Marina offers a unique combination of incredible views, waterfront living and high returns if you're looking to rent it out. With its sleek skyline and stunning beaches, it's no wonder that this lively community is one of the most sought-after residential areas in Dubai. Here are some of the top advantages of living in Dubai Marina.
Incredible Views
Dubai Marina offers unparalleled views of the Arabian Gulf, as well as a breathtaking panorama of luxury yachts and skyscrapers. The area is packed with five-star restaurants, exclusive beach clubs and stylishly modern buildings. Residents can enjoy incredible sunsets from their balconies or take a stroll along the marina's promenade for some truly breathtaking views. Not to mention, residents can also take in the sights from the iconic JBR Walk, which runs along the entire length of the waterfront district.
The Lifestyle
Living in Dubai Marina is a highly sought-after lifestyle choice for many, boasting unbeatable access to the city's most spectacular attractions and amenities. It is home to over 10 kilometers of uninterrupted waterfront walkways, with towering skyscrapers providing the perfect backdrop.
Not only is it visually pleasing but also very accessible. The Dubai Metro runs directly through the area which makes getting around effortless for residents and visitors alike. Alongside this service, water taxis are available for those who want an unforgettable journey across the marina's sparkling blue waters. There are plenty of highways and roads nearby for vehicles too, making it convenient for drivers who use their own cars or carpool with friends or family members.
As if travelling wasn't made easy enough already, there's also plenty of pedestrian-friendly spaces available in Dubai Marina which make it an ideal place for those who want to cut down on emissions and save money on fares! Wide pathways line the waterfront so walkers can take a leisurely stroll while admiring all that lies ahead of them – from lush gardens to local cafes – without having to worry about traffic or motorbikes zooming past them at high speeds. And with plenty of shaded areas along these routes as well as public seating everywhere you look, there's always somewhere comfortable to pause along your journey too.
Waterfront Living
If you're searching for a luxurious lifestyle on the waterfront, then Dubai Marina is an excellent choice! The marina itself is designed like a "U" shape with an array of walkways and bridges connecting each side together. This makes it easy to get around by foot or on a bicycle - perfect for soaking up all that amazing scenery! Not to mention, there are plenty of water activities available to those living near the marina - such as paddle boarding and catamaran rides - so you can make the most out of your marine surroundings.
High Returns If You're Looking to Rent It Out
Since Dubai Marina is such an incredible location with lots to offer its residents, it also makes it an ideal place to invest in if you're looking for some high returns when renting out your property. The area has one of the highest rental yields in all of UAE due to its close proximity to key business hubs like Media City and Internet City as well as highly desirable locations for tourists such as The Palm Jumeirah. Furthermore, another great advantage for those considering investing in a property in Dubai Marina is the consistently high occupancy rate within its residential buildings - typically running over 90% all year round - making it an ideal choice for potential landlords looking for reliable rental income streams.
When it comes to security in Dubai Marina, there are surveillance cameras constantly monitoring the area 24/7 ensuring safety and peace of mind for residents from all walks of life whether they be families or single people alike. This is further enhanced by regular patrols by dedicated security personnel who regularly inspect both public areas and private buildings throughout the community.
Conclusion
When it comes down to it living in Dubai Marina is quite simply a dream come true for many people – thanks not only to its unique location but also its beautiful architecture combined with world class facilities coupled with an amazing array of activities! All these factors have made this particular area one that continues to attract more residents each year – making it an ideal place for those looking for something special when seeking out somewhere new call home!
---
---