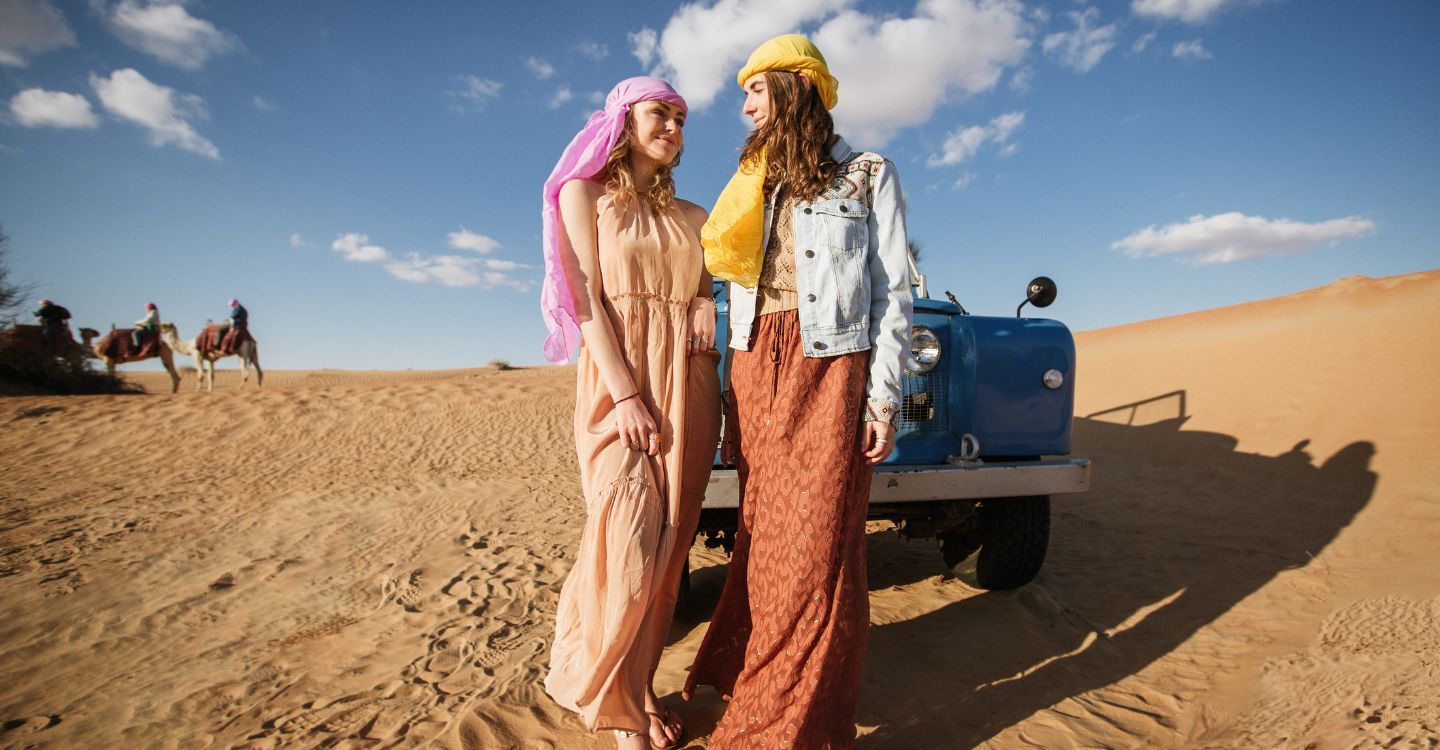 Dubai, often associated with its iconic skyscrapers, opulent lifestyle, and luxury shopping, might not be the first place that comes to mind when you think of outdoor activities. However, this dynamic city in the heart of the United Arab Emirates offers a surprising array of opportunities to enjoy the great outdoors. From desert adventures and water sports to lush parks and world-class golf courses, Dubai has something for everyone seeking to reconnect with nature and experience thrilling outdoor adventures.
In this comprehensive guide, we'll explore the diverse range of outdoor activities in Dubai, allowing you to discover a different side of this vibrant city.
1. Desert Safari Adventures
When you think of Dubai's outdoor experiences, the desert safari is likely one of the first that comes to mind. The city's proximity to the expansive Arabian Desert makes it a prime destination for desert adventures. You can embark on thrilling desert safaris, which often include dune bashing, sandboarding, camel riding, and the opportunity to witness a stunning desert sunset. Some tours even offer experiences like falconry and traditional Bedouin dinners under the stars. It's a unique way to explore the mesmerizing desert landscapes just beyond the city.
2. Mountain Adventures in Hatta
Beyond the desert, Dubai offers mountainous terrain in the nearby Hatta region. Here, outdoor enthusiasts can enjoy activities like hiking, mountain biking, and kayaking. The Hatta Dam is a picturesque spot for water activities, with opportunities for paddleboarding and kayaking in the tranquil turquoise waters surrounded by the rugged Hajar Mountains. The Hatta Wadi Hub is an adventure center that caters to thrill-seekers with activities like ziplining, archery, and more.
3. Water Sports and Beach Fun
Dubai's stunning coastline along the Arabian Gulf provides the perfect backdrop for a range of water sports and beach activities. You can try your hand at jet skiing, parasailing, windsurfing, and kite surfing at various beachfront locations. The city's public beaches, like JBR Beach and Kite Beach, offer ideal conditions for beach volleyball, picnics, and even sunset yoga sessions.
4. Dhow Cruises and Fishing Trips
For a more relaxed outdoor experience, consider taking a traditional dhow cruise along Dubai Creek or the
Dubai Marina
. These wooden boats provide a glimpse into the city's heritage while offering a serene setting for dinner or sightseeing. If you're a fishing enthusiast, Dubai's waters are teeming with diverse marine life. You can join fishing trips that cater to all skill levels and enjoy the thrill of catching your own dinner.
5. Golfing Paradise
Dubai's golfing scene is a testament to the city's commitment to providing a diverse range of recreational activities for its residents and visitors. From championship courses that host international tournaments to beginner-friendly options, Dubai's golf courses cater to all levels of golfing expertise. The combination of lush greens, luxury clubhouses, and stunning views ensures that golfers in Dubai enjoy not only the sport itself but also a tranquil escape from the city's hustle and bustle. Whether you're a golfer or simply looking to experience a leisurely round in a serene setting, Dubai's golf courses offer an exceptional outdoor activity that adds to the city's multifaceted charm.
6. Parks and Green Spaces
While Dubai is known for its futuristic skyline, it also boasts a variety of parks and green spaces where you can enjoy outdoor activities. The Dubai Miracle Garden is a unique attraction, featuring a breathtaking display of vibrant flowers and creative landscaping.
Al Safa Park
is a popular spot for picnics, jogging, and even bike rentals. Zabeel Park offers a miniature train and pedal boats for a fun day out with the family.
7. Cycling and Running Trails
Dubai has invested in creating dedicated cycling and running tracks throughout the city, encouraging outdoor fitness and recreation.
The Dubai Autodrome
offers a safe and well-maintained environment for cyclists, and
Al Qudra Cycle Track
is a favorite among cycling enthusiasts. In addition to cycling, you can explore various running tracks and participate in regular running events and marathons.
8. Wildlife Encounters
Believe it or not, Dubai has its own share of wildlife encounters. You can visit the Dubai Desert Conservation Reserve, home to diverse desert flora and fauna.
The Dubai Aquarium and Underwater Zoo
offer a unique opportunity to get up close and personal with marine life, including sharks and rays. For bird enthusiasts, the Ras Al Khor Wildlife Sanctuary is a wetland area that hosts a variety of bird species and is particularly popular for flamingo sightings.
9. Skydiving and Paragliding
One of the most heart-pounding experiences Dubai has to offer is tandem
skydiving
. Imagine taking the leap from a plane and freefalling through the sky while being securely harnessed to an experienced instructor. The destination? None other than the iconic
Palm Jumeirah
, a man-made marvel that's a testament to human ingenuity. As you descend from the aircraft, you'll be treated to unparalleled panoramic views of the city's striking skyline, the azure waters of the Arabian Gulf, and the stunning Palm Jumeirah itself. This unique perspective allows you to witness Dubai's grandeur from a vantage point few will ever experience. It's an exhilarating journey that combines the thrill of freefall with the joy of soaring through the sky, offering an adventure that will leave you with memories to last a lifetime.
10. Stargazing and Astronomy
In the midst of Dubai's bright lights and modernity, its clear night skies provide an excellent backdrop for stargazing and astronomy enthusiasts. Joining stargazing events and astronomy clubs that host regular gatherings can take you on a journey through the cosmos right from the heart of the city.
The Dubai Astronomy Group
, for instance, organizes educational sessions and practical stargazing, offering a unique opportunity to witness celestial wonders and gain a deeper understanding of the universe.
11. Nature Reserves and Sanctuaries
Dubai is not just a concrete jungle; it's also home to several nature reserves and wildlife sanctuaries. These protected areas offer a welcome escape from the city's hustle and bustle, providing opportunities for hiking, birdwatching, and a chance to immerse oneself in unique ecosystems.
The Dubai Desert Conservation Reserve
, Hatta Mountain Reserve, and
Ras Al Khor Wildlife Sanctuary
are just a few examples of these natural sanctuaries. Each offers a distinctive experience, allowing visitors to explore the diverse flora and fauna that call Dubai's wilderness home.
12. Outdoor Yoga and Wellness Retreats
Dubai's thriving outdoor wellness scene is a testament to the city's commitment to promoting holistic well-being and providing an escape from the fast-paced urban lifestyle. The opportunities for outdoor yoga, meditation, and wellness retreats allow individuals to immerse themselves in a world of tranquility and rejuvenation amidst the city's striking natural landscapes. Whether you're a seasoned yogi, a meditation enthusiast, or simply seeking a serene escape, Dubai's outdoor wellness experiences offer a harmonious blend of urban sophistication and natural serenity, promoting a profound sense of balance and well-being.
Conclusion
Dubai, the city of towering skyscrapers and extravagant lifestyles, is often associated with luxury and urban opulence. While this image holds true, there's another facet of Dubai that remains largely undiscovered by many – its thriving outdoor scene, offering a treasure trove of activities for nature enthusiasts, adventure seekers, and anyone looking to escape the urban bustle and embrace the beauty of nature. From heart-pounding desert safaris to serene mountain escapades in Hatta, thrilling water sports, world-class golfing, and tranquil parks, Dubai's great outdoors have something to offer everyone. Whether you're a resident or a visitor, these outdoor activities provide the opportunity to experience a different side of the city, one that showcases natural beauty and a plethora of recreational possibilities.
---
---