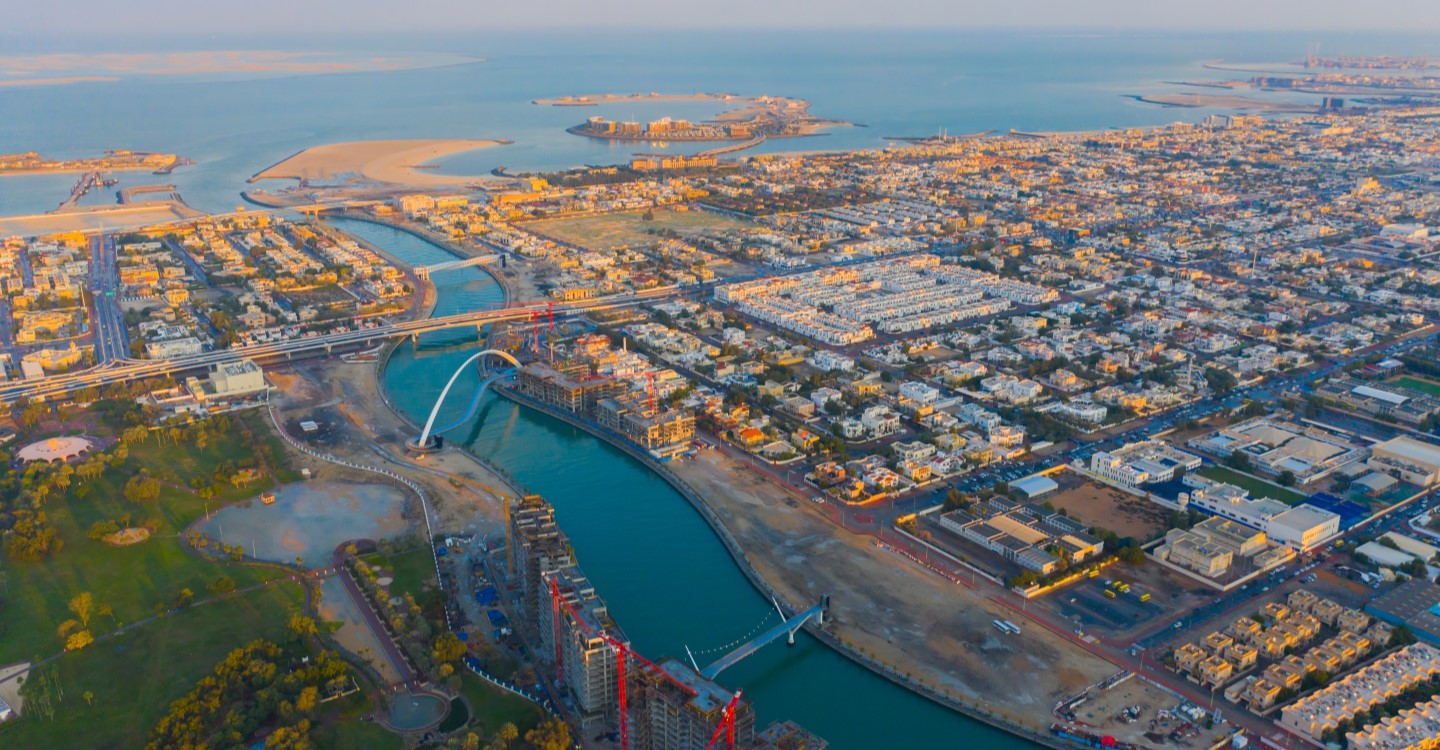 Dubai, often dubbed the "City of Gold," is a shimmering jewel in the United Arab Emirates, known for its opulence, extravagance, and architectural marvels. It's a city that consistently ranks among the top global destinations for luxury real estate investments. With its futuristic skyline, world-class amenities, and an unmatched standard of living, Dubai is a hotspot for high-net-worth individuals seeking to invest in luxury properties.
In this comprehensive guide, we will delve into the top destinations for
luxury real estate in Dubai
and explore what makes this city a magnet for discerning real estate investors.
1. The Palm Jumeirah
Dubai's world-renowned artificial archipelago, The
Palm Jumeirah
, is a symbol of luxury living. Shaped like a palm tree, this iconic island is home to some of the most prestigious properties in the city. From beachfront villas to
luxurious apartments
, The Palm Jumeirah offers a unique blend of exclusivity and natural beauty.
The Palm Jumeirah is not just a residential destination; it's a lifestyle. Residents enjoy direct access to the sea, an array of water sports, fine dining options, and proximity to the vibrant nightlife and shopping districts of Dubai. This island paradise is indeed one of the top choices for luxury real estate in Dubai.
2. Downtown Dubai
Downtown Dubai, often referred to as the heart of the city, is a hub of luxury real estate. This is where you'll find some of the most iconic structures globally, including the Burj Khalifa, the world's tallest building. The real estate offerings in this area are nothing short of exceptional.
Luxury apartments with mesmerizing views of the Burj Khalifa and the Dubai Fountain are highly sought after. The interiors of these residences feature high-end materials, state-of-the-art technology, and access to top-tier services and amenities.
The
Downtown Dubai
district is also home to the Dubai Mall, a world-renowned shopping and entertainment destination, and the Dubai Opera, offering a wide range of cultural and artistic performances. If you're looking for a vibrant, central location with world-class living standards, Downtown Dubai is a prime choice for luxury real estate.
3. Emirates Hills
For those who appreciate green landscapes and a sense of serenity within the city,
Emirates Hills
is an ideal choice. This upscale residential community is often referred to as the "Beverly Hills of Dubai" due to its exclusivity and the luxurious properties it offers.
Emirates Hills features stunning, grand villas set amidst lush greenery and meandering lakes. The community is a haven for golf enthusiasts, with its Montgomerie golf course designed by Colin Montgomerie. The properties here boast luxurious interiors, private pools, and extensive living spaces. It's a place where you can enjoy the privacy and tranquility of a suburban lifestyle while still being just a short drive away from the bustling city center.
4. Jumeirah Beach Residence (JBR)
Jumeirah Beach Residence, commonly known as
JBR
, is a beachfront destination for luxury living. This bustling urban neighborhood is home to an array of high-end apartments and penthouses with sweeping views of the Arabian Gulf.
What sets JBR apart is its vibrant atmosphere. The community is lined with an array of restaurants, cafes, and shops, creating a lively, cosmopolitan ambiance. Its famous "The Walk" is a bustling waterfront promenade perfect for leisurely strolls and alfresco dining.
5. Dubai Marina
Dubai Marina is a man-made canal city, where luxury living meets contemporary design. The towering skyscrapers that line the waterfront are a testament to the city's dedication to modern architecture and luxurious living.
Properties in
Dubai Marina
include luxurious apartments and penthouses with breathtaking marina and sea views. Residents here can enjoy world-class dining options, a lively nightlife, and the convenience of being near the beach.
The Marina Walk is a popular attraction for both residents and visitors, offering a wide range of entertainment and dining options. The blend of luxury, convenience, and stunning views makes Dubai Marina a top destination for luxury real estate in Dubai.
6. Jumeirah Golf Estates
For those who appreciate the sport of golf and the serenity of living around greens, Jumeirah Golf Estates is a top choice. This luxury residential development features a variety of villa communities set amidst two of the world's finest golf courses: Earth and Fire, designed by Greg Norman.
Jumeirah Golf Estates
offers spacious villas with exquisite interiors, outdoor terraces, and private swimming pools. The community boasts a country club, various dining options, and access to a range of leisure and wellness amenities. It's a haven for golf aficionados and those who appreciate an elegant suburban lifestyle.
7. Al Barari
If seclusion, nature, and exclusivity are what you seek, Al Barari is the answer. Nestled in the heart of Dubai, this oasis is surrounded by botanical gardens, lakes, and tranquil vistas. The real estate offerings in
Al Barari
are nothing short of exceptional.
Luxury villas in Al Barari come with spacious living areas, private swimming pools, and lush gardens. The interiors are designed with the highest level of craftsmanship and attention to detail. The community offers a range of world-class amenities, including a spa, fitness center, and fine dining options. Al Barari is a true sanctuary for those who appreciate the finer things in life.
8. The World Islands
Dubai's ambitious World Islands project is a collection of private islands designed to resemble a world map from an aerial view. While many of these islands are still under development, they are expected to offer some of the most exclusive luxury real estate in the city.
The World Islands are accessible by boat or helicopter, and they provide a level of privacy and exclusivity that is unparalleled. Once fully developed, these islands will offer high-end villas, mansions, and resorts, making them one of the most sought-after destinations for luxury real estate in Dubai.
9. Al Maktoum City - District One
District One in Al Maktoum City is another luxurious residential development that's gaining attention. It's a community designed to provide a blend of modern living with an abundance of green spaces. The standout feature is a seven-kilometer-long man-made lagoon surrounded by lush parks and crystal-clear water.
Properties in District One offer contemporary designs, high-end finishes, and stunning views of the lagoon and parks. The community also includes a range of amenities such as a cycling and running track, community gardens, and a selection of recreational areas. It's a true oasis in the heart of Dubai.
10. Al Furjan
Al Furjan is a growing residential community that offers a more affordable option for luxury living compared to some of the city's more established areas. It's a family-oriented community with a focus on providing a comfortable and modern lifestyle.
Properties in Al Furjan include well-designed villas and townhouses. The interiors feature contemporary finishes and spacious layouts. The community offers a range of amenities, including parks, sports facilities, and schools. It's an attractive choice for families looking for a balance of luxury and affordability.
Conclusion
Dubai's luxury real estate market is a reflection of the city's commitment to opulence, innovation, and world-class living standards. The top destinations for luxury real estate in Dubai mentioned in this guide offer a wide range of options for high-net-worth individuals and investors. Whether you seek a beachfront villa with stunning views or a contemporary apartment in the heart of the city, Dubai has something to offer for everyone.
As you explore these top destinations, keep in mind that the
luxury real estate market in Dubai
is dynamic and constantly evolving. It's advisable to work with local experts, including real estate agents and legal advisors, to navigate the intricacies of purchasing property in this vibrant city. Whether you're seeking a new place to call home, a holiday retreat, or a profitable investment, Dubai's luxury real estate market has a place for you.
---
---