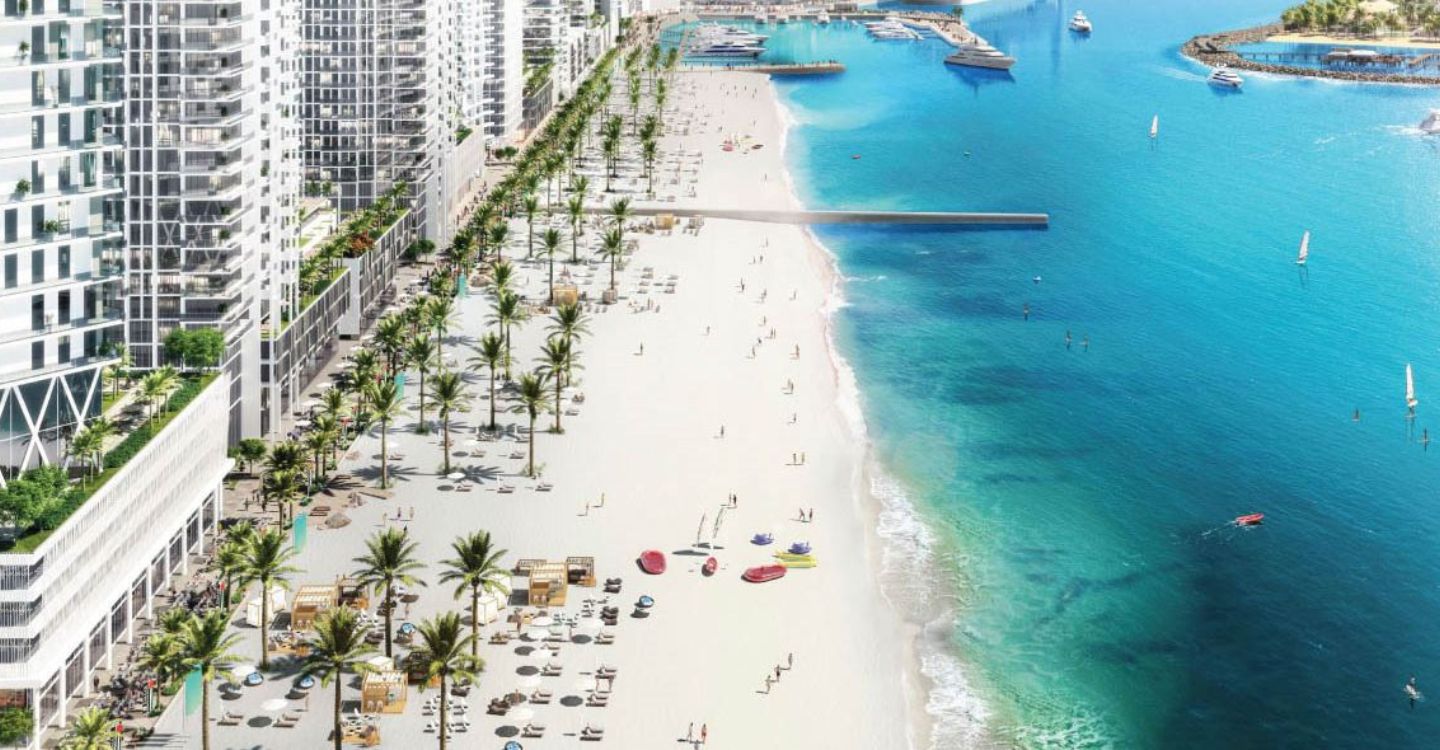 Emaar Beachfront is a luxurious, beachfront private island community and one of the most sought-after developments in Dubai. Located just off Dubai Marina, between JBR and Palm Jumeirah, it spans 10 million square feet and offers over 10,000 residential units arranged in 27 buildings.
The project features a gated entrance with round-the-clock security - allowing residents to enjoy an exclusive enclave of exclusivity and privacy. It also enjoys easy access to some of the city's best malls, restaurants, yacht clubs and other attractions. Strategically positioned for quick access to Sheikh Zayed Road – the main highway connecting all parts of Dubai –
Emaar Beachfront
is a dream investment opportunity for those seeking luxury living with the convenience of being close to the city center. With world-class amenities such as swimming pools, parks and gardens, health clubs, spas and clubhouses - plus high-end shopping facilities - Emaar Beachfront offers something for everyone looking to experience the best that Dubai has to offer.
Here is our ultimate area guide and the best attractions in Emaar Beachfront:
Ideal Location
Emaar Beachfront is an ideal location in Dubai due to its proximity to the Sheikh Zayed Road (SZR). It is located just off the main highway and has easy access, making it an ideal spot for those looking to enjoy a peaceful and luxurious lifestyle near the heart of the city. The area is surrounded by some of Dubai's most famous landmarks and neighbourhoods, such as Palm Jumeirah, The World Islands, Downtown Dubai and Jumeirah Beach Residence. This makes it an ideal place to stay if you wish to be close to shopping malls, restaurants, and cafes, while also having beautiful views of the man-made islands.
In addition, Emaar Beachfront offers plenty of outdoor activities such as walking along the beach, swimming in the sea or enjoying a picnic in one of its lush green parks. For those seeking a more active lifestyle there are several jogging tracks around the area or for something different you can even try stand up paddle boarding or kayaking on its crystal blue waters with friends or family.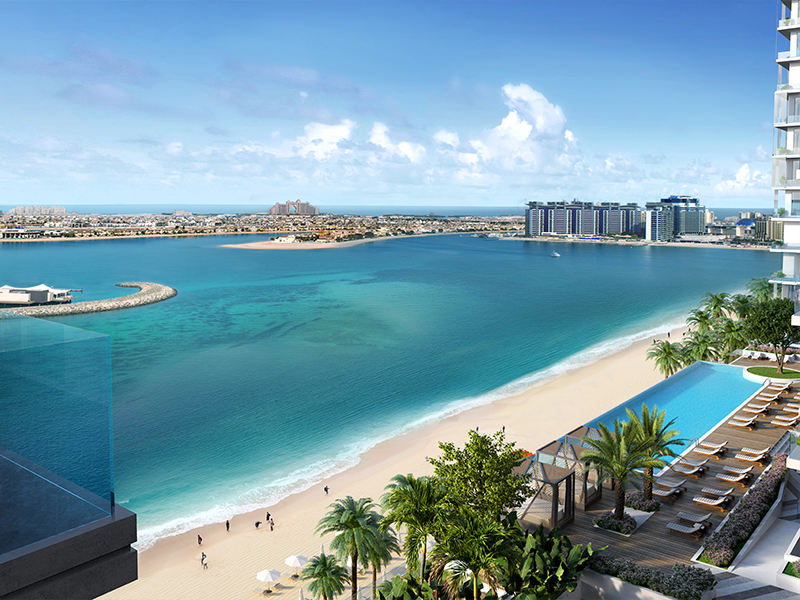 Plenty of Community Amenities
This vibrant neighbourhood offers its residents a comprehensive lifestyle with easy access to luxury shopping, world-class restaurants, and leisure activities.
Residents of Emaar Beachfront enjoy access to grocery stores and pharmacies for convenience. Plus Point Supermarket in Sulafa Tower, Caramel Center Supermarket, Atlantis Fresh Supermarket, Uni Mart and Swiss Mart Super Market are all within 7 to 12 minutes from Emaar Beachfront. For larger grocery hauls, Spinneys and Carrefour in Dubai Marina are also nearby options. Furthermore, several medical clinics such as Marina Medical Center and Dubai Marina Clinics provide healthcare services while Emirates Hospital Clinic – Marina provides emergency services near the area.
The neighborhood has no shortage of dining options either. Sarouja serves up delicious Mediterranean cuisine while Al Shorfa restaurant & café offers a range of Arabian delicacies for foodies to explore. Mom's Food Restaurant is perfect for those looking for home-cooked meals away from home while Bussola serves up Italian favourites from pizza to pasta. Last but not least, The Beach Bar & Grill by Mauro Colagreco provides beachside dining complete with stunning views of the ocean and sky.
Aside from these amenities, Emaar Beachfront is known for its luxurious amenities such as an infinity pool complete with private cabanas and sun loungers ideal for relaxing on days off; a state-of-the-art gymnasium featuring advanced health technology; several jogging pathways throughout the community perfect for enjoying some fresh air; world class security systems around its residential buildings providing peace of mind; breath taking views across Palm Jumeirah and the Arabian Gulf; over 100 retail outlets; recreational facilities like basketball courts and beach volleyball courts; an outdoor movie theatre screening popular films under the stars; sumptuous cafes serving up gourmet bites at all times; lush green parks that provide ample space for leisurely strolls or picnics for families with children or pets etc., which all make living here pleasant and enjoyable experience indeed!
Activities to Enjoy
From watersports to beachside dining, Emaar Beachfront is the perfect place to spend a day in the sun.
The Calisthenics Park is ideal for exercise enthusiasts and fitness buffs who want to keep in shape or get that extra workout while enjoying nature. With its modern equipment, this park is great for a full-body workout including push-ups, pull-ups, dips, squats and lunges. The Dog Park is perfect for those who have furry friends as it features an abundance of obstacle courses and toys for pups of all sizes to enjoy.
On The Walk provides a unique cultural experience with its vibrant street art, live entertainment and local boutiques. Here one can find some of the best eateries around such as Khameer & Manousheh Bakery featuring traditional Middle Eastern pastries and desserts or BBQ Delights offering delicious grilled meats and seafood dishes.
If you're looking for adventure then visit Skydive Dubai where you can take part in exciting indoor skydiving experiences or book your ticket on The View at The Palm where you can enjoy mesmerizing vistas from the iconic Palm Jumeirah or just relax by Marina Walk which overlooks the glimmering Dubai Harbour providing stunning views at night.
Apartments in Emaar Beachfront
The typical price to buy an apartment in Emaar Beachfront varies depending on the size, type, and location of the property. For instance, a 1-bedroom unit can cost anywhere from AED 2M up to AED 3.8M, while larger units such as a 3-bedroom apartment have an average price tag of AED 6M.
Furthermore, there are also luxury penthouses available for purchase within Emaar Beachfront which range in size from 1,700 sq. ft. to over 5,000 sq. ft. and are priced upwards of AED 10M plus depending on the particular unit's features and location in the complex. These luxurious apartments come with high-end finishes and fixtures, breathtaking views of the Arabian Gulf as well as exclusive access to private pools and other exclusive amenities that make them attractive investments for affluent buyers looking for premium real estate options within Dubai Marina area.
Villas in Emaar Beachfront
Buying a villa in Emaar Beachfront is a great way to experience luxurious waterfront living. The typical price for a villa in this premier community starts at around AED 9M, depending on the size and features of the home. With 3 & 4 bedroom villas available, they boast ideal homes for families looking to make use of luxury beachfront amenities.
High-yielding investment properties
Emaar Beachfront has been a trendsetter in the Dubai real estate market, drawing investors from all over the world. It offers a wide range of projects to cater to different needs. Whether you're looking to buy a home or invest in property, Emaar Beachfront is sure to have something perfect for you. Here are some more reasons why:
Unrivalled Location and Amenities
Emaar Beachfront is situated in an unbeatable location, offering stunning waterfront views. From daily walks on the sandy shore to restaurants and bars along the beachside promenade, there's something for everyone here. The community also features excellent amenities such as gyms, swimming pools, basketball courts, and more. With nearby attractions like Palm Jumeirah and Bluewaters Island, the lifestyle here is second-to-none.
High ROI Yielding Properties
Projects like Beach Vista and Elie Saab residences offer potential investors an impressive expected return on investment of up to 8%. Furthermore, with its premium location and exclusive amenities, properties at Emaar Beachfront are sure to appreciate rapidly over time – making them ideal investments for those looking for secure long-term returns.
Security and Safety
Emaar places great emphasis on security and safety in their communities. At Emaar Beachfront, top-of-the-line security systems are employed 24/7 – ensuring peace of mind for both residents and investors alike. Furthermore, intelligent building systems ensure that all buildings are environmentally sustainable - helping reduce overall energy consumption while keeping maintenance costs low.
In conclusion, Emaar Beachfront presents investors with excellent opportunities for high returns on investment with its premium location, stunning amenities and unparalleled security. With easy access to all of Dubai's top attractions as well as its own unique charm – it's no wonder why so many people choose Emaar Beachfront when looking to invest in property in Dubai.
---
---